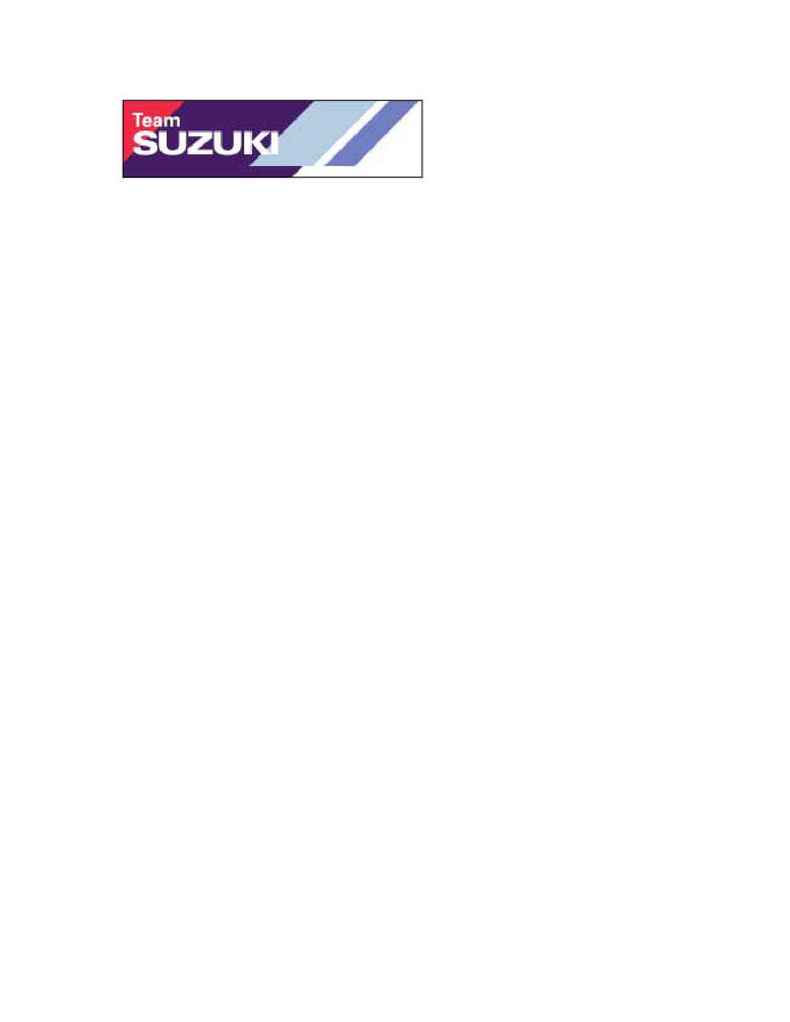 Coors Light Racing Morgan Team Suzuki and Richmond
Suzuki Racing Team Suzuki start strong at the 1
st
Round of
the CMRC National Motocross Championship.
Mission, British Columbia ­ June 15th, 2003
Suzuki-mounted riders hit the ground running during the first round of the CMRC
National Motocross series with strong finishes in both the 125cc and 250 cc
classes. In the 125 West class, Richmond Motorsports / Suzuki rider Evan
Laughridge served notice to the rest of the 125 field that he is the rider to beat,
taking convincing wins in both 20-minute motos. Taking the lead early in the first
lap, Evan settled in to a blistering pace that was too much for the rest of the
field to match. By the time the checkered flag was thrown, the Richmond Suzuki
rider was 22 seconds ahead of his nearest competitor. Coors Light Racing 125
rider Lance Rickard got off to a difficult start in moto #1, tangling with another
rider and losing valuable time on lap one. After remounting, he fought to gain
back as many positions as possible during the course of the race eventually
crossing the line in 15
Moto #2 was a carbon copy of the first with Laughridge taking the lead on lap
one and never looking back. When it was all done, another checkered flag was
waiting for the Richmond Suzuki rider having amassed an impressive 20-second
Margin over second place and the maximum points available for the double win.
Rickard on his Coors Light Racing/ Morgan Team Suzuki fared better in moto #2
two battling to a hard fought 10

For 2003, the 250cc class is loaded with some of the most talented riders ever
seen in this country. The best riders Canada has to offer as well as several top
U.S. competitors made for a veritable who's who of motocross racing.

Moto #1 delivered the large and enthusiastic crowd on hand some very exciting
and close racing. Coors Light Racing / Morgan/ Team Suzuki brought on a new
face to the Canadian series for 2003 hiring German World Grand Prix competitor
Marco Dorsch to run under the Morgan camp. In the first moto, Dorsch battled