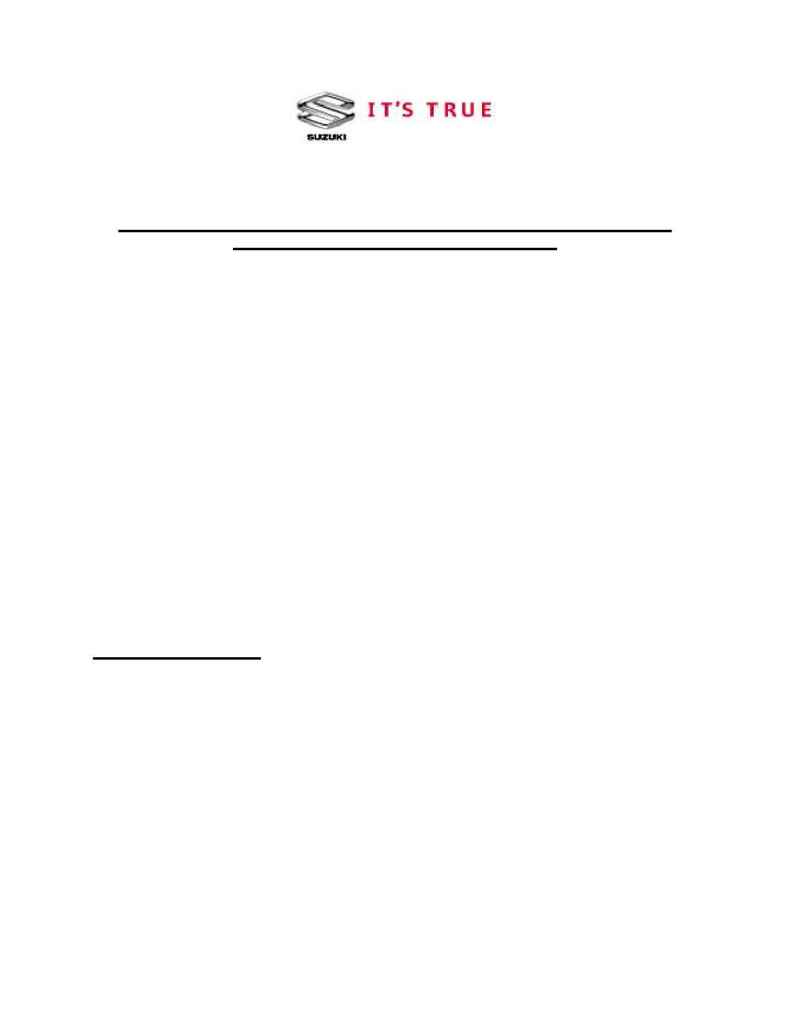 FOR IMMEDIATE RELEASE

SUZUKI COMPETES AT THE AJAC 2003 CAR OF THE YEAR AWARDS AND
PROUDLY MAKES THE FINALS ­ IT'S TRUE
(Richmond Hill, November 25, 2002) SUZUKI, Canada's best-kept secret, unveiled a strong
and sexy look with its 2003 line up this past September ­ Aerio, Vitara Convertible, Vitara 4-
Door, Grand Vitara, and the XL-7. In fact, the Automobile Journalists Association of Canada
(AJAC) 2003 Car of the Year Awards nominated SUZUKI for two awards in the most
competitive categories - "Best New Family Vehicle" for the Aerio Fastback SX AWD and "Best
New Economy Car" for the Aerio Fastback S. SUZUKI proudly accepted the honour of top
finalist in both categories.

"This is the first time that two SUZUKI models have been candidates at the AJAC awards and
that is largely due to the exceptional design team who has worked extremely hard on the 2003
SUZUKI line up. We are very honoured to have the Aerio Fastback S and SX AWD models
regarded so highly by AJAC," says Bruce Usselman, Division Manager ­ Automotive, SUZUKI
Canada Inc. "Both Honda and Mitsubishi, who won in their respective categories, are
exceptional and highly respected automotive manufacturers and we congratulate them on their
awards. The fact that SUZUKI went neck-and-neck in the two categories with these companies
says that we have made some tremendous strides with this year's models and consumers can
expect the same, if not more, in the up and coming years."

The AJAC Car of the Year Awards are based on a rigorous and scientifically sophisticated
process whereby all contenders are put through an exhaustive four-day, back-to-back testing
process. Every detail from safety features to cargo capacity is thoroughly scrutinized, discussed
and individually rated by over 50 automotive journalists from across Canada.

Aerio Fastback S and SX
Looking for a wagon with a hatchback? How about the Aerio Fastback ­ now available with
AWD and for the lowest price. From the front grill to the hatchback to the spoiler, the Aerio
Fastback has a unique and sporty style that allows the driver to feel confident and in control in
many driving conditions. Also big on performance, it has a 2.0-litre, 16-valve engine producing
145 horsepower and 136 lb-ft of torque.

Standard features like coloured-key bumpers, 4-speaker CD sound, dual airbags, power
windows, tilt steering, and outside temperature display, allow the driver to travel in style.

And if space is what you need, with five doors, reclining rear seats for extra cargo space, it has
more total interior and trunk volume than most cars in its class. The design also includes
cleverly placed storage bins and a passenger seat drawer for added convenience.

Add ABS, air-conditioning, cruise control, 6-speaker CD cassette sound, central door locking,
remote keyless entry, electrically adjustable heated mirrors, halogen fog lamps, an Aerio kit, and
a set of aluminum wheels ­ and the Aerio Fastback SX has just arrived at your front door.