Suzuki 2003 New Model Dealer Conference Press Release Page 1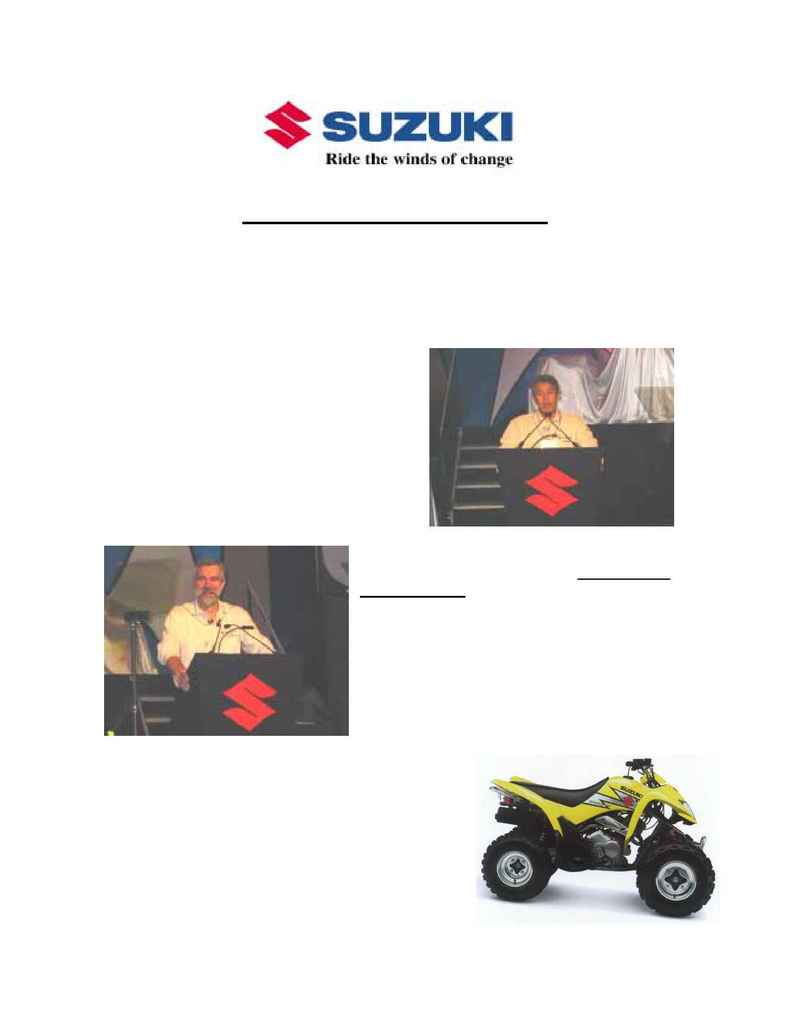 2003 New Model Dealer Conference


Quebec City, October 3 & 4, 2002

Suzuki Motorcycle and ATV Dealers from across Canada gathered in beautiful
Quebec City to see the new offerings from Suzuki for 2003.

Opening the presentation, the President of
Suzuki Canada, Mr. Abe addressed the
Dealers on Suzuki's plans for growth in
Canada and the company's commitment to
Customer Satisfaction. Suzuki Canada's
30
Anniversary occurs in 2003 and Mr.
Abe reflected on Suzuki's involvement in
the growth of the Canadian Motorcycle
industry and the efforts of the Suzuki Dealer
network over the past 30 years.


The theme for the meeting was "Suzuki - The
Winning Team" to reflect the strong results
Suzuki riders achieved in Canadian
competition. Division Manager, Nathan
Naslund, focused on the "internal drive" it
takes to be a winner whether it is on the track
or in business and emphasized the support
Suzuki Canada provides its Dealer body
across Canada.



Revealing new models is always an exciting part
of the presentation and once again Suzuki came
through with 5 new model reveals. Beginning with
the new LT-Z250 QuadSport, Suzuki once again
showed its commitment to the ATV market.