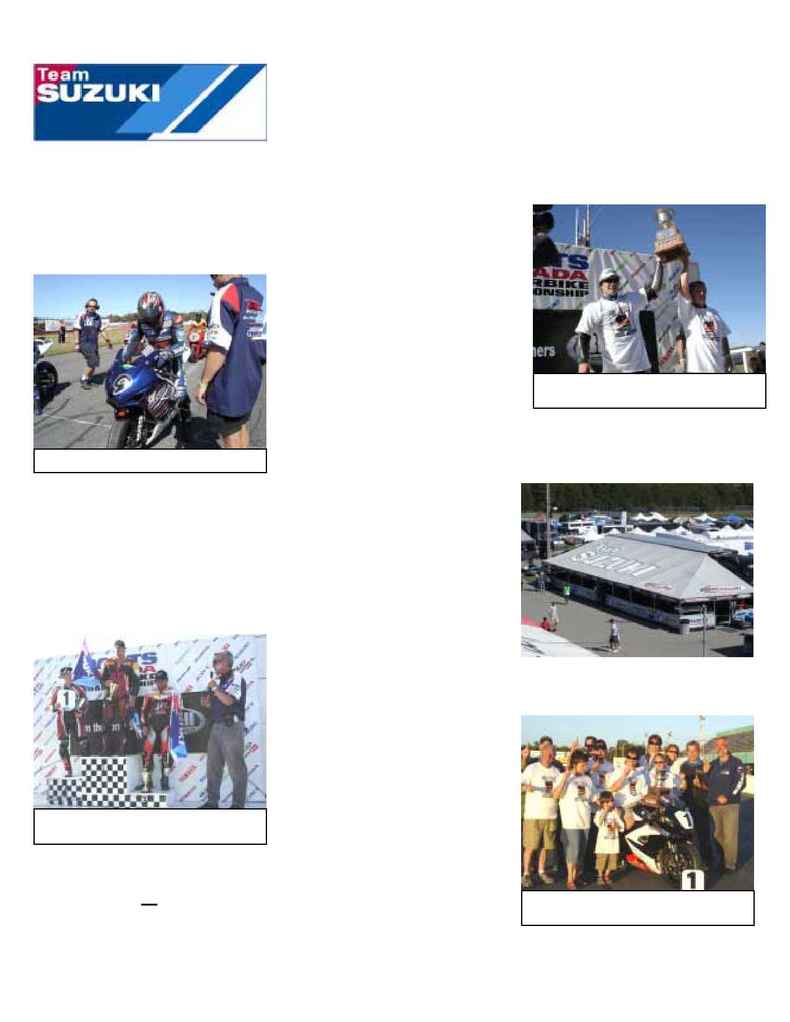 Press Release
Suzuki GSX-R1000 pilot, Francis Martin wins 2005 Parts Canada
Canadian Superbike Championship title
September 5
th
, 2005 ­ Shannonville, Ontario
Laval Moto/Snobgirl GSX-R pilot, Francis Martin wins his 2
place finish in the final round of the championship series at
Shannonville Motorsport Park in Ontario. Suzuki riders knew what had to be done to
secure the Championship and with Team Suzuki/Blackfoot Racing's Kevin Lacombe
, Laval Moto/Snobgirl's Francis
Suzuki/Blackfoot Racing's Clint McBain
finishing 4
, the number plate would be
on a Suzuki GSX-R1000. McBain and
Lacombe finished up the Championship in
spots respectively giving Suzuki
3 riders in the top 5 positions in the points
standings.

Suzuki Riders' dominated the Superbike podium in 2005 with 4 victories and
securing 13 of a possible 24 podium positions leaving no doubt about the Suzuki
GSX-R1000's right to be wearing the #1 plate at the end of the season.
With the Pro 600 title already secured by Steve Crevier, Team Suzuki/Blackfoot
Racing's Clint McBain took his GSX-R600 to a solid 3
place finish in the final round
place standing in the championship. Lacombe was looking
place until he low-sided coming out of Allen's corner and slid off the
track. Team Suzuki/Blackfoot Racing's Matt Binns had an excellent start on his
GSX-R600 but an early off-track excursion put him at the back of the pack from
where he would work his way back up to 9
600 Amateur action saw the return of
Suzuki GSX-R600 rider, Matt Bushe.
Bushe, who was injured in the opening round, was back in form fighting with the
lead group of riders. Battling for position with another rider, the two collided and
both ended up off track. Bushe was able to get back on track quickly but lost
contact with the other lead bikes and
had to settle for a 6

Teenage sensation, Karl Daigle took the
Suzuki SV Cup Championship on the
strength of his 2
final round. Ross Millson from Dundas,
Ontario won the race and Norm Tang
. Early race leader, Alain Lefebvre crashed out on lap 6 giving Millson
the win. Tang and Lefebvre finished 2
in the Championship battle.
all
Suzuki riders who competed in the 2005 Championship
Series. For more information contact: Nathan Naslund, General Manager ­
Corporate Communications, (905) 763-5017, nnaslund@suzuki.ca.
Visit www.cdnsuperbike.com for complete standings and results.
McBain gets ready for the Superbike final
Francis Martin & Team Manager Eddy Brunet
SV Cup Podium ­ Daigle with #1 plate,
Millson on top of the box, & Tang in 3
Martin's team members & family