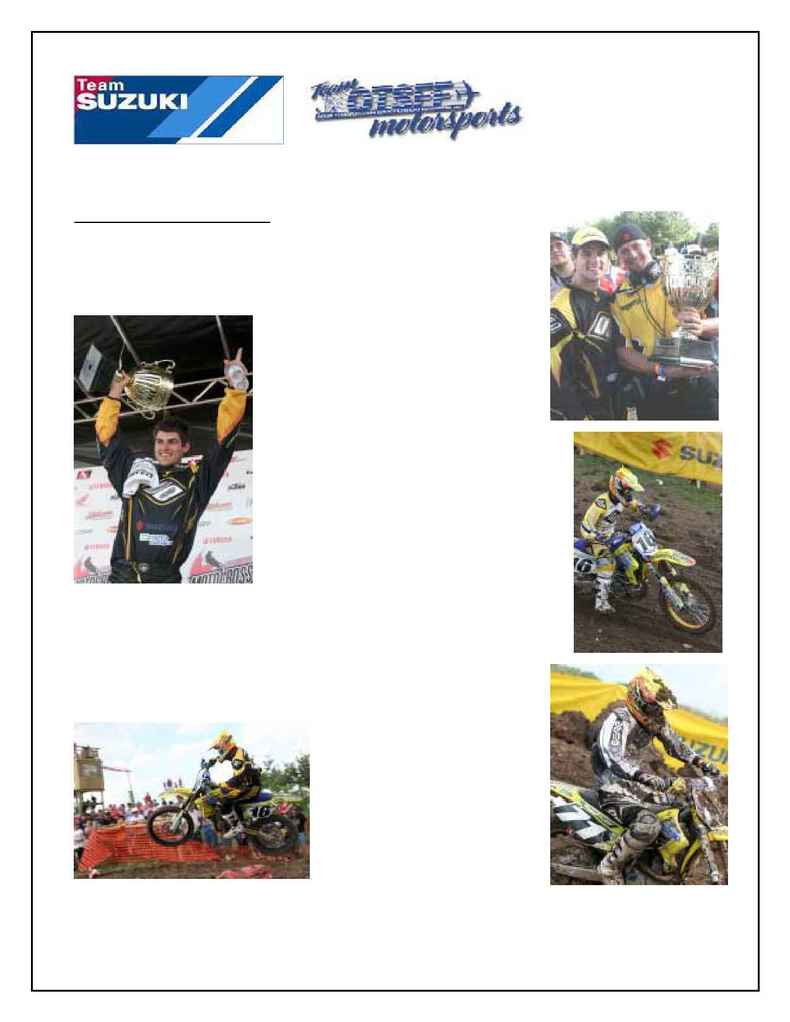 Suzuki Canada Inc. 100 East Beaver Creek Road, Richmond Hill, Ontario, L4B 1J6
Tel: (905) 889-2600 Fax: (905) 764-1574
Press Release
TEAM SUZUKI OTSFF's GAVIN GRACYK SWEEPS WALTON ON RM-Z450
Walton, Ontario: Aug 20
th
, 2005 ­ Team Suzuki OTSFF Motorsports' Gavin
Gracyk showed everyone the strength of the Suzuki RM-Z450 with a convincing
double-moto victory at the final round of the CMRC Canadian Motocross
Championships in Walton, Ontario on Sunday, August 21, 2005. Gracyk's
stunning victory saw him finish the points chase with a second place ranking, a
position that was battled for right to the final moto of the season.

Gracyk proved earlier in the season he has
what it take to win a moto in the highly
competitive MX1 class. He finished both motos
of the prestigious Walton TransCan Grand
National with over 30 seconds to spare at the
checkered flag, leaving no doubt the
Gracyk/RM-Z450 combination is a force to be
reckoned with. In both motos, Gracyk took
control of the lead position early on and basically
checked out. In moto two, he registered lap times
that were two seconds per lap faster than Huffman.

"I knew I could do better than the results were
showing early in the season so I kind of regrouped
and pulled it together. I had the bike, I just needed
to become the rider to ride it," said Gracyk. "As the
season progressed I just got more comfortable with
the RM-Z450 thanks to Team Suzuki Canada, team
owner/manager Andre Laurin of Ocean Transport
and rider manager Ron Ashley. It's about surrounding yourself with good people and
I'm up here today because of those guys."

In the first moto, Huffman, Craig Decker, Gracyk's teammate Keith Johnson, and
Evan Laughridge were docked five positions for jumping a step-up while a Red
Cross flag was being waved for a downed rider. They were in second, third,
fourth and fifth position respectively. Huffman, Decker and KJ were all in a tight
points chase with Gracyk for runner-up in the series and racing was intense.

KJ, who inadvertently jumped the
step-up under the Red Cross flag
caution, rode to a solid fourth place
finish in moto two, carding fifth overall
on the strength of 9-4 motos. Third
Team Suzuki rider, Mike Treadwell,
once again proved his mettle by
registering another strong ride to book
eighth overall on the strength of 13-5
motos.