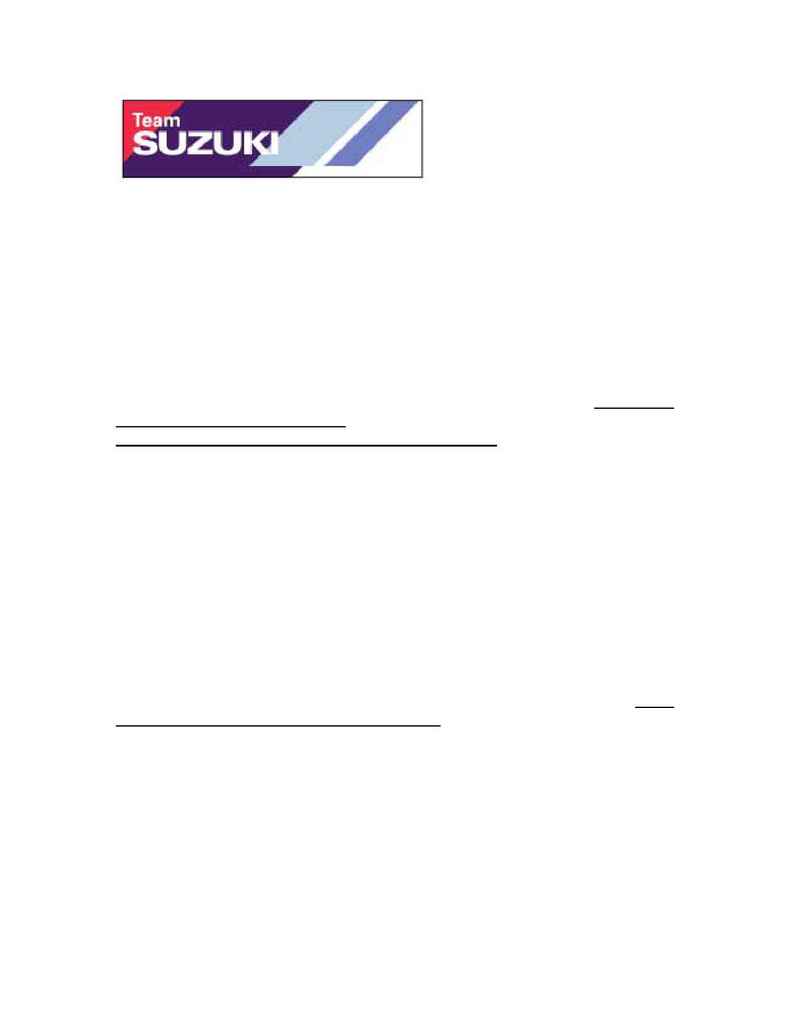 Suzuki comes out swinging in Round 1 of the Parts Canada
Canadian Superbike Championship and delivers a strong
1 ­ 2 punch in the Superbike Final!
May 23
rd
- Shannonville, Ontario
Steve Crevier scored an opening round Superbike victory on his DXS Diablo
Racing Team Suzuki GSX-R1000 with fellow Suzuki rider, Clint McBain on his
Coors Light Racing Blackfoot Team Suzuki GSX-R1000 following right behind in
place. With both Clint and Steve placing their GSX-Rs on the front row in
Saturday's qualifying, the message was sent that Suzuki would once again be a
dominating force in this year's Championship battle. Sunday's results backed
that up! With Steve, Clint and Pascal Picotte breaking away from the rest of the
pack early, it be came clear that it would be a 3-way battle to the finish. Steve
and Pascal swapped the lead position with Clint right on their heels looking for
either one of them to make the slightest mistake. Heading into the last corner of
the last lap, Steve dove inside of Pascal and Clint followed right behind to take
the 1 ­2 victory for Suzuki and give the fans one of the most exciting finishes in
recent history.

Pro 600 action saw the debut of Suzuki's new GSX-R600 and with two GSX-Rs
ending up on the front row after Saturday's qualifying any question of the bikes
ability was quickly answered. Sunday's 600 final saw Clint McBain take his Coors
Light Racing Blackfoot Team Suzuki GSX-R600 to a solid 2
Andrew Nelson who celebrated his first pro win. Clint had closed on Andrew to
within just a few bike lengths before lapped traffic hindered his bid to pass
Andrew on the final lap and while Clint settled for second, it was clear that the
GSX-R600 will be on "Top of the Box" very soon.

In the Amateur 600 National class, the GSX-R600 piloted by Eric Warren almost
made it to the victory circle too. Fastest qualifier by almost a full second over his
closest rival, Eric looked poised to win the Amateur race on Sunday. Leading
right from the start until a red flag was thrown it looked like it would be Eric all
the way. On the restart, Eric worked his way from 4