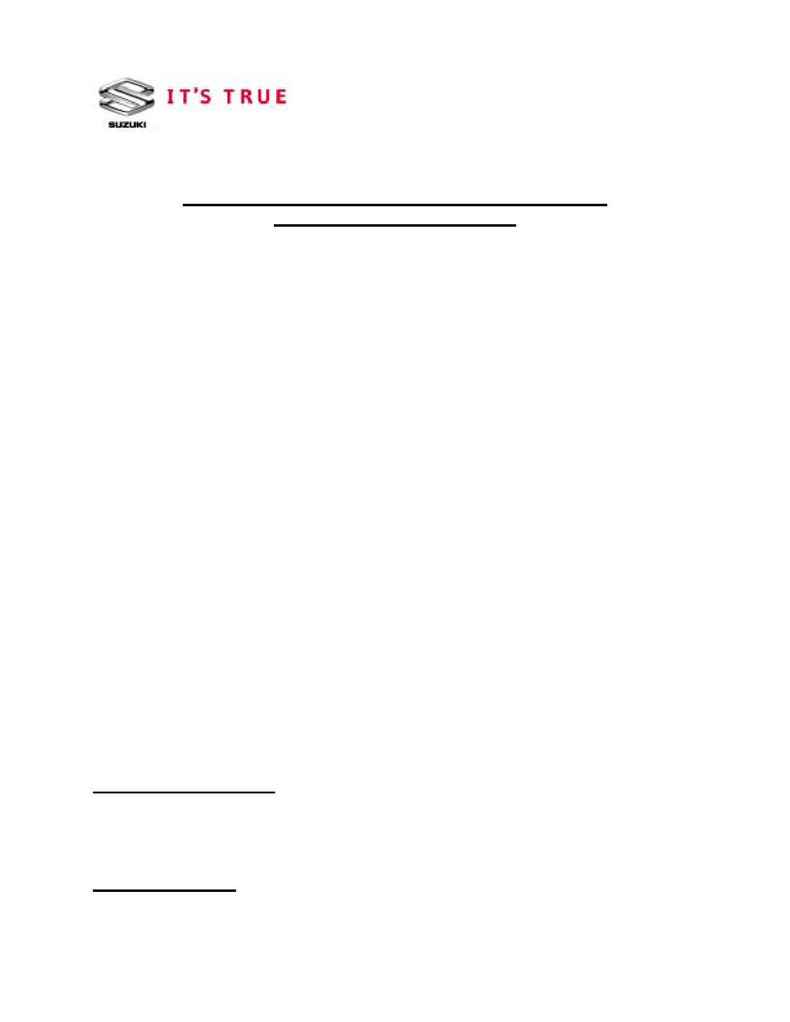 FOR
IMMEDIATE
RELEASE
SUZUKI CANADA AUTO DEALERS FOUNDATION
SUPPORTS MADD CANADA
$25,000 Financial Commitment Funds Awareness Programs
To Fight Impaired Driving
Richmond Hill (May 30, 2003
)
The SUZUKI Canada Auto Dealers Foundation has donated
$25,000 to Mothers Against Drunk Driving (MADD Canada), bringing its three-year contribution
total to $90,000. The donation supports public education programs like Project Red Ribbon, to
battle impaired driving and encourage Canadians not to drink and drive.

"The SUZUKI Canada Auto Dealers Foundation is proud to support MADD Canada's dedicated
efforts to stop impaired driving, says Allan Raposo, Chairman, SUZUKI Canada Auto Dealers
Foundation. "Our support, consisting of contributions collected from SUZUKI auto dealers, is in
keeping with our company's strong commitment to creating safer roads for Canadians."

Funds donated by the SUZUKI Canada Auto Dealers Foundation will support Project Red
Ribbon "Tie One On For Safety" Campaign to stop impaired driving and support victims of this
crime. Through Project Red Ribbon Canadians make a commitment to drive safe and sober
and pay tribute to those who have died or been injured in impaired driving crashes by flying a
red ribbon on their vehicles.

In addition, part of the donation has been used to fund the production of a French educational
video for use in Quebec and Francophone communities and schools. The video includes a
series of interviews with emergency response professionals, telling their own stories of how their
lives have been affected by impaired driving, while at the same time stressing the importance of
diving sober.

"We are extremely grateful to the SUZUKI Canada Auto Dealers Foundation for their ongoing
support," says Louise Knox, National President, MADD Canada. "SUZUKI's participation and
financial donation is indicative of the kind of corporate leadership that is needed to make a
difference in the fight against impaired driving, the number one criminal cause of death in our
country. With their sponsorship, SUZUKI shows its commitment to making our roadways a much
safer place for millions of Canadians."

About SUZUKI Canada Inc.
Suzuki Canada Inc. is synonymous with quality and Japanese engineering. Celebrating its 30th
anniversary in Canada, Suzuki sells and services automotive and recreation products through a
network of 395 dealers. Established in 1973, SUZUKI Canada Inc. is headquartered in
Richmond Hill, Ontario with regional offices in Vancouver and Montreal.
About MADD Canada
MADD Canada is the country's pre-eminent organization stopping impaired driving and
supporting victims of this violent crime. It is a non-profit, volunteer-driven and directed
grassroots organization, which has over two million supporters and 54 local Chapters across the
country.