Suzuki xl7 Page 7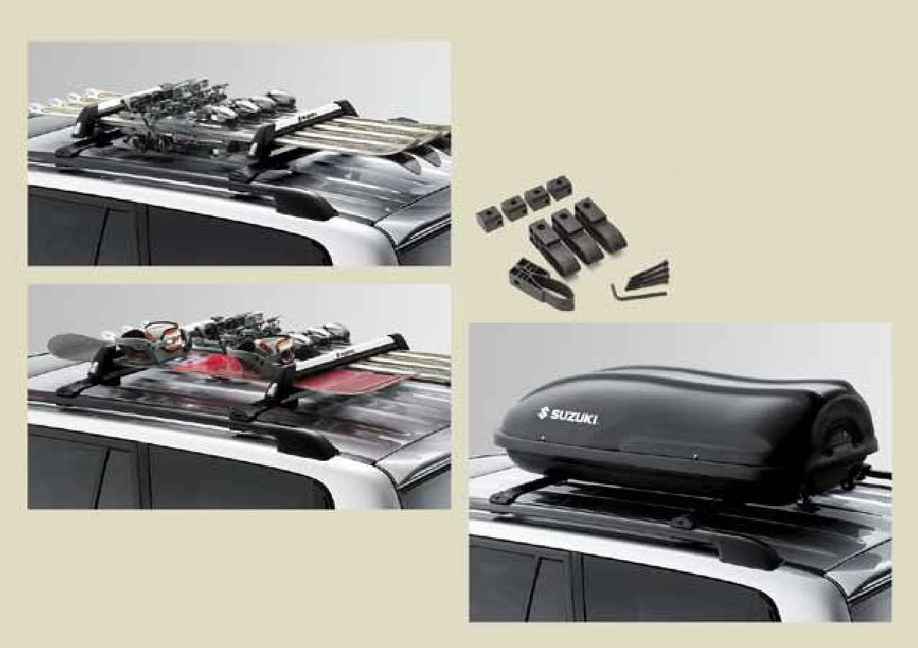 Adapter Kit
Ski Modules to the Suzuki
Cross Bars. Can also be used
with Suzuki Ski Modules for
additional security.
Ski Module
Universal fit for Suzuki Cross Bars. Made of high quality aluminum for strength and special
non-freezing rubber for protection. Mounts quickly to Suzuki cross bars (99980-93005) and
comes complete with lock cores and keys.
4 pairs of skis or 1 snowboard
6 pairs of skis or 2 snowboards
Cargo Box
Aerodynamic Cargo Box carries
everything from ski and bike accessories
to camping gear. Integrated with dual
locks and keys for security and side
hinges for easy accessibility. Also,
includes a wheel kit to convert to an
easy rolling travel case. Attaches
quickly and securely to Suzuki roof rack
cross bars (99980-93005). Made of
high-density polyethylene with a full
7.4cu.ft. of capacity.
(28 lb. capacity plus weight of roof box). 24 lbs.