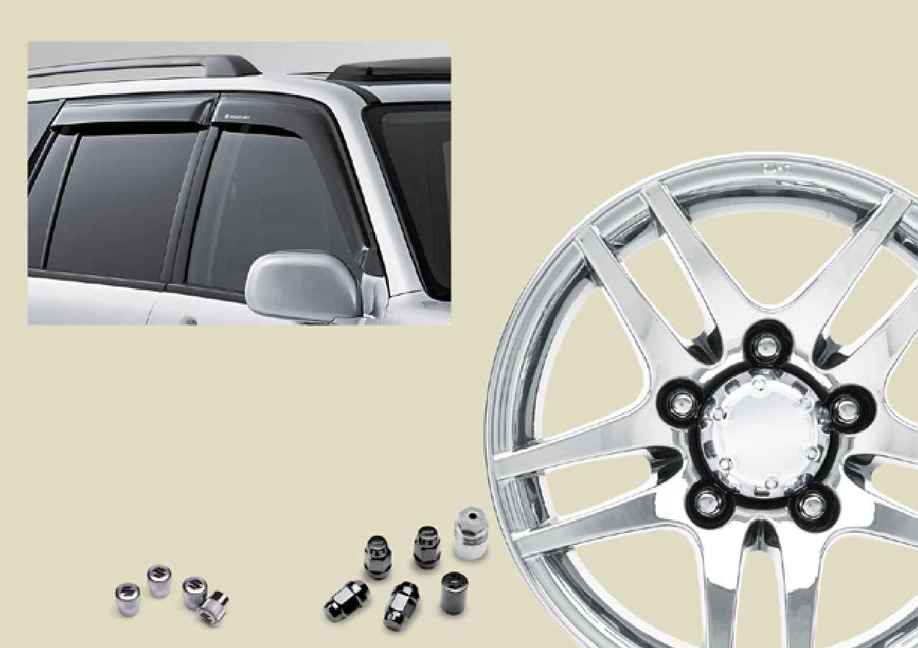 Aluminum Alloy Wheels (235 x 16")
Add a sporty look to your XL-7 with precision-
engineered durable aluminum Alloy Wheels.
*Includes lug nuts. For the XL-7, use the chrome
center caps listed. For the XL-7 base model, use
either the stock black center caps, or the chrome
center caps listed above. Chrome center
caps sold individually.
99000-990YS-032 Chrome
(Fits up to 2004 only)
Window Visor Set*
Window Visors help keep out the wind and
rain while allowing fresh air in. Made of
tough, durable acrylic. Set of 4.
*NOTE: May be illegal for on-road use in some
states. Please check local regulations before using.
Valve Stem Caps
High quality solid brass chrome-plated Tire
Valve Caps with "S" logo on top. Features
include an internal o-ring to help prevent
air loss, easy grip knurled cap. Set of 4.
Smoked Chrome Lug Nut and
Lock Set
20 piece Smoked Chrome Lug Nut and
Lock set features laser etched SWT logo on
each lug. Premium lug nuts are made from
one piece of high quality alloy steel and
hardened for the ultimate in strength and
corrosion resistance. Smoked chrome finish
locks feature hardened steel construction for
great looks and durability. Wheel locks have
exclusive Suzuki coded keys for
maximum security and
serviceability at
Suzuki dealers
nationwide.
Chrome Center Caps
Chrome version of the XL-7
Standard model black center
caps. Order in multiples of 4.