Astronomical Applications Department, U.S. Naval Observatory thesis Page 4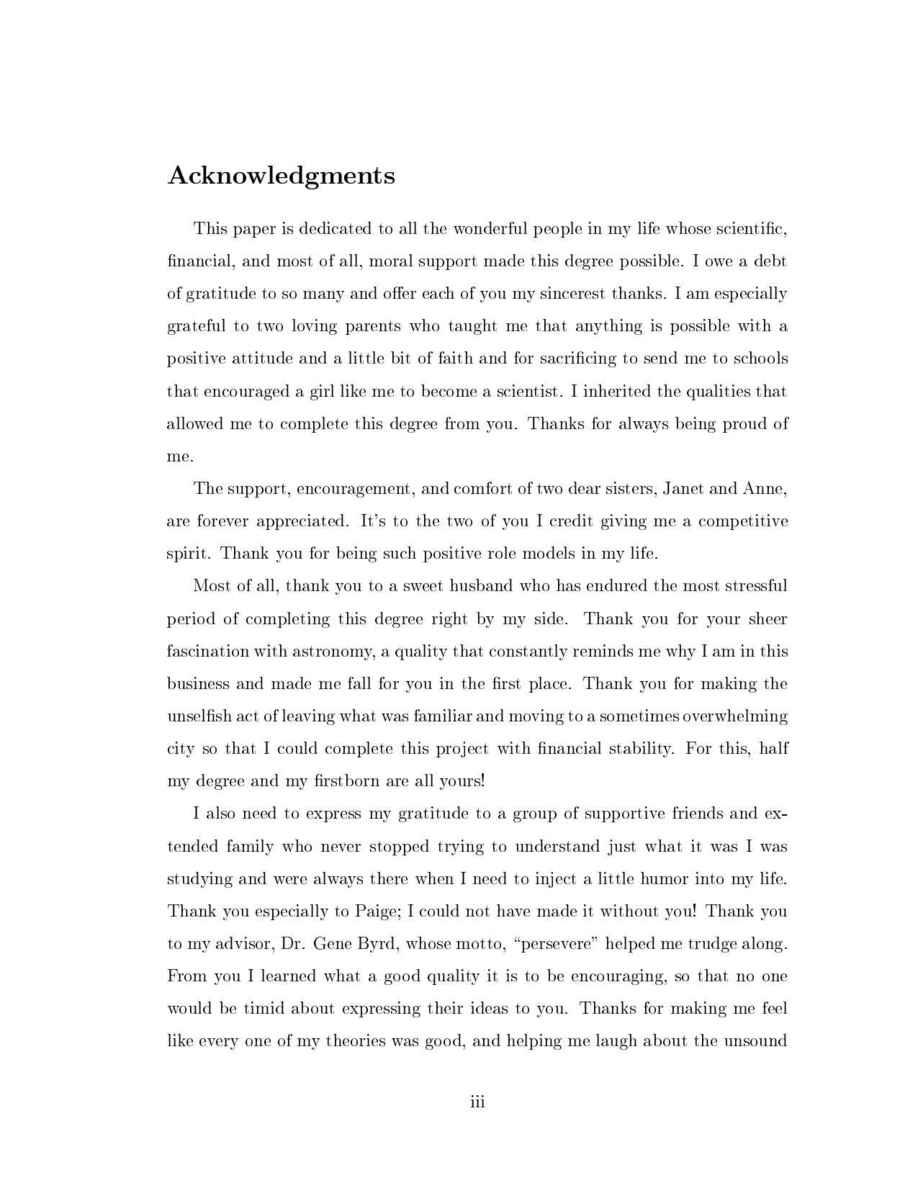 This paper is dedicated to all the wonderful people in my life whose scienti c,
nancial, and most of all, moral support made this degree possible. I owe a debt
of gratitude to so many and o er each of you my sincerest thanks. I am especially
grateful to two loving parents who taught me that anything is possible with a
positive attitude and a little bit of faith and for sacri cing to send me to schools
that encouraged a girl like me to become a scientist. I inherited the qualities that
allowed me to complete this degree from you. Thanks for always being proud of
me.
The support, encouragement, and comfort of two dear sisters, Janet and Anne,
are forever appreciated. It's to the two of you I credit giving me a competitive
spirit. Thank you for being such positive role models in my life.
Most of all, thank you to a sweet husband who has endured the most stressful
period of completing this degree right by my side. Thank you for your sheer
fascination with astronomy, a quality that constantly reminds me why I am in this
business and made me fall for you in the rst place. Thank you for making the
unsel sh act of leaving what was familiarand moving to a sometimes overwhelming
city so that I could complete this project with nancial stability. For this, half
my degree and my rstborn are all yours!
I also need to express my gratitude to a group of supportive friends and ex-
tended family who never stopped trying to understand just what it was I was
studying and were always there when I need to inject a little humor into my life.
Thank you especially to Paige; I could not have made it without you! Thank you
to my advisor, Dr. Gene Byrd, whose motto, persevere" helped me trudge along.
From you I learned what a good quality it is to be encouraging, so that no one
would be timid about expressing their ideas to you. Thanks for making me feel
like every one of my theories was good, and helping me laugh about the unsound