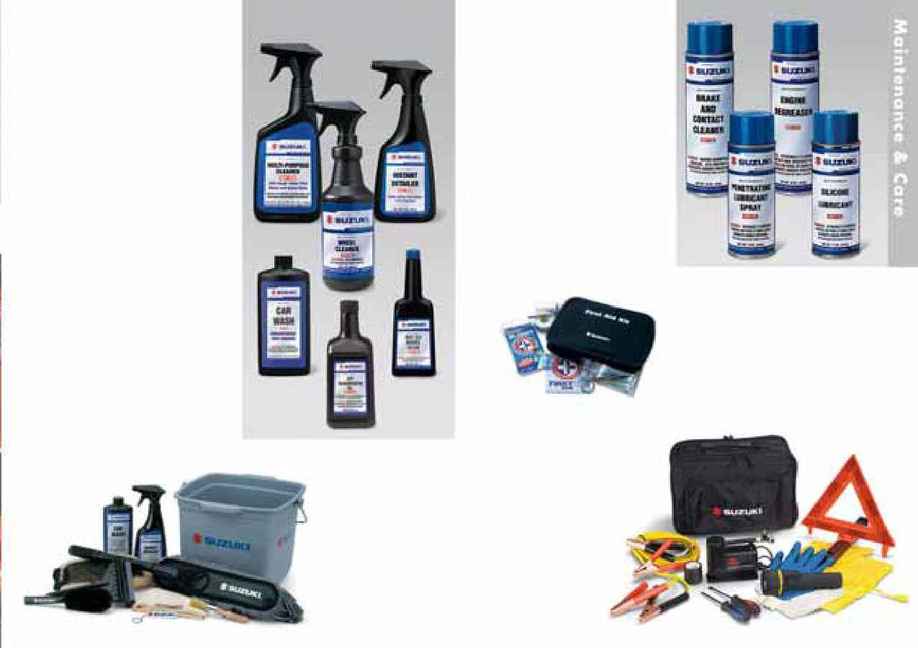 Multi-Purpose Cleaner
Works on grease, oil, grime on fiberglass,
vinyl, plastic and other hard surfaces.
Instant Detailer
Specially formulated for a quick and easy
shine with no water necessar y. Removes
surface dust, dirt and light grease while
replenishing and protecting the finish.
Wheel Cleaner
Spray on cold wheels, then spray off with
strong stream of water.
Suzuki Car Wash
Specially formulated to leave your Suzuki
sparkling. Removes dirt, grease and road
film and puts a shine on all surfaces.
ATF Transmission Oil
Formulated to help extend transmission life
with superior high/low temperature
performance.
Brake Fluid
Approved for all ABS systems. Formulated
with a minimum dr y boiling point of 450░F.
and is for all drum and disk brake
systems where DOT 3 or 4
is specified.
Brake & Contact Cleaner
This brake cleaner is ideal for cleaning
parts. Leaves no residue; dries quickly.
Engine Degreaser
Spray on; hose off. Removes grease, grime
and oil. Leaves no residue. Harmless to
electrical systems.
Penetrating Lubricant Spray
Loosens rusted parts. Helps start wet
engines and protects electrical systems.
Silicone Lubricant
Stops sticking and lubricates rubber.
First Aid Kit
Perfect for that minor road emergency.
Packaged in a functional nylon carr ying
case, and comes with a variety of first
aid basics. Emergency blanket, scissors,
bandages, antiseptic wipes and safety
gloves are a few of the items in this
well stocked kit.
(Items are not sold individually).
Suzuki Care Kit
The Care Kit has all the products
to properly wash your Suzuki
by hand and keep it looking
new. Includes bucket,
instant detailer, sheepskin
wash mitt, genuine leather
chamois, large car duster,
window squeegee, wheel brush,
dust brush and Suzuki key fob.
Roadside Emergency Kit
Durable two-sided bag stores almost
ever ything for an unexpected roadside
emergency. Includes: knee mat jumper
cables, 12" reflective triangle, mini air
compressor with accessories,
rubberized flashlight, one
Phillips screwdriver, one 1/4"
flat blade screwdriver, duct tape,
shop towel, work gloves and
rain poncho.