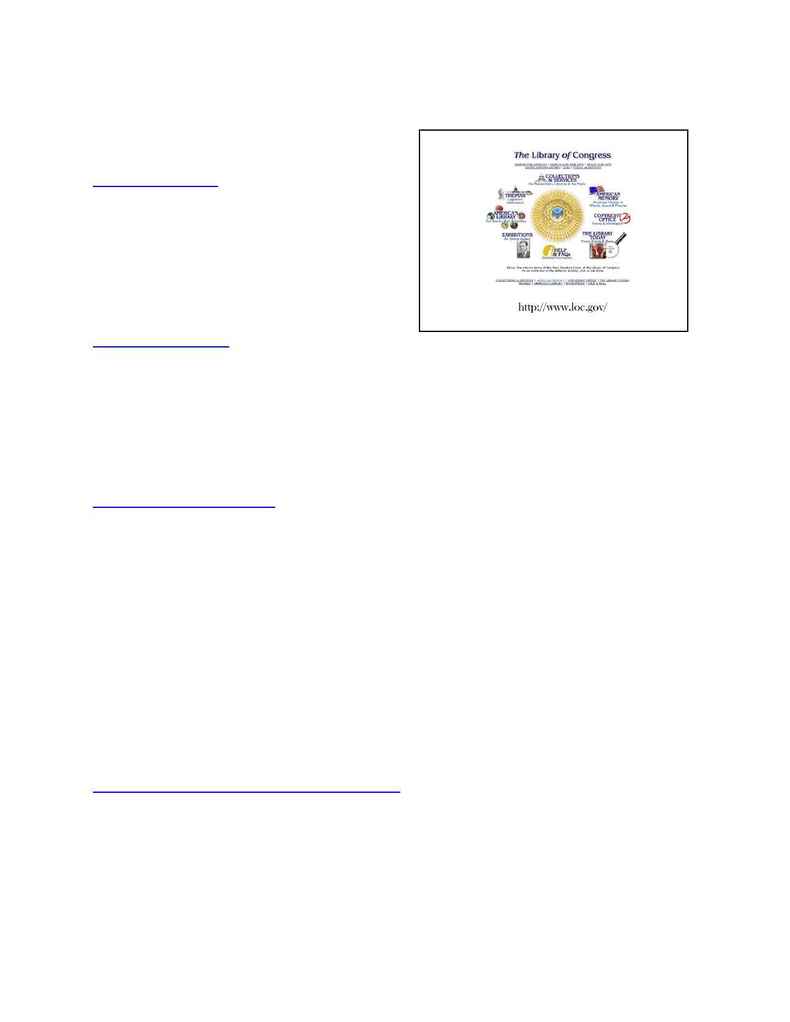 Library of Congress Online Resources
Library of Congress Web Site
The Library of Congress Web site
provides a gateway to many resources for the
study of history, including thousands of primary
source materials. Important materials specifically
relevant to K-12 curriculum include:
THOMAS: Legislative Information
Here, students will find federal legislation that may impact many aspects of their own
lives. THOMAS presents bills in their full-text as well as in summary. A searchable version of
the Congressional Record is also available, as well as Congressional committee reports.
Students can learn about the legislative process, find out what their Member of Congress has
proposed, and examine public policy issues through the lens of Congress.
Exhibitions
http://lcweb.loc.gov/exhibits/
The Library of Congress assembles exhibits on a variety of topics for visitors to the
Library of Congress in Washington, DC. Sometimes the material for these on-location exhibits
come from Library of Congress collections; sometimes the materials are on loan from other
institutions. Portions of these exhibits are digitized and presented on the Web.
Visit the "Treasures of the Library of Congress" exhibit to see Francis Scott Key's hand-
written text of the Star-Spangled Banner. Students may be amazed to learn that this song
commemorating the flag that flew over Fort McHenry in the War of 1812 did not officially
become the national anthem until 1931. Or, if students are researching the role of women in the
workplace throughout our nation's history, consider the online exhibit, "Women Come to the
Front: Journalists, Photographers, and Broadcasters During WW II." This economic and social
"turning point" of women returning to the workforce can also be researched in many American
Memory collections. (See the American Memory description that follows.)
Today in History
http://memory.loc.gov/ammem/today/today.html/
Here, students will find items from the American Memory collections that happened on
or relate to today's date. These illustrated essays provide links to the American Memory
collections where many "turning points" in history have been documented in primary sources.
Students may enjoy searching on their birthdays as an entry point to the collections.