American Memory locres 2 Page 2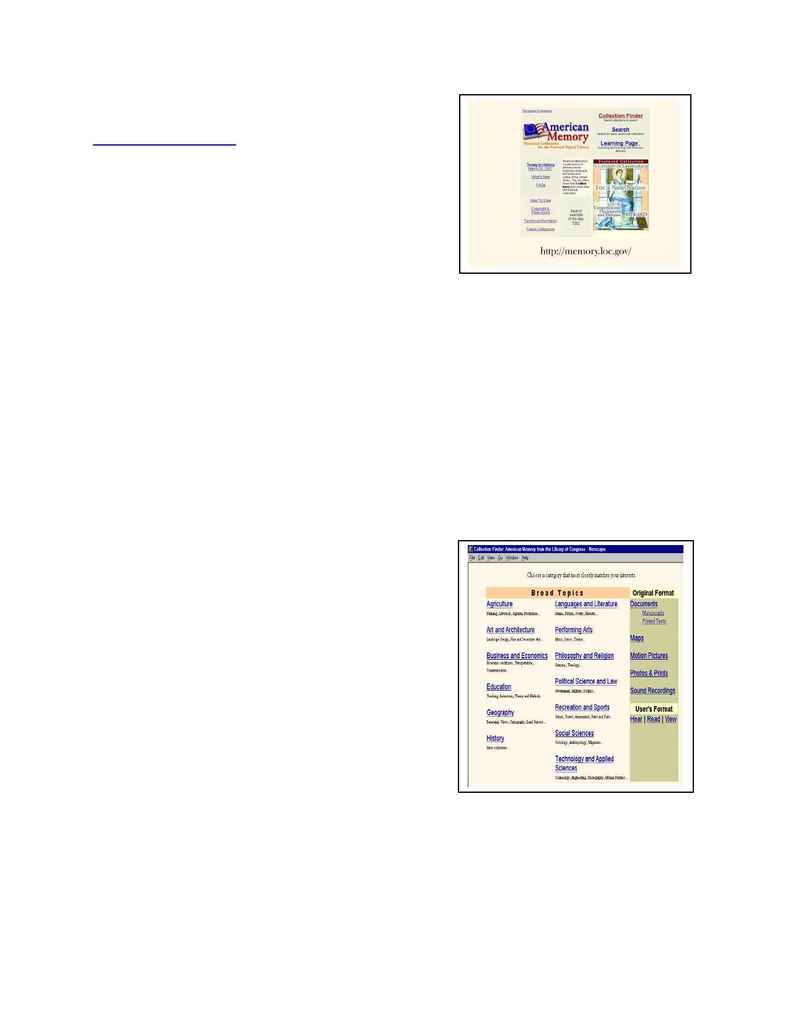 American Memory
American Memory is the Library's online archive
of primary sources that relate to the history and culture
of America. This illustration shows the American
Memory Home Page. As of this writing, there are more
than 90 online collections of these primary source
materials that are freely available to educators, students,
and the general public. Collection materials include
digitized documents, manuscripts, films, photographs, sound recordings, and maps. In most
cases, no special viewers are required to make use of these materials, though RealAudio,
QuickTime, and/or MPEG will be needed to hear and view sound and video recordings. These
programs can be acquired without cost through the internet. Information on these programs and
how to configure your Web browser is available on the Learning Page. (See Learning Page
description below.)
American Memory collections range from Mr. Lincoln's Virtual Library to Selected Civil
War Photographs to Alexander Graham Bell Family Papers­all three collections representing
the work of people and consequences of events that have changed the course of history. Students
may be interested to know that the Library of Congress collection grew from Thomas Jefferson's
private collection of 6,000 books that he sold to Congress near the end of his life. He noted,
"there is, in fact, no subject to which a Member of Congress might not have reason to refer."
The breadth of the American Memory collections is a reflection of this foundational belief.
Students will be fascinated with photographs of Civil
War soldiers as they learn more about the early use of
photography to document the many aspects of war,
including its horror. The inventions of Alexander
Graham Bell and his work with the deaf community may
become a springboard for an exploration of
technological "turning points" in history. American
Memory collections are rich and varied, providing
unique and personal insights into American history and
culture.
Use the Collection Finder to locate resources by
broad topics or by format:
http://memory.loc.gov/ammem/collections/finder.html.
Or, choose the List All Collections option to see a brief
list of all collections currently available. (Note: you will need to use your "scroll bar" after you
have chosen this option to see this list.)