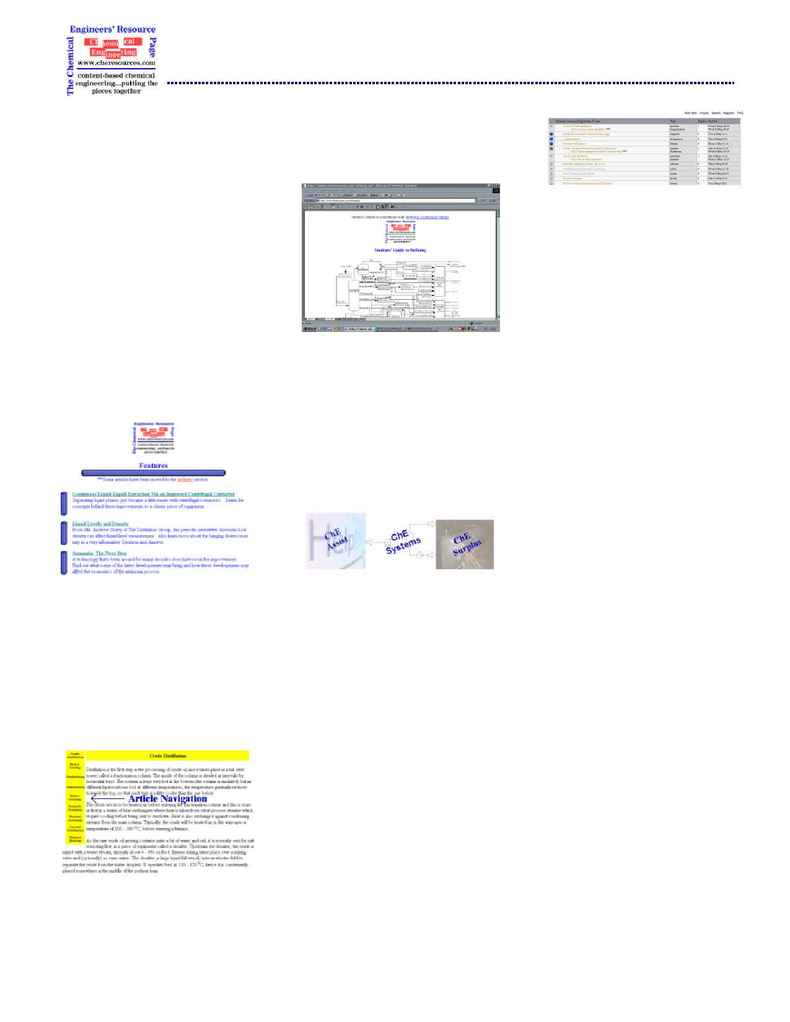 Get your article published! Visit us at www.cheresources.com and click on "Submit an Article"
The Chemical Engineers' Resource Page
www.cheresources.com

The Chemical Engineers' Resource
Page has been serving as the
internet's only content-based site for
chemical engineers since 1998. Visit
most chemical engineering sites and
you'll find marketing information or
a constant attempt to make a sale. At
The Chemical Engineers' Resource
Page, we are dedicated to one
purpose: Bringing you informative
articles on a broad range of chemical
engineering topics. Our articles are
written by a professional staff and
visitors to our site just like you. Each
article is edited before publication to
ensure that you're getting the best
articles that we can bring to the
internet.

Feature Articles

Our Feature articles offer an in-depth
look at the topic being discussed.
Examples include:
Student's Guide to Refining
Pinch Technology: Basics for
Beginners
Focus on Flow Measurement
......and much, much more!

Feature Articles are often
accompanied by article navigation
tools as well as a printable Adobe
Acrobat version available for
download.


Other Articles

In addition to our Feature Articles,
you'll also find article sections
entitled: For Your Information, ChE
in Everyday Life, ChE Business, ChE
in Action, Process Engineering as I
See It, and our Archives section.

ChE Services

ChE Services includes ChE Assist,
ChE Systems , and ChE Surplus.
Whether you're looking for help with
a processing problem, in the market
for a chemical processing skid, or
looking to buy or sell used
equipment, there's a service for you.
Stop by and see if we can help make
your life easier with our suite of
services.



You can also take a tour of the site,
converse with other engineers on our
powerful message board, find
physical properties on the internet,
read our frequently asked questions
(FAQ), visit our favorite sites, check
our the chemical engineering reading
room (full texts on the internet), or
read reviews of the best books for
chemical engineering in our Book
Corner.

If you're looking for software, our
Software Corner has just what you
need. Get discounts on commercial
software for chemical engineers or
download from our library of free
software. Also view our list of the
best online calculators for chemical
engineers.

If you'd like to take our articles to
another level, you can join in on our
Interactive Articles. This feature
allows the reader to discuss the article
in a custom forum.

Website Address

You can visit us on the internet at:

http://www.cheresources.com


Our Comprehensive
Menu is always on the
left
Other Features of the Site

In addition to the many articles on the
site, The Chemical Engineers' Resource
Page offers a comprehensive site index
and a search engine to help you find
what you're looking for as quickly as
possible.