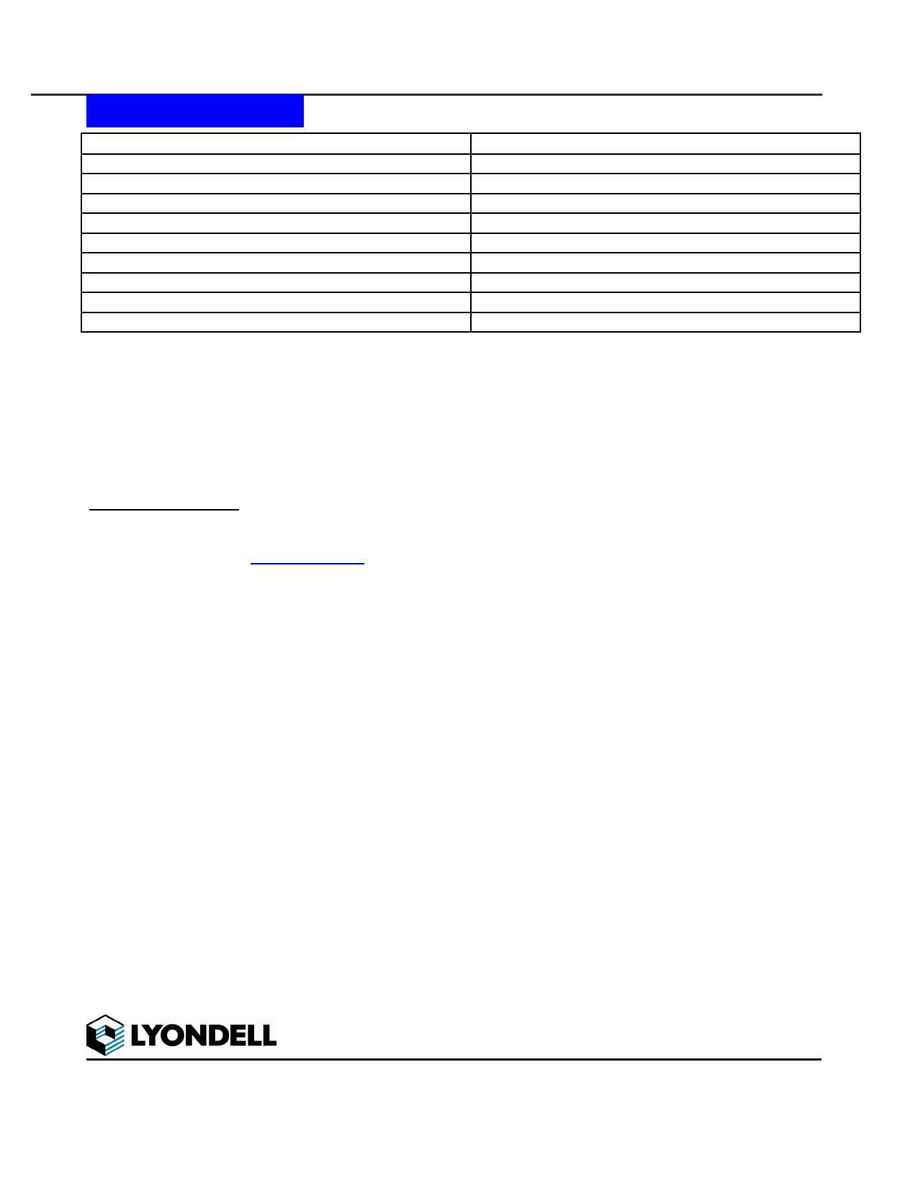 This information is believed to be accurate as of the date of publication. It is the sole responsibility of the customer to determine whether the product is appropriate and suitable for
the customer's specific use. Specific end uses may require approval by appropriate regulatory agencies. Lyondell Chemical Company makes no warranties, express or implied,
regarding the product or information contained therein. The applicable Material Data Sheet should be reviewed by customer before handling the Lyondell Chemical product.
Lyondell Chemical Company disclaims any liability for infringement of any patent by reason of customer's use of any Lyondell Chemical Company products in combination with
other materials or in any process.

©2004 Lyondell Chemical Company
APPLICATION DATA
Raw Materials
Suppliers
Lyondell Chemical Company
Lubrizol coating additives
Lyondell Chemical Company
SAFETY AND HANDLING
Before working with any product mentioned in this publication, including SAA-103, you need to
study thoroughly all available information concerning its hazards, proper use, and safe handling.
Some of this information is contained in material safety data sheets and product labels. For
more detailed information on health and safety related to SAA-103, please visit
www.lyondell.com or contact (800) 700-0946 (US and Canada); 33-3-44-24-92-05
(Europe); or 886-933-635-556 (Asia).

Visit us at our Web site:
World Headquarters

Lyondell Chemical Company
1221 McKinney Street
Houston, TX 77010 USA
Telephone: (713) 652-7200
Facsimile: (713) 309-4944
MSDS Hotline: (800) 700-0946


Newtown Square Technology
Center

Lyondell Chemical Company
3801 West Chester Pike
Newtown Square, PA 19073-2387 USA
Telephone: (610) 359-2000
Facsimile (610) 359-2841
European Headquarters

Lyondell Chemical Europe, Inc.
P. O. Box 2416
3000 CK Rotterdam
The Netherlands
Telephone: (31) (10) 275-5500
Facsimile: (31) (10) 275-5599


Lyondell South America

Av Roque Petroni Jr, 999, cj 123
Sao Paulo, SP 04707-910
Brazil
Telephone: (55) 11-5185-9300
Facsimile: (55) 11-5185-9333
Asian Headquarters

Lyondell Asia Pacific, Ltd.
41st Floor, The Lee Gardens
33 Hysan Avenue
Causeway Bay
Hong Kong
Telephone: (852) 28822-668
Facsimile: (852) 28401-690
Telephone toll-free in the U.S. and Canada 1-888-777-0232
For assistance in Europe and Asia telephone 33 3 44 24 92 05
For assistance in Brazil telephone 55-11-5185-9321
For assistance in other countries in South America telephone 55-11-5185-9303