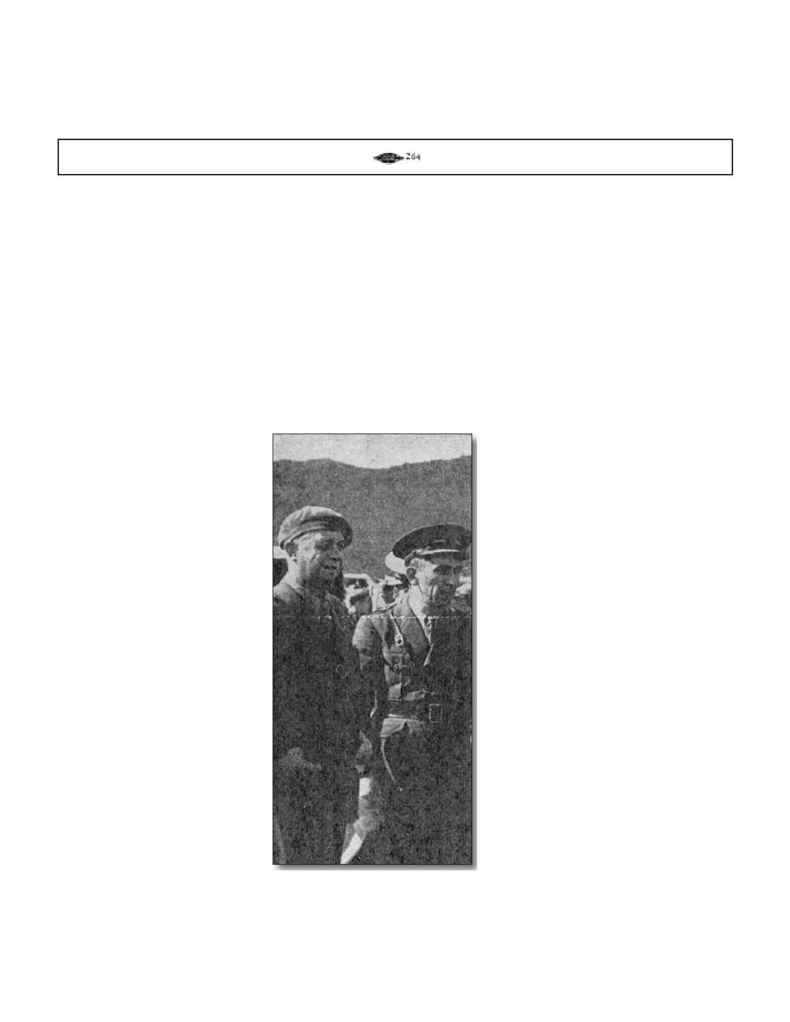 VOLUNTEER FOR
L I B E R T Y
GALLO FREED
BY U. S. S. R.

According to .the best reliable sources
Luigi Gallo, who gained world-wide fame
as Inspector General of the International
Brigades in Spain, is still in France,
awaiting his departure to the Soviet Union.
Through the diplomatic influence of the
U.S.S.R., the Vichy government has
consented to provide Gallo with a visa. It
is now a matter of time before Gallo is
completely freed from the grip of the
French fascist rulers.

Gallo's early life is replete with instances
of constant struggle against the forces of
greed and oppression. Born in Italy in 1900
of proletarian parents, in the town of
Fubine, near Piemonte province, Gallo, at
the age of 23, grew into national
prominence as leader of the Italian youth.
He was arrested in 1923, during the days
of bitter struggles against the reactionary
decrees of the Italian regime and thrown
into prison. He managed to make good his
escape, however, and was condemned in
absence to 10 years imprisonment. In later
years, Gallo rose to prominence as one of
the leaders of the underground anti-fascist
movement in Italy.

Perhaps the turning point in Gallo's
struggles for a better life for the peoples of
the world came when, along with Andre
Marty, founder and organizer of the
International Brigades, he devoted his
entire efforts to organizing international
working class support for the Spanish
people, during their historic struggle
against the fascism of Franco, Hitler and
Mussolini. He was one of the first to
respond to the call of the embattled
Spanish Democracy.

After the betrayal of the Spanish struggle
by men the like of Casado and Besteiro,
who were aided and abetted by the
appeasement gangs in official America,
France and England, Gallo and his
comrades were forced to flee Republican
(Continued on Page 4)
Rescue Ship Mission Launched
for Spanish Refugees and I. B.
Whirlwind Campaign Set to Raise $300,000
for First Mercy Voyage; Vets Pledge All Aid.

Spurred by the Mexican government's agreement to issue visas for the 150,000 Spanish refugees in
France, an American Rescue Ship Mission has been organized to provide transportation for them to
Latin America. The Vichy government has consented to their release provided that the cost for their
transportation is paid by an outside agency or another government.

The American Rescue Ship Mission was launched by the United Spanish Aid to raise funds for the
transportation of the refugees from France to Mexico. Enlisting the support of many prominent
individuals, organizations and trade unions, the initial phase of the campaign calls for a fund of
$300,000 to be raised before the end of this year to transfer the first group of refugees.
The unstable situation in Europe has made it
imperative that the possibilities that exist today for
saving the refugees should be taken advantage of
immediately.

In Mexico, powerful forces are beginning to bring
pressure on the Mexican government to force it into an
abandonment of its friendly attitude towards the
refugees. Most active of these forces are the groups of
Phalangists that are organized in every country in
Latin America. These are the same groups which
conspire to place Almazan in power against the wishes
of the majority of the Mexican people, as expressed in
the recent presidential election. Their plans will be
defeated only if efforts to organize a large mass of
people in the U. S. behind the American Rescue Ship
Mission are successful.

Ramon Serrano Suner, Franco's Foreign Minister, it
was reported recently in the press, is heading a
movement of "Hispanization," designed to damage the
peace and security of Latin America. There is no
greater force on earth today that can combat
effectively the propaganda efforts of the Spanish
Phalangist machine than those people who for almost
three years fought against them. The refugees, when
resettled in Mexico, can make the greatest
contribution to the safety and peace of Latin America
and the rest of the continent.

The American Rescue Ship Mission is mare than a
money raising campaign. It

(Continued on Page 4)
Andre Marty and Luigi Gallo