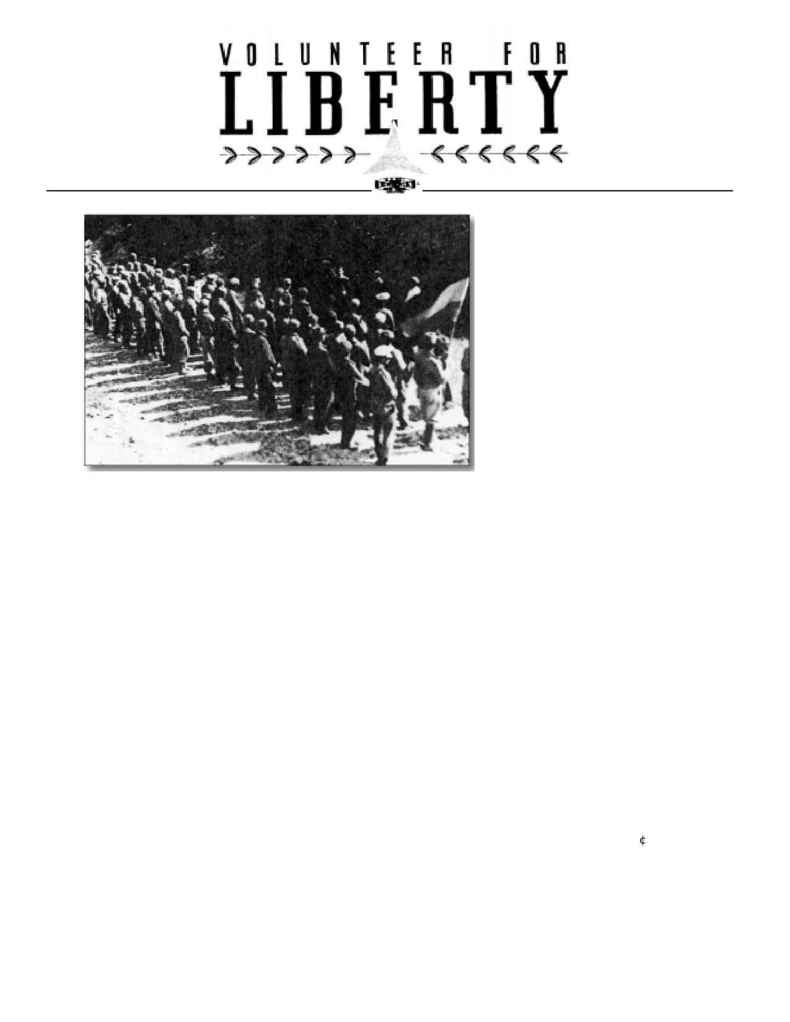 T W O M A Y D A Y S 1 9 3 8 a n d 1 9 4 0
May Day in Spain two years ago was a
solemn day of dedication to the tremendous
tasks facing the people and its Army. The
Republic had dust barely survived the crushing
fascist pooh to the sea. The success of the
enemy invader had been due not only to his
tremendous superiority of equipment but also
to the treacherous policy pursued by the "labor"
lackeys of capitalism both within and without
Spain.

In Spain, Prieto had hamstrung the shock
brigades by stripping the commissars of their
authority. He further had weakened the Army
by failing to call up the necessary reserves and
to carry out the intensive fortification program
demanded by the military leaders.

Outside of Spain, the Blums, Attlees, Citrines
and their ilk wept crocodile tears for the
Republic while they aided and abetted their
masters--British, French and American
imperialism-in cutting off food and supplies
from the Spanish people.

The Spanish workers and pea-
sants met this crisis by revitalizing the Popular
Front around the simple, powerful slogan --
"Resist." This unanimous will of the people
was nowhere more keenly felt than at the May
Dap celebration of the Lincoln Battalion when
the files of newly mobilized youths swore "The
Oath of the New Recruits,"..."to resist today so
that tomorrow we can attack and conquer."

On May 1st, 1940, the stirring picture of that
Spanish May Day should serve as a guide for
carrying out the tasks facing the labor
movement in the critical year ahead. The
current May Day slogan "For Jobs, peace and
civil rights" means much to the veterans of the
Lincoln Brigade because in each of these three
issues we are a focal point for the attacks of the
war-and-profit makers and their stooges. In
addition we have our particular slogan to fulfill,
one which embodies the international solidarity
which we symbolized in Spain, "Freedom and
Sanctuary for the Spanish Refugees and the
Veterans of the International Brigades."
VETS JAILED FOR
REFUGEE PROTEST
Five veterans' leaders and as many youthful
trade - unionists have been jailed in New York
City for protesting France's cruelty to the
Spanish refugees. The vets are Milt Wolff, Fred
Kelley, Jerry Cook and Lou Ornitz. They were
arrested at two demonstrations before the
French Consulate which were held to publicize
the infamous Menard decree forcing the
refugees back to Spain.
The technical charge of "disorderly conduct"
was the one under which the men, along with
58 other friends of the refugees, were found
guilty. These others received fines and
suspended sentences. In reality, their "crime"
was the violation of "Little Caesar" La
Guardia's illegal order forbidding picketing of
consulates and designed to protect the warring
nations from embarrassing truths.

All disorder at the demonstrations was
deliberately caused by the hundreds of cops
assigned to help "democratic" France quietly
send the refugees to their doom. The trials
themselves were shocking evidence of the
frame - up. The convicting magistrates, both La
Guardia appointees, were guilty of biased
conduct which angered even the hardened
attorneys who were waiting to try other cases.
Lou Ornitz, the first vet tried, was given a
thirty day sentence and the District Attorney,
called in specially from the homicide court to
handle the cases, threatened worse for Wolff,
Kelley and Cook as the "ring leaders." The first
conviction, however, roused a furor which
softened the later sentences to fifteen days.
Appeals in three of the cases (all that the
Defense Committee can afford to finance) era
being taken. Meanwhile letters should
immediately be written to the failed men who
will be freed on May 11th. Their address is:
Milt Wolff - 237513.
Gerald Cook - 237624.
Fred Kelley - 237514.
Riker's Island, Bronx.
Address name and number. Money should be
sent to the office. Insert 5
Catalonia, May 1, 1938: During the May Day celebration of the XVth Brigade, the
24th (Spanish) Battalion hears an address by a Barcelona trade-union leader