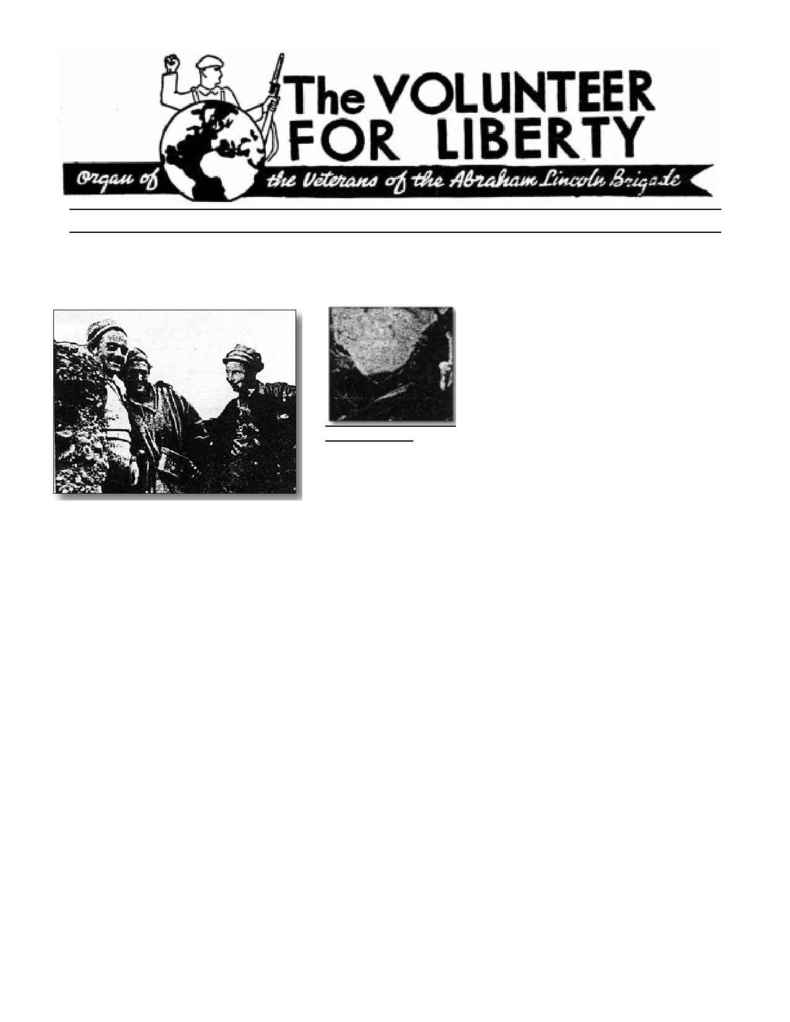 150 AMERICANS RETURN ON PARIS: MORE TO COME!

SOLLY WELLMAN, at left, will return this week.
He was a Company Commissar. Shown with him
are Captain Bob Thompson (Center) and Brigade
Commissar Dave Doran, killed in action.
YALE STUART

returning this week from
Spain, is one of the
oldest veterans in point
of service, having fought
for nearly two years. in
the Americans last
action, at the Ebro, Yale
lost his arm.
NEW YORK--Thousands will be at the French line
piers THURSDAY, DECEMBER 15, to greet the
hundred and fifty Americans who are returning
from fighting for the Spanish Republic. These boys
make up the first contingent of the group who have
been evacuated by the Spanish government in line
with its policy of retiring all foreign volunteers.

The rest of the boys will arrive this month, over five
hundred of them in all, and will be under the care of
the Friends of the Abraham Lincoln Brigade for
medical attention and rehabilitation.

Among those who are arriving on the Paris are
Americans who have been fighting in Spain for two
years, the first Americans having left for Spain. on
Christmas night, 1936.
GREETINGS FROM THE LABOR MOVEMENT
UNITED SHOE WORKERS: CHAIRMAN
JOINT COUNCIL #13- -C.I.O.

Send our heartfelt and warmest greetings to the
brave Americans who have sacrificed so much
in order to carry on the fight for democracy.
We, American trade unionists are proud that
we have people who are ready to sacrifice and
carry out the traditions of Abraham Lincoln,
and George Washington. You are the symbol
and inspiration for all "true" Americans to
carry on where you left off.

Israel Girsch, Chairman Joint Council.
MANAGER POCKETBOOK WORKERS,
democracy. In this day of rising fascism in the
world, you volunteered to fight even to the
point of giving your lives in defense of
democracy and civilization. The trade union
movement of America is proud of you and
welcomes you back and pledges at the same
time to continue this fight until fascism is
driven from the earth.

As a trade unionist who has been unfortunate
enough to come back before your I am
delighted to welcome the Veterans of the
Abraham Lincoln Brigade now returning from
Spain. All trade unionists I am sure look with
the greatest pride at the
achievements of these boys who
fought for democracy.
(Local 10, 105, 110, 1150)
American boys returning from
Spain. You fought for the
democracy and freedom of Spain
and of America too. All trade
unionists feel inspired by your
splendid achievement. Signed,
IRVING POTASH, Manager,
JOSEPH WINOGRADSKY,
Assistant Manager, Mr. Wolen,
Business Agent.
NEW YORK, DECEMBER 15, 1938