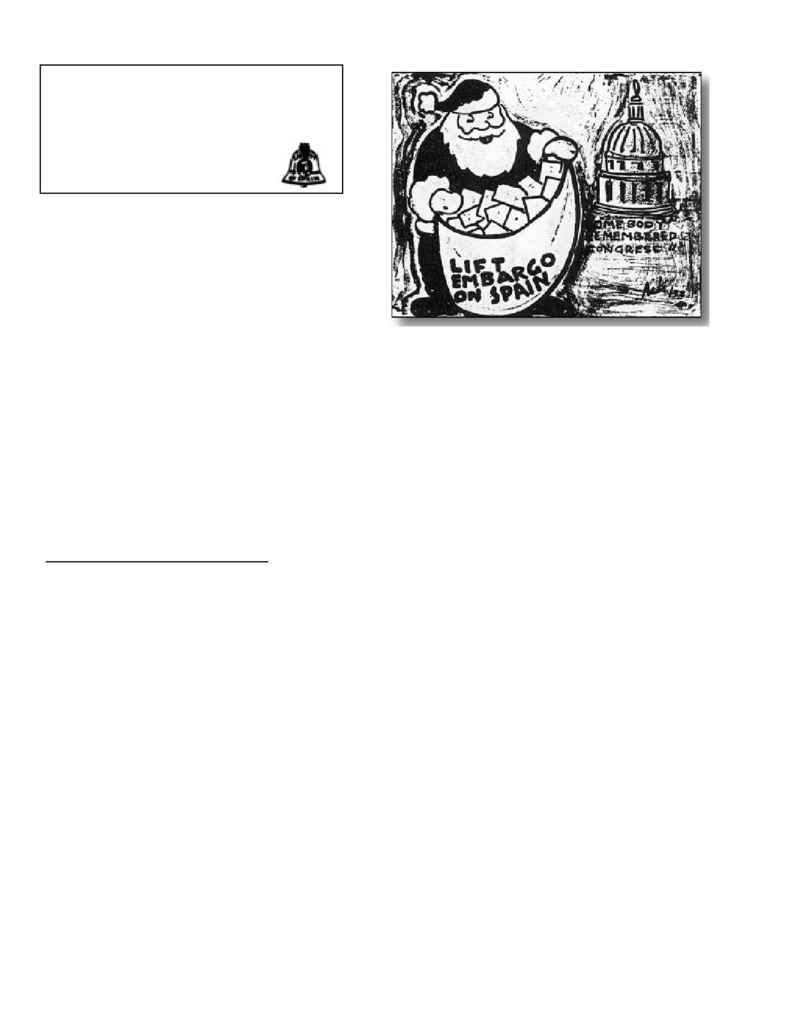 OUR BIG CHANCE

Today the government of the United States has a more
favorable attitude on the question of Spain than ever before.
The Nazi persecution of the Jews and Franco's bombing of
more than a hundred towns in a few days are linked together
in the mind of America. The Gallup poll of public opinion
recently showed that more Americans than even the previous
large majority are for the Loyalist Government of Spain. And
as a result of these things Roosevelt is known to ,have been discussing the posibility of trade reprisals against Germany and Italy.

This winter, then, we will have a big chance. We veterans of the Abraham Lincoln Brigade, in New York Boston, Chicago,
Milwaukee, San Francisco and all the other cities, can be of great help to the Spanish people. By our works talking, organizing,
helping out in every ways we can help to crystallize the sentiment of America, so that our government will be forced to act as most
Americans want it to.

We have an obligation to the Spanish
people, to fight as hard for them at home
as we fought in Spain. We can't-forget
that, and it means right now, to help the
rest of America
LIFT THE EMBARGO ON LOYALIST
SPAIN!
TRADE UNION
GREETINGS

We extend a warm handclasp in greeting
our heroic brothers' sale return home. It is
our sincere hope that before long you will
find your places alongside millions of
Americans fighting in the ranks of
organized labor.
WORKERS OF AMERICA, LOCAL
GENERAL MANAGER--ALEXANDER
The light for the ideals of democracy,
and freedom which was made by the
American boys who defended the Spanish
Republic against fascist aggressors is one
of the finest achievements of Americans. I
extend my warmest greetings to them
upon their return to their country.

The Volunteer for Liberty
- ORGAN OF - The Veterans of the
ABRAHAM LINCOLN BRIGADE
NATIONAL HEADQUARTERS
22 WEST 48TH STREET
NEW YORK CITY
LOngacre 5-7876
In the name of FALB I am very happy to
extend the warmest and most enthusiastic
welcome to the hundreds of volunteers who
are returning to America after so long and
honorable a service in Spain. Our national
membership of over 45,000 and our hundreds
of active and tireless workers join me, I am
sure, in looking forward to ever increased
activity in your behalf and, with your
powerful assistance, in behalf of the Spanish
people and the great cause of democracy and
peace, here and throughout the world.
In giving the account of our work which
you have a right to demand, we can say that
we have worked hard and conscientiously at
the many tasks we have been faced with.
We
committees in towns and cities. Here in New
York we have, besides our national office,
neighborhood branches. With this apparatus
and through the medium of trade union
committees, personal contacting, and national
and local speaking tours, we have carried on
our work.
We have raised thousands of dollars for the
sending of chocolate, cigarettes and supplies
to you in Spain. We have spent thousands of
dollars through Paris for the purchase of
blankets, shoes and clothes. Since the men
began returning we have been reasonably
successful in providing medical attention and
alas, all too brief--maintenance for the men,
based on their physical needs as reported by
our doctors.
In the midst of our other work, we have
tried hard to treat with patience and courtesy
your
families and friends who have been so deeply
concerned for your welfare, and with marry
of whom you were not in contact for long
periods of time. As you are aware,
communications between here and Spain
have not been good, but we secured and
relayed what information we could as to your
condition and whereabouts. We have worked
through the State Department and the Red
Cross on the question of release or exchange
of the American prisoners held by Franco,
and are at the present time preparing amass
campaign on their behalf. We work with the
State Department and the Department of
Labor also on the question of passports and in
an attempt to secure the reentry into this
country of Americans who went to Spain as
aliens.
In addition to this we have never forgotten
to bring into our work the demand for the
lifting of the embargo. We have realized as
you do that this is in a sense our major
objective, since the cause of the Spanish
people is also, today more than ever, the
cause of world democracy and peace. We
realized that it is-in this cause that you served
in Spain so heroically. It is in this cause that
all of us lost so many brave comrades-in-
arms on Spain's battlefields.
We have, at present, an apparatus with
which we hope to, take care of your
immediate needs to the very best of our
abilities. You will be interviewed according
to a schedule by our rehabilitation
department, and assigned for general
examination to the many doctors who have so
generously contribut-
WELCOME FROM OUR FRIENDS