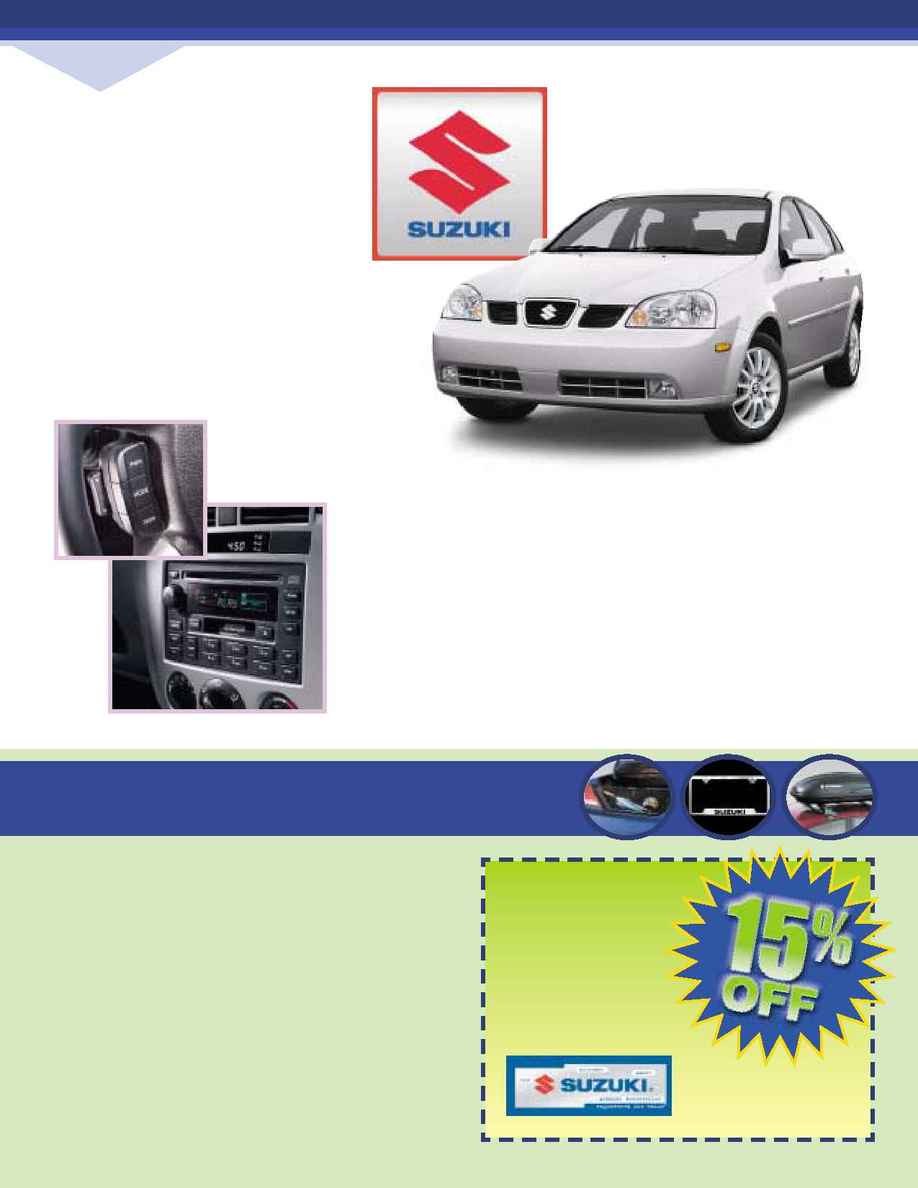 ASK
Dear Suzuki,
I recently purchased a new 2004 Suzuki
Forenza and I absolutely love it!
During the sales and delivery process, my
salesperson pointed out the CD/cassette
player with eight speakers and steering-
wheel-integrated audio controls. The
controls seem like a feature that would
be found in a pricier vehicle. Has
including luxury features in mid-level
vehicles become industry standard?
Sincerely,
Curious in California
Don't Venture Out Without Genuine
Suzuki Accessories for Your Vehicle!
pring is in the air...and that means you'll soon be venturing out
more, opening your windows or sunroof and enjoying all that
the Great Outdoors has to offer. But before you do that, you'll
want to outfit your Suzuki with the very best Genuine Suzuki
Accessories. Like our parts, all of our accessories are made to perfectly
fit your Suzuki and are rigorously tested to meet our high quality
standards. Plus, they allow you to incorporate your unique personality
into your vehicle. So whether it's a roof rack system, a Suzuki license
plate frame or a cargo net for your trunk area that you need this
spring, you'll want to clip the coupon to your right and head to your
nearest Suzuki dealership, where these accessories and more await you!
Limit one coupon per customer.
Offer valid at participating Suzuki
auto dealerships only.
Offer expires April 30, 2004.
Any over-the-counter
Genuine Suzuki
Part or Accessory
OR
any Suzuki
in-dealership work
(for parts components only)
When Suzuki designed the Forenza, one of our goals was to give customers an
impressive level of standard features--many of which might be considered
luxury--at an affordable price, so that it stood out as one of the smartest choices
on the road today. And obviously, it did when you were shopping for your new
vehicle! To answer your question, the Forenza's steering-wheel-integrated
audio controls, which allow you to change stations and adjust volume without
lifting your hands from the wheel, is a feature that we thought was important to
our customers, but it's definitely not industry standard. In fact, you can't get
this feature (even if you're willing to pay extra for it!) on most of the Forenza's
competitors, including the Honda Civic DX, Toyota Corolla CE and Nissan
Sentra XE. Hope we've answered your question...and that you're enjoying your
new Forenza's many other convenient features while motoring around town!