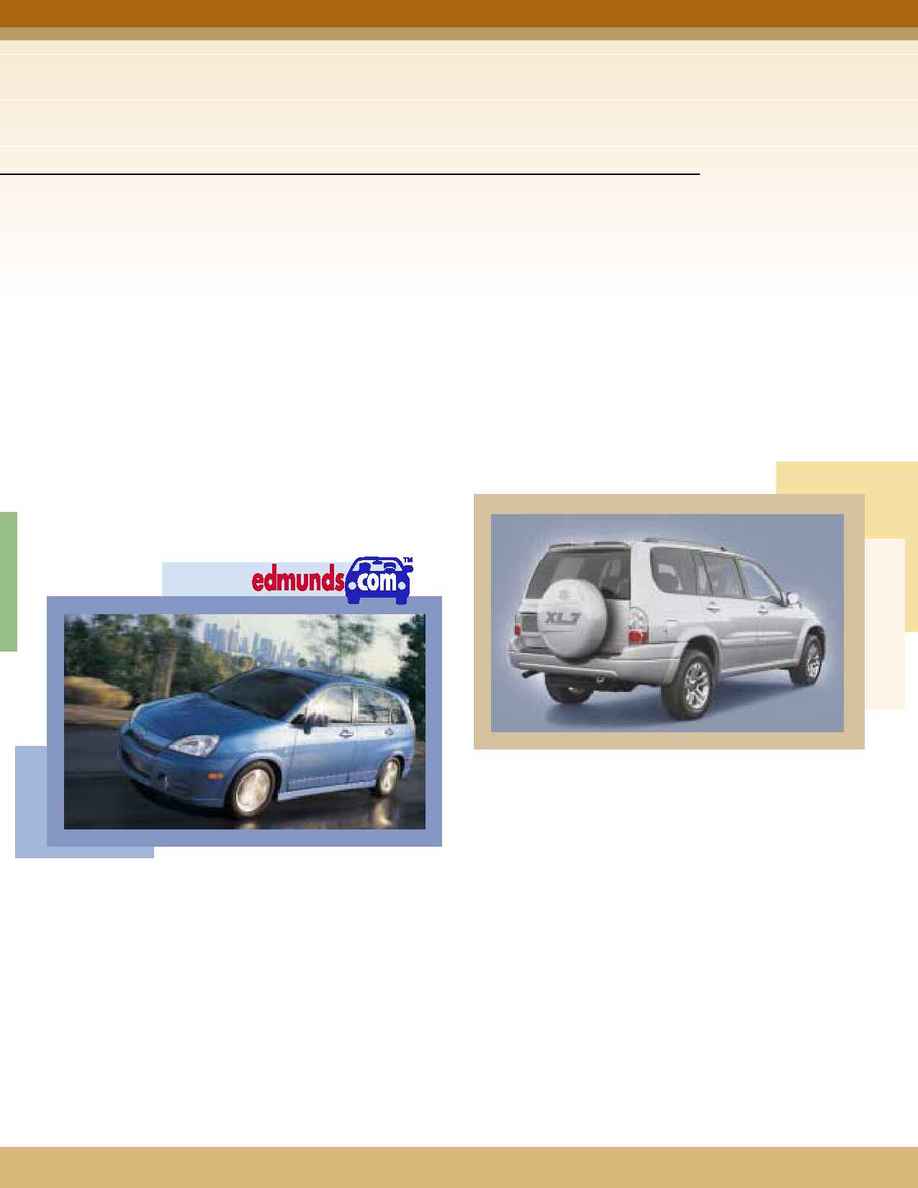 braking, handling and ride quality, are also considered.
"These most recent distinctions substantiate a
continuing theme--that Suzuki vehicles offer unbeatable
value," says American Suzuki President of Automotive
Operations Koichi Suzuki. "From the Aerio and XL-7 to
the all-new Verona and Forenza, Suzuki cars and SUVs
meet or beat the performance, style and feature amenities
of their more expensive competitors." The value of both
the Aerio and XL-7 was increased for the 2004 model year
when Suzuki rolled out the Aerio with 300 more cubic
centimeters of engine displacement and 10 additional
horsepower, and the XL-7 with added horsepower and
torque. The XL-7 was further enhanced with optional five-
speed automatic transmission and Drive-Select push button
four-wheel drive and updated exterior looks.
2004 Aerio: Edmunds.com
"Honorable Mention"
Kudos just keep rollin' in for the Suzuki Aerio! Last
year, Edmunds.com recognized the vehicle as "Most Wanted
Wagon Under $15,000" in its "Editors' Most Wanted"
awards, and in 2004 the popular automotive consumer
Website named it "Honorable Mention" in the same
category. To determine each year's honorees, the site's
editors scour the entire automotive spectrum looking for
their favorite vehicles and asking the question,"What cars or
trucks would we most want to park in our garage?"
About the Suzuki Aerio, the editors say: "For 2004,
the Aerio's horsepower has been pumped up and a number
of options have been added to this distinctively styled sport
wagon. Introduced just two years ago, the compact,
aerodynamic (hence the name) wagon has a small footprint
but a surprisingly roomy interior. It's set up for both
people moving and cargo hauling. Powered by a 155-
horsepower, 2.4-liter four-cylinder engine, you can
option the Aerio to your taste with ABS and all-wheel
drive. Whatever you order, you won't pay much. If you're
looking for a compact wagon capable of beating rough
weather, the Aerio will make a nice choice."
2004 XL-7: ALTAS Award Winner
Think the Suzuki XL-7 performs well when you're driving
it to work or to pick up the kids from soccer practice? Well,
the staff at the popular program SPORT TRUCK
CONNECTION Television thinks so too! They have chosen
the 2004 XL-7 as a recipient of their Annual Light Truck and
SUV (ALTAS) Awards in the category of "Favorite Compact
SUV." The awards--now in their fourth year--honor the staff's
favorite vehicles in seven different categories and are based on
real-world evaluations over the past year of how the vehicles
perform in their intended function, the way most owners
would typically use their vehicles.
On the air since 1998, SPORT TRUCK
CONNECTION Television airs three times per week on the
Outdoor Channel. It is the only weekly television program
dedicated solely to the new light truck market and evaluates
and airs more reviews of light trucks than anyone else.
Saying About the 2004 Suzuki Lineup