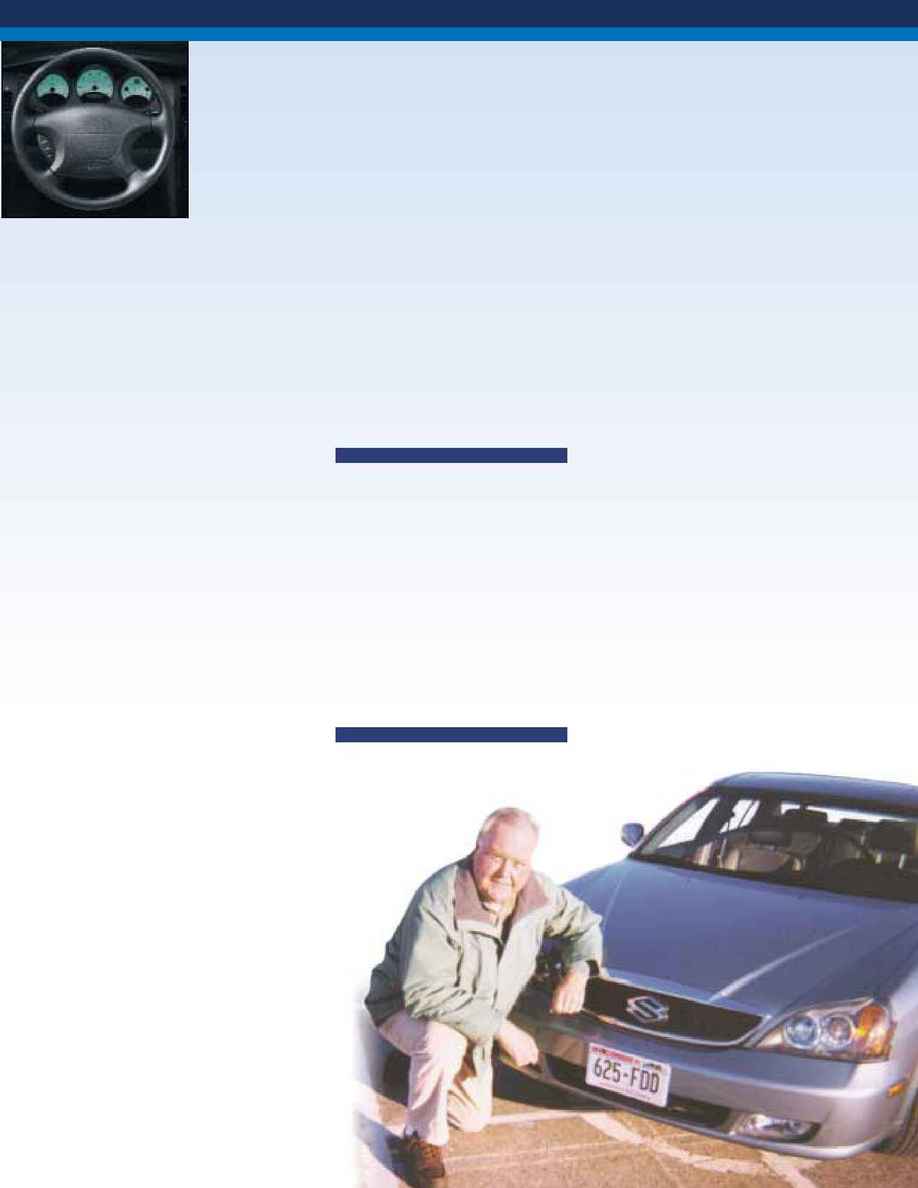 [ o w n e r p o w e r ]
hen the American Suzuki product
development team set out to name our
company's first mid-size sedan, they didn't
look to a small town of around 7,000 people in
southern Wisconsin for inspiration. Instead, they chose
the country where the 2004 Suzuki Verona was designed
and the historic northern Italian city known, in part, as
the former home of Shakespeare's
"Juliet" for the honor.
But that doesn't matter to Don
Mathison. This Verona, Wisconsin,
resident still had his curiosity raised
when he began seeing advertisements
for a new car bearing the name of his
hometown just outside of the state's
capitol of Madison."The name caught
my eye," the retired publisher recalls.
"But that was after I read the list of
standard features and asked myself,
`Could it really be that much automobile
for $20,000 or less?'"
The answer is yes--and then some--
when it comes to the 2004 Suzuki
Verona. That's because this vehicle not
only comes with a standard in-line six-
cylinder engine, but also costs thousands of dollars less than
similarly equipped Hondas, Toyotas and Mazdas in its class.
Plus, it includes the peace of mind of being backed by
America's #
Still, even those features weren't enough for
Don, a discriminating and knowledgeable shopper
who was in the market for his 28
his decision on. Any car he chose to drive home
would have to pass one simple test--the slider.
"All I needed to do was see if I could slide my
6' 3" frame easily and comfortably in and out
of the driver's seat," he jokes. "Then, after a
short test drive, it wasn't long before I knew I
wanted this car."
In his sixth year of retirement, Don didn't
feel comfortable spending $25,000 or more
on a sedan with the luxuries and conveniences
he deserves, like leather seating surfaces, a power tilt-and-
slide sunroof, automatic climate control, power windows and
door locks and heated, power mirrors, to name a few. But
with the Verona, he didn't have to. "This vehicle is just a
tremendous value," Don says. "I'm continuously impressed by
how well it was designed and built. It's simply got features that
continue to amaze me."
In fact, Don has been especially grateful for his Verona's
creature comforts during this year's harsh Wisconsin winter.
While wind chills dipped well below the
freezing mark for weeks at a time, Don's
Verona EX kept him cozy in the cabin with
its heated front seats--a feature his
previous and pricier Lexus lacked. "The
Verona has been perfect in every way," he
says. "It really fits my needs and performs
in the areas that I want, such as engine
torque when I'm pulling onto the highway.
I'm pleased to have it in my garage now
and looking forward to driving it down to
Florida for a vacation soon." In the past,
Don has owned three Nissan Maximas, a
Honda Accord, and a Toyota Camry and
Avalon, but in his opinion, the value of
his 2004 Suzuki Verona exceeds them all!
The Suzuki Verona Shares Its Name
with This Customer's Hometown
"This vehicle is just
a tremendous value.
I'm continuously
impressed by how
well it was
designed and built."
--Don Mathison