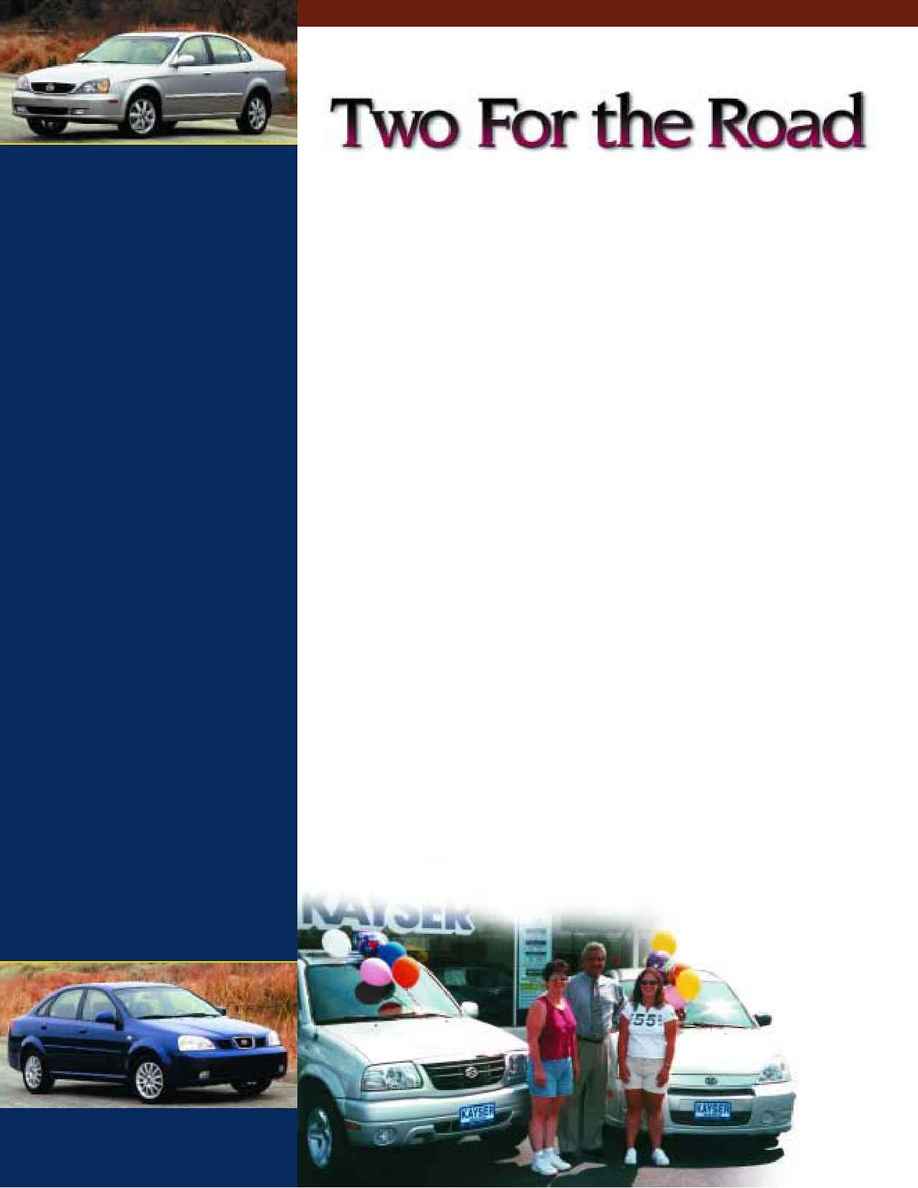 [ o w n e r p o w e r ]
Suzuki Is the Name to Trust
for One Mother-Daughter Team
hen Michelle Olson bought a new vehicle last year, her decision was an easy one.
She went directly to a Suzuki dealership near her home in Reedsburg,
Wisconsin, and picked out a Suzuki Grand Vitara. Michelle's decision was made
simple by the fact that she was very familiar with the Suzuki brand and all it has to offer. "My
husband had bought a used Suzuki Sidekick that I really liked to drive," she explains. "I
owned a Dodge Neon at the time and swore my next vehicle would be a Suzuki." True to her
word, in 2000 Michelle purchased a brand-new silver Grand Vitara, which she loved so
much that last year she bought another one!
Michelle is thrilled with the performance and features of her Grand Vitara. "I can't say
enough good things about this SUV," she enthuses. "I like the fact that I sit up high. I love
the four-wheel drive, which is especially needed living in the Midwest, and the smooth
handling. I like the cargo space. I can haul anything I need with the seats folded flat. Also, it
gets great gas mileage. Soon after I purchased the vehicle we had to drive to Ohio and back
twice in seven days, and it got great mileage. I also like its sportiness and comfort."
Michelle certainly loves her Grand Vitara, but the Olson family's Suzuki story doesn't
end there, because she's passed on her love of the brand to her daughter, Sarah! Sarah
tagged along when her mom picked up her Grand Vitara at the dealership and spotted a
brand-new silver Aerio sedan on the lot. Michelle encouraged Sarah to take a test drive, and
she loved it! "The horsepower is great," says Sarah. "Having a four-cylinder with 145 hp
makes such a difference. I also like the ample trunk space, the stadium seating so people in
the back can see, and the power windows and door locks." Sarah also raves about the look of
her Aerio's dashboard as well as the comfort of the seats. "Soon after I bought the car I took
two two-hour road trips with a friend. We had plenty of room the whole time and she never
complained that she was uncomfortable. It was a great ride." In addition, Michelle feels
safer knowing her daughter drives a new Suzuki. "The Aerio is reliable, so I don't have to
worry that it's going to break down and leave her stuck along the roadside." Indeed,
Michelle has even less to worry about with Suzuki's Roadside Assistance Program, which
offers Suzuki owners 24-hour, 365-day-a-year roadside assistance, from jumpstarting a
dead battery to changing a flat tire to towing an inoperable vehicle.
Not surprisingly, Suzuki and the Olsons seem destined for each other for many years
to come. "I know that with all the good luck I've had with my Suzuki sales experiences,
service, and drivability, I'll be back to buy another one," concludes Michelle confidently.
"I love my Suzuki!"
Michelle Olson (left) and her
daughter Sarah pose with
their Suzuki salesman,
Lou Benavides, and
their brand-new
silver Suzukis.
Are you ready for something
brand new from Suzuki? You better
be, because we're launching not one,
but two all-new vehicles for 2004!
That's right, we're pulling the covers
off of two new cars--the Suzuki
Verona and the Suzuki Forenza.
The Verona, which will be
available at your local dealership
around September of this year, is
Suzuki's first mid-size sedan.
Designed by a team in Turin, Italy,
the Verona will offer luxurious
exterior and interior styling, a
standard in-line six-cylinder engine,
and generous amenities (including
optional heated leather seats,
sunroof, climate control, and more)
for a price tag of around $16,000 to
$19,000. Meanwhile, the Forenza,
which also boasts an Italian design,
will join the Suzuki lineup around
this November as an affordable,
premium compact car that offers
high-end features at a price well
below the competition--about
$12,000 to $15,000. Standard
features will include an in-dash CD
player with cassette and eight
speakers, four-wheel disc brakes,
speed-sensitive power steering, and
a lot more.
Can't wait to get behind the
wheel of these new Suzuki stars?
Stay tuned because we'll have more
information about both the Verona
and Forenza in future issues of
Adventures as we count down to
their arrival at your local Suzuki
dealership.
For more information log on to suzuki.com.