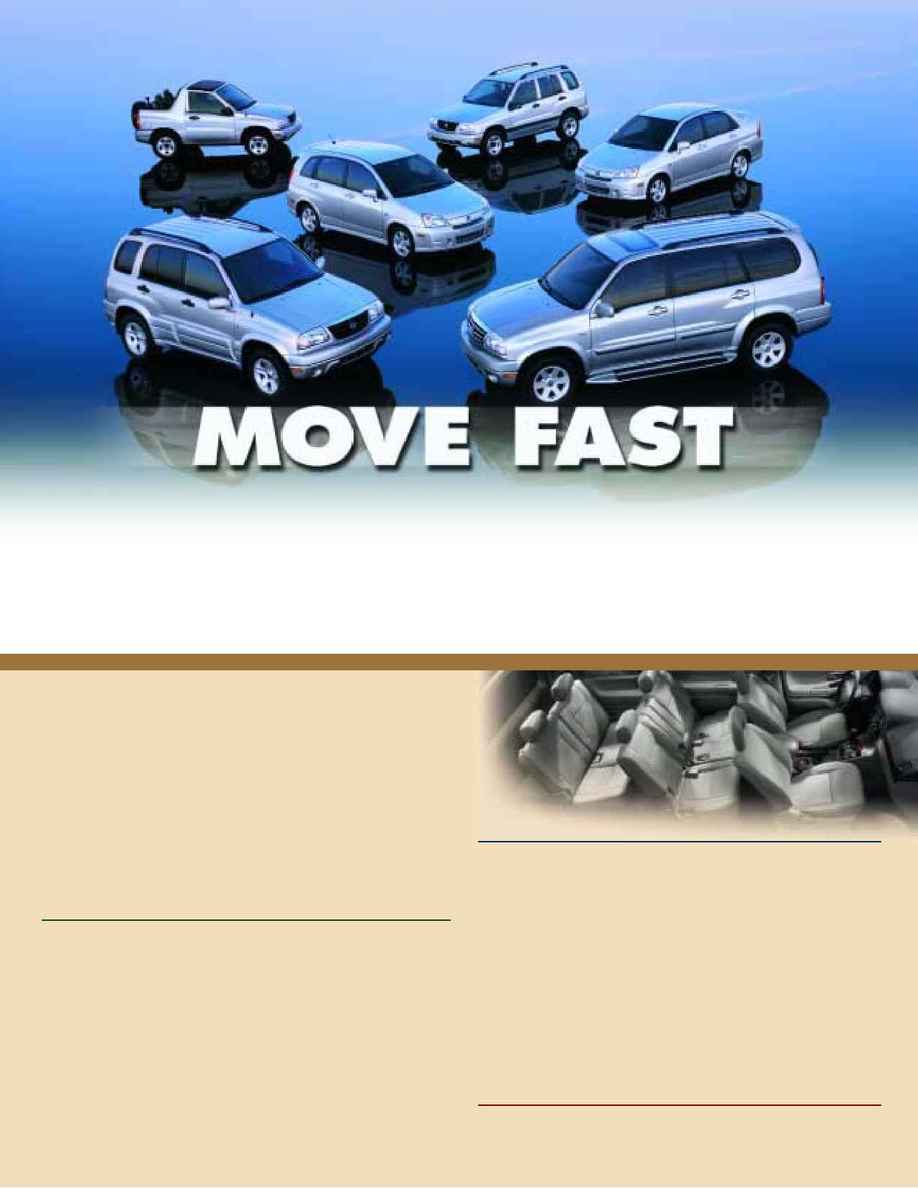 [ c u s t o m e r c a r i n g ]
f you're ready for a real sale, your timing couldn't be better. That's
because Suzuki's once a year Move Fast sale is here, offering great deals
and incentives on our fabulous new 2002 and 2003 Suzuki
vehicles. But you better move fast, because it won't be around forever!
Now through June 2, 2003, Suzuki is offering zero-percent
AND
zero down payment on all new 2002 and
2003 model year vehicles to credit-qualified buyers
OR
customer cash back on new 2003s and $3,000 customer cash back
on new 2002s.
Think these deals can't get any better? Think again! Just take a look
at our $500 owner loyalty purchase and $25 owner loyalty test-drive
coupons enclosed in this issue of Adventures. They add up to another $525
you can put toward your purchase of any new 2002 or 2003 Suzuki
vehicle. So move fast and don't let this limited time offer get away!
ust when you thought it couldn't get any better, it just did! We're
talking about the brand-new interiors for our 2003 Suzuki XL-7,
Grand Vitara, and Aerio. Sleek and upscale, our new interiors
blend style, functionality, and features into an overall package that's hard
to resist. Take a look at the details below, and then get to your local
Suzuki dealer to check out the new look of Suzuki from the inside out!
Ready, Set, Go to One of Suzuki's Greatest Events Ever
Suzuki Steps Up the
Interiors For Our 2003 Lineup
XL-7
· All-new dashboard and center console design (see cover image)
· Automatic climate control
· In-dash 6-disc CD player with seven speakers, including subwoofer
· New interior colors of two-tone beige and two-tone gray, and new fabric
design for both color combinations
· Wood-grain trim and chrome accents on dashboard and console
· Steering wheel integrated stereo controls
· Adjustable center armrest with CD storage
· Overhead console with reading lamps and storage compartments (not
available on Limited Edition due to presence of sunroof)
· Outside temperature display and clock
· Two 12-volt accessory sockets in the center console--perfect for cell phones
· Power doorlock switch on passenger side
· Smaller rear headrest for improved rearward visibility
Aerio
· New interior colors and new fabric design
· In-dash 6-disc CD player
· Outside temperature display and clock
Grand Vitara
· All-new dashboard and center console design
· Automatic climate control
· In-dash 6-disc CD player with seven speakers, including subwoofer
· New interior colors of two-tone beige and two-tone gray, and new fabric
design for both color combinations
· Brushed aluminum trim and chrome accents on dashboard and console
· Steering wheel integrated stereo controls
· Adjustable center armrest with CD storage
· Overhead console with reading lamps and storage compartments
· Outside temperature display and clock
· Two 12-volt accessory sockets in the center console--perfect for cell phones
· Power doorlock switch on passenger side
· Smaller rear headrest for improved rearward visibility