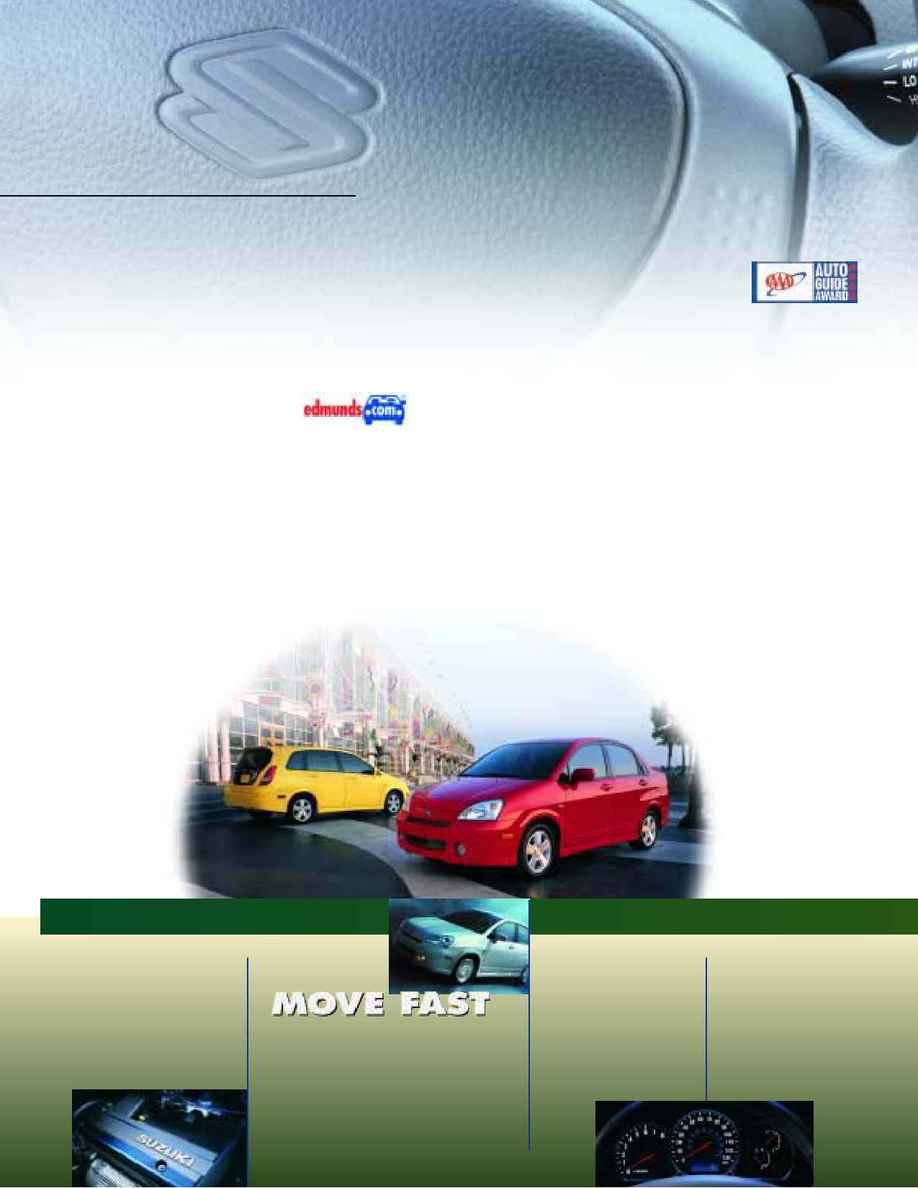 Suzuki proves itself in the
field by taking home highly
sought after industry awards.
Considering a brand-new Suzuki
vehicle? Well, move fast, because there's
never been a better time to buy the
Suzuki of your dreams!
Check out the sleek, brand-new
interiors of our 2003 lineup!
& 5
Suzuki
Sensation
Take a closer look
and see why Suzuki is
America's best value!
& 7
Read about two Suzuki-
owning families and all
the reasons why they love
their Suzuki vehicles.
[ p e r f o r m a n c e p l u s ]
[ i n s i d e ]
he Suzuki vehicle lineup has recently received recognition
and awards from a variety of industry experts and
publications (see Suzuki Sensation on pages 4 and 5), and
we have two more to add to the ever-growing list.
Edmunds.com
"Most Wanted" Award
Every year, the editors at Edmunds.com, a leading automotive
Website, vote on their favorite automobile models in a variety of
vehicle classes. The votes are in, revealing which vehicles
Edmunds.com editors would choose if they were spending their own
money. The Aerio SX has come out on top, being named the
"Most Wanted Wagon Under $15,000" for 2003!
Here's what Edmunds.com had to say about the Aerio: "A
compact wagon with a powerful engine and distinctive styling for
under $15,000? No wonder the Suzuki Aerio is making noise.
Introduced last year, the compact, aerodynamic wagon [hence
the name] has a small footprint but a roomy interior and is set
up for both people moving and cargo hauling. Powered by a
2.0-liter four-cylinder engine, the Aerio lets you option the car
to your taste with ABS and all-wheel drive. Whatever you order,
you won't pay much. If
you're looking for a
compact wagon
capable of beating
rough weather,
the Aerio is a
good choice."
The AAA (Automobile Association of America) is one of
the best-known and most-trusted automobile organizations in
the country. For the past
years, AAA has annually identified
vehicles that rank highest in several categories and price
ranges. When the AAA makes a recommendation, consumers
listen. So hear this! The 2003 Suzuki Aerio SX and sedan just
received the 2003 AAA Auto Guide Award as their winner in
the under $15,000 category. This year's ratings are featured
in the book AAA Auto Guide: 2003 New Cars and Trucks. "Since their
introduction this time last year, both the Aerio SX and sedan
models have redefined what consumers can expect from a
small car priced under $15,000," says American Suzuki
President Rick Suzuki. "Both offer buyers new levels of power,
style, space, and features not traditionally found in the small
car class. We're especially excited about receiving the
prestigious AAA Auto Guide Award because of their level of
automotive expertise and keen insights into what consumers
are looking for in their new cars."
So, if you're looking for a car that's got it all--power,
distinctive styling, ample interior space, and a price tag that
won't break the bank--take
Edmunds.com's and the
2003 Aerio SX and sedan