Sporting News sample Page 4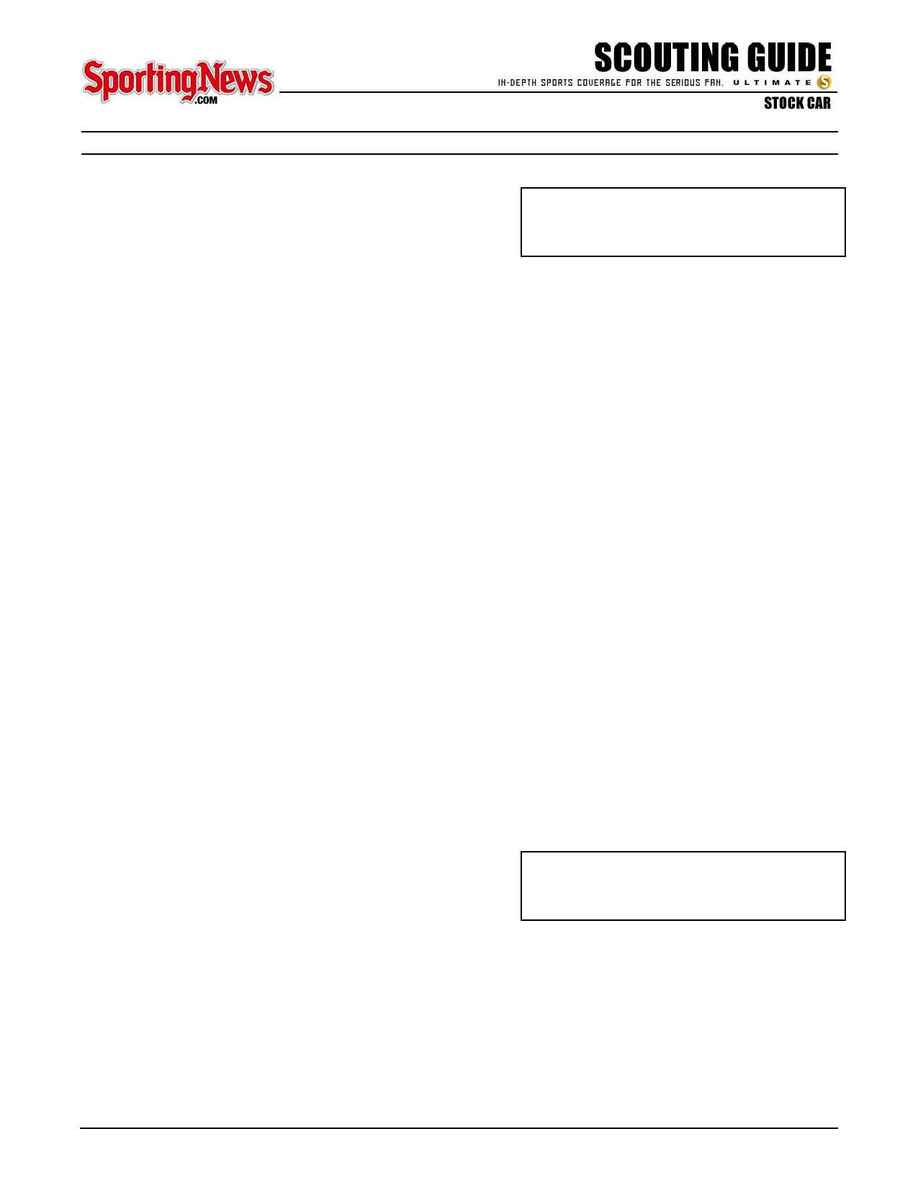 DRIVER ANALYSIS - DODGES
http://ultimate.sportingnews.com/nascar/draftkit
BILL ELLIOTT
Elliott switched to Dodge in 2001, and though there were bumps along
the way, he captured his first win since 1994. He also won two poles,
and his average starting position of 13.7 was third-best, behind Jeff
Gordon and Ricky Rudd. He led nine races and had only two DNFs.
Overall, the power for the No. 9 Dodge was stout and consistent. Elliott, like other veterans, knows the way around these
tracks, and he proved at Chicagoland and Kansas that he adapts well to new tracks. But he lacks the aggressiveness to be a
contender on a weekly basis, and he could retire at any time. That kind of uncertainty can rock a team's foundation. Elliott
won't have a resurgence similar to Ricky Rudd's and Sterling Marlin's last season, but he will put up consistent results.
BUCKSHOT JONES
What can you say about a driver whose season highlights were 16th-
place finishes at Talladega and Phoenix and a top qualifying run of
13th? Those are not acceptable numbers. Although Jones had the
expertise of former crew chief Larry McReynolds at his disposal
during the second half of the season, the results didn't reflect his adviser's input. He missed four races in the second half,
giving him six failures for the season. You would think having Kyle Petty as a boss would be an inspiration, but there doesn't
seem to be a light at the end of this tunnel. Yet Petty Enterprises appears content with mediocrity, and you can't blame Jones
for cashing the checks. But if the team wants to run this car, its third, beyond 2002, it should find a real racer.
No. 9
Team owner: Evernham Motorsports
Crew chief: Mike Ford
TSN fantasy ranking: 18
No. 44
Team owner: Petty Enterprises
Crew chief: Bryant Frazier
TSN fantasy ranking: 40