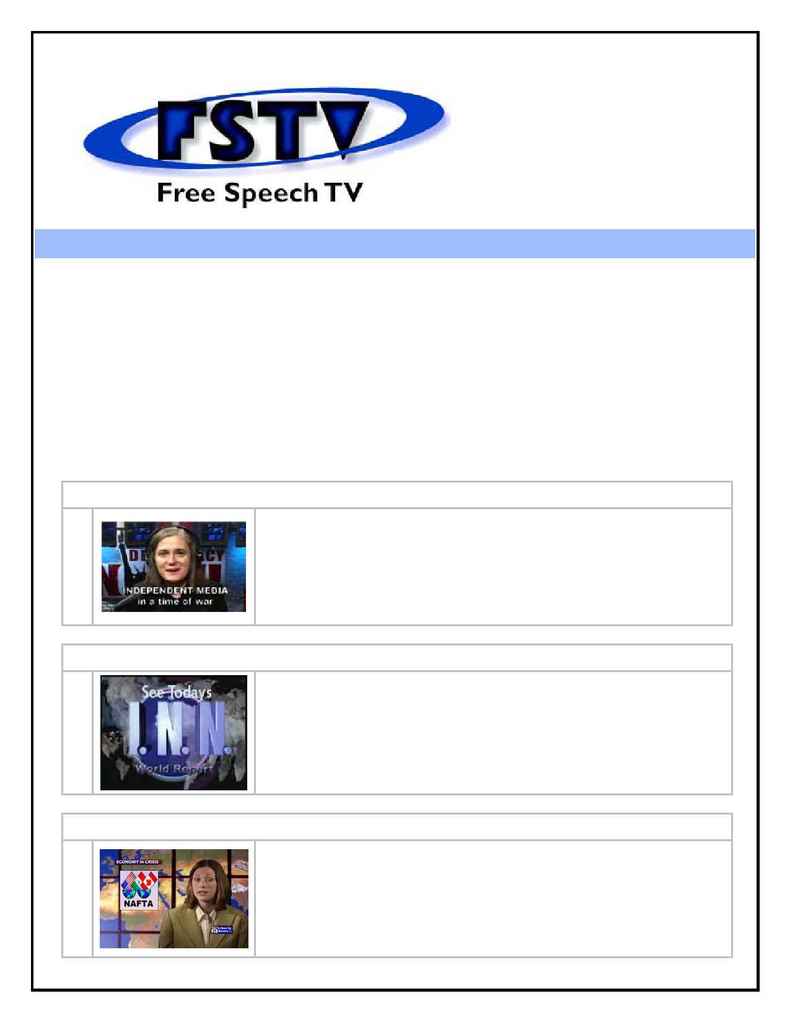 Free Speech TV House Party Kit-Programming Highlights
Free Speech TV's programming mission is to deliver voices and information suppressed in commercial media to
a national television audience, to spotlight the work of grassroots organizations working for social change, and
to inspire viewers to become active advocates for a more just and sustainable society. Programming features:
News: alternative news and views blacked out in commercial media
Documentaries: in-depth, issue-based features
Public Affairs: weekly and monthly series produced by community media centers
Keynote: speeches by leading advocats for social, economic and environmental justice
Rapid Response: alternative coverage of breaking news and current events
Original Productions: programs designed to inspire action for a more just society
NEWS
Democracy Now!
Offering daily news and analysis, Democracy Now!, is committed to bringing
the voices of the marginalized to the airwaves. Amy Goodman and Juan
Gonzalez's engaging - sometimes enraging - reporting features interviews with
activists muckrakers, visionaries, artists, academics, and "ordinary folks" who
share a commitment to truth, justice, diversity, and peace.

INN World Report
The INN World Report is a new vehicle for real time international news
reporting and world events. Providing "News the Networks Won't Tell You,"
INN features timely interviews and topical forums on pressing questions of
domestic and international importance. During the 2004 election season, INN
grew from a weekly into a daily newscast.

Liberty News
A half-hour long monthly television program, dedicated to unraveling the spin,
lies and misguided policies of corporate-owned politicians, media outlets and
misinformed pundits. We combine careful research with humor and satire to
create a show that is both entertaining and informative. We aim to reach and
activate the apathetic viewer/voter as well as the progressive thinker.
Free Speech TV is a project of Public Communicators Inc., a 501(c)3 non-profit organization.
What democracy looks like
2006 PROGRAMMING HIGHLIGHTS