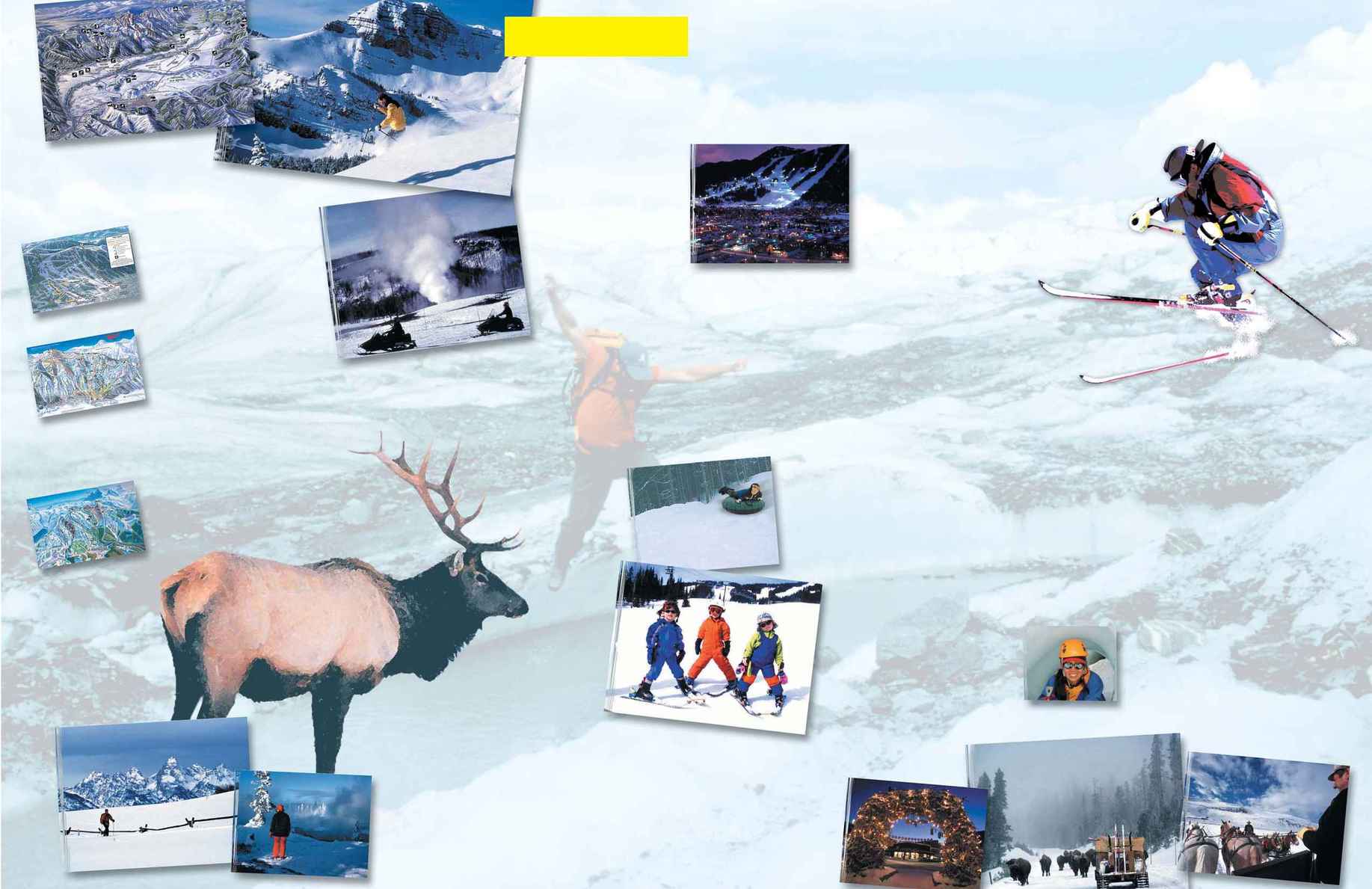 WHERE TO SKI
The variety of ski options available near Jackson Hole is
sure to please everyone.
SNOW KING SKI AREA
to the Snow King Resort. It's
nestled in the foothills at the very
edge of Jackson. It's open for day
and night skiing and is well
known for its programs for skiers
JACKSON HOLE MOUNTAIN SKI
RESORT
This ski area claims one of the
experiences in the world. Known for
its steep terrain, consistent fall line,
deep, light powder and endless
backcountry, it also allows beginners and
intermediates to excel at their own pace on a variety of
groomed runs and open bowls. Check out the activities listed
in this brochure for discounted lift tickets and transportation
to Jackson Hole Mountain Ski Resort.
GRAND TARGHEE SKI RESORT,
sunny west side of the Grand Tetons,
enjoys uncrowded slopes, abundant
powder, and awesome Teton scenery.
offers skiers 2 mountains
totaling 3000 acres. This
2800-foot vertical-drop
mountain is an adventure
in "powder heaven." Be
sure to check out the
activities section for our
special day trip to Grand
Targhee.
FUN FAMILY ACTIVITIES
All of the following tours
Activity Registration Form
registration confirmation or
you may call 800-522-5464
x7128 to reserve an activity
· Granite Hot Springs
Snowmobile Excursion:
Depart at 9:30 a.m. and return
at 4:00 p.m. Includes all
transportation, equipment,
guide, lunch, and entrance
soaking. Offered February 14
and February 15. Cost: $175
per driver, $85 per adult,
· Elk Refuge and Gallery Tour: Depart at 9:45 a.m.
by bus to The National Museum of Wildlife Art for a horse-
drawn sleigh ride into the National Elk Refuge followed by a
museum tour. Lunch will be served in the Members' Lounge.
After lunch the bus will stop in town for you to enjoy the
many local art galleries on your own. The shuttle
pick up will be at 4:00 p.m. February 15.
· The mini-version of Elk
Refuge and Galley Tour:
Includes transportation to
to take a sleigh ride and
transportation, entrance to the
museum, and sleigh ride.
February 14. Cost: $20.
· Art Lesson: Sign up for those art lessons you have always
wanted to take! An accomplished local artist will teach a 4-
hour drawing session from 12:00 p.m. to 4:00 p.m. Includes all
materials. $70 per person. February 14. Cost: $70.
· Drum Making Lesson: Create your own Indian
drum in this unique hands-on class. Upon completion of your
drum, your instructor will teach you a few traditional Indian
songs to play. Includes all materials. Offered February 14.
· Dog Sled Excursion: This tour to the Granite Hot Springs
area will depart at 9:30 a.m. and return around 2:30 p.m. You'll
mush your team through some of the area's most beautiful
terrain. A light lunch will be served along the trail. February 14
or 15. Cost: $155.25.
· Ski Jackson Hole Mountain: Includes full-day lift ticket and
transportation. Private transportation takes you to Jackson Hole
Mountain Resort. Tickets may be purchased for any day of the
conference. On February 11,
12, and 13, the bus will depart
at 8:30 a.m. and pick up at 4
p.m. On February 14 and 15,
the bus will depart at 9:30 a.m.
and pick up at 3:30 p.m. On
February 16, the bus will depart
at 9:30 a.m. and pick up at 4:00
p.m. Available February 11-16.
Tickets needed prior to the 11th
or after the 16th can be purchased at the non-discounted rate.
Cost: Lift ticket and transportation $57.00. Cost: Lift ticket
without transportation $53.00.
· Ski Grand Targhee: Includes full-day lift ticket and
transportation. Your private transportation will take you to ski
at Grand Targhee. This bus ride will take approximately 1 1/4
hours. The bus will depart at 9:20 a.m. and pick up at 4:15
p.m. Monday, February 16 only. Cost: $63.00.
JUST FOR KIDS
· King Tube's Tubing Park will delight kids from 5 and up with
endless rides down the mountain on specially designed "snow
· Snow King Mountain and Jackson Hole
Mountain offer plenty of beginning and
intermediate runs for kids of all ages and abilities.
Lift tickets for Snow King Mountain are
available at a discount from Snow King Resort.
· The Snow King concierge will help guests
make Great American Ski School reservations.
· Many of the tours and wildlife safaris
are perfect for kids: sleigh rides, dogsled
rides, and snowcoach tours of
Yellowstone Park. Guests of Snow King
Resort check with the concierge online at
www.snowking.com/activities_concierge
· Jackson Hole Mountain offers a
kids' facility that is unsurpassed
(day-care and ski-school programs
for kids 2 months to 17 years). Call
800-450-0477 for more information or
visit www.jacksonhole.com/skiing/kids.html.
· Your hotel concierge can help you locate private
BEFORE OR AFTER THE CONFERENCE FUN!
You'll want to come early or stay after the conference to enjoy a
full day in Yellowstone. Both snowcoach or snowmobile trips
have been planned and specially priced for WMS registrants and
their guests.
SNOWCOACH:
Full-day trip includes, breakfast, lunch,
transportation, and a guide. Enjoy the beauty of Old Faithful
Geyser and many other points
of interest.
$160, plus $10 Park entry
fee. Please note: This tour
has very limited seating.
Reservations will be
filled on first-come
first-served basis.
SNOWMOBILE:
trip includes breakfast, lunch,
transportation, guide, and
equipment.
$100 per adult rider, and $70 for children
7 ­ 12 years. There is a Park entry fee of $15 per snowmobile.
Please note: Because of the new regulations of winter use in the
National Park this activity has limited space. All reservations
will be filled on a first-come first-served basis.
COOL KIDS' CLASSES!
Wilderness activities and education, coordinated by Christopher
Van Tilburg, MD, are available to all age groups. Limited class
sizes; please register early for these nationally recognized
programs.
WILDERNESS FIRST AID FOR KIDS:
A hands-on course for kids
to learn how to take care of themselves and others in an
emergency. Pre-registration preferred. Free.
Saturday morning 8:00 a.m.-9:00 a.m. Kids 10 and up
Limit 10
Sunday morning* 8:00 a.m.-9:00 a.m. Kids 10 and under Limit 10
*Sunday: Parent participation requested; older children are
welcome to help teach younger kids.
SNOW CAVES FOR FUN AND SURVIVAL:
Plan on dressing for winter outdoor fun.
Kids will learn how to build snow shelters.
Pre-registration preferred. Free.
Monday morning: 8:00 ­ 9:00 a.m.
Kids 10 and up
No limit
CALL 800-522-5464 X7128 TO
RESERVE AN ACTIVITY EARLY!
JACKSON HO
LE VILLAGE
SNOW
KING
JACKSON HOLE MOUNT
AIN
GRAND T
ARGHEE
© NANCY BELCHER
UNLESS OTHERWISE NOTED, ALL PHOTOGRAPHY COURTESY OF JACKSON HOLE CHAMBER OF COMMERCE
COVER AND SNOWCAVE PHOTOS COURTESY OF DRAGONFLY WILDERNESS JOURNIES
© BOB WOOD
ALL / WADE McK
OY
© BOB
W
OOD
ALL
©
C
H
RIST
O
PH
E
R

VAN

TILB
U
R
G
© BOB WOODALL
© TIM THOMPSON