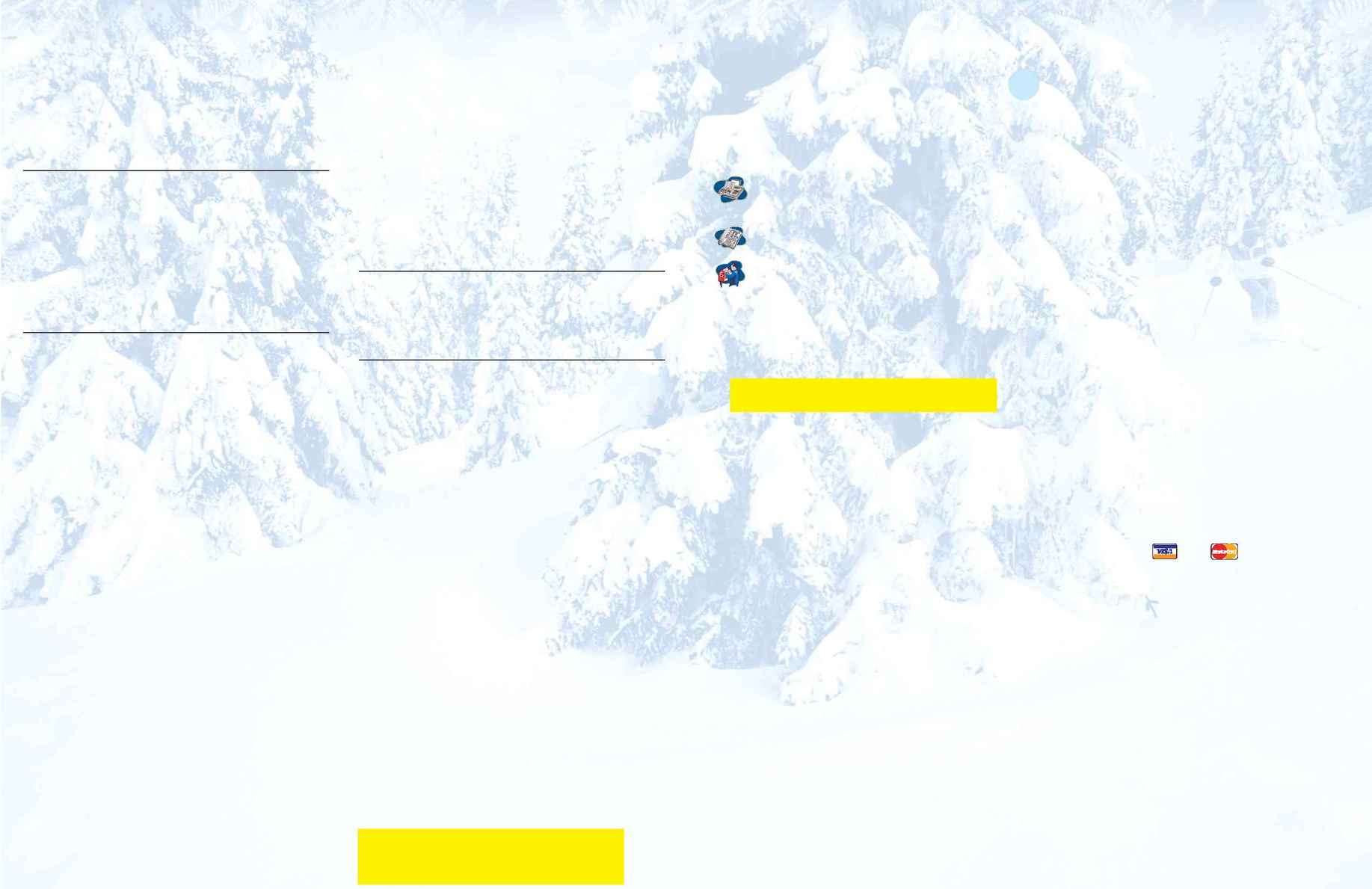 HOW TO REGISTER
Download a registration form online at
wms.org and fax to 800-967-7494
Wilderness Medical Society
5390 N. Academy, Ste. 310
Colorado Springs, CO 80918
EARLY BIRD SPECIAL: REGISTER FOR THE WINTER
CONFERENCE BEFORE NOVEMBER 14, 2003 AND RECEIVE
Please print or type. Form may be photocopied.
WMS Member Number: _________________________________
First:__________________MI___Last: _____________________
Degree(s): ____________________________________________
Address: _____________________________________________
____________________________________________________
City: ________________________________________________
State/Province:_____________ Zip/Postal Code: _____________
Country: _____________________________________________
E-mail: ______________________________________________
Tel ( ) _____________________ Fax ( ) _________________
Specialty: ____________________________________________
We want you to enjoy this WMS program. Please let us know of
any special requirements you have: ________________________
____________________________________________________
CONFERENCE REGISTRATION
WMS members pay the lowest rate.
Rate
Member
Non-Member
(Student registration must be accompanied by proof of student status)
Special Team Rate: 10% discount for groups of 3 or more
registering at the same time.
Snow King Resort Reservations for lodging only
(800) 522-5464. Jackson Hole Reservations for combination
lodging and airfare (800) 443-6931, ext. 3032.
Activities (800) 522-5464 ext. 7128
SUMMARY OF PAYMENT
Conference Registration
(includes 1 banquet ticket)
Special Team Rate Registration (3 or more)
or Early Bird Discount
Monday (please check one)
Surviving A Wilderness Emergency $125 =
TOTAL
Check enclosed. Make checks (payable in U.S. funds)
payable to: Wilderness Medical Society or
Acct.#:______________________________Exp. Date: ________
Signature: ____________________________________________
Note if your registration must be canceled, a refund less $100 will be
allowed if requested in writing by January 10, 2004. We regret that
refunds will not be allowed after January 10, 2004.
ACCREDITATION
The Wilderness Medical Society (WMS) is accredited by the Accreditation Council for
Continuing Medical Education to sponsor continuing medical education for physicians.
Physician Credit: The WMS designates this educational activity for a maximum of 25 hours
of credit in category 1 towards the AMA Physician's Recognition Award. Each physician
should claim only those hours of credit that he or she actually spends in the educational
activity.
ACEP: The Winter Wilderness Medicine Conference is approved by the American College of
Emergency Physicians for 25 hours of ACEP Category 1 Credit.
AAFP: The Winter Wilderness Medicine Conference has been reviewed and is acceptable for
up to 25 hours prescribed credit by the AAFP.
Please contact the WMS office for additional accreditation information.
Disclosure of Faculty's Commercial Relationship(s): Faculty members for the Winter
Wilderness Medicine Conference are expected to disclose, at the beginning of their
presentation(s), any economic or other personal interests that create, or may be perceived as
creating a conflict related to the material discussed. This policy is intended to make
participants aware of the faculty's interests, so they may form their own judgments about such
material. Full disclosure of the faculty's relationships is included in the course syllabus.
To Join WMS visit our website at
www.wms.org and join online!
CONFERENCE SCHEDULE
OPTIONAL PRE-CONFERENCE WORKSHOP
Winter Survival Course, February 12 and 13
Gordon Giesbrecht and Gary Thompson will repeat their popular
winter survival course, including an overnight at the top of
Snow King Mountain. A supply list will be sent with
registration confirmation.
OPTIONAL POST-CONFERENCE WORKSHOP
Yurt Trip on Commissary Ridge, February 17 ­ February 21
This exciting trip features backcountry winter camping in a yurt,
avalanche classes, winter navigation, and backcountry skiing in
the ever-changing winter environment. The workshop starts at
1:00 p.m. on February 17th when the participants will drive to
the NOLS Teton Valley School in Driggs, Idaho to be issued
equipment. Participants will spend the night in the school dorm
and ski to the yurt the next day. On February 21, the expedition
will ski out and return to Jackson.
OPTIONAL WORKSHOPS
Pre-registration is required and class size is limited. There is
additional tuition for these workshops.
Map & Compass Navigation, Saturday, February 14
Sheryl Olson, RN
Learn how to use a map and compass to navigate in the
backcountry and avoid getting lost. When your GPS batteries fail,
you'll be glad to have taken this course!
The Great Wilderness Cook-Off, Saturday, February 14
National Outdoor Leadership School faculty 9:00 a.m. ­ 12:00 p.m.
Limit: 14 registrants
Learn the basics of wilderness cooking then divide into teams to
create a culinary delight. Prizes awarded to the best backcountry
chef!
Developing High-Functioning Teams, Sunday, February 15
National Outdoor Leadership School faculty 1:00 P.M. ­ 4:00 P.M.
Limit: 30 registrants
Participants will work in small groups in a dynamic environment.
Managing work conditions requires strong leadership to create
high-functioning teams that self-correct-- not if-- but when an
individual member makes a mistake. All team members share the
group's functionality and should develop the following skills:
communication, self awareness, decision-making, and group
management. 3-hour workshop will teach usable models for
strengthening leadership kills. "There is no bigger problem for
doctors than `expedition behavior,' whether in rural areas or in
major university hospitals."
How to Effectively Use a GPS in the Wilderness,
Sunday, February 15 & Monday February 16
Sheryl Olson, RN
This hands-on workshop will investigate technical navigation
including GPS hardware, coordinate systems, with a and without
maps. This session will be both indoors and outdoors. Participants
will need to wear sturdy shoes, a jacket and bring water.
OPTIONAL WORKSHOPS (CONTINUED)
Avalanche Recognition and Route Finding,
Sunday, February 15
Lanny Johnson, PA
This unique workshop is made for winter backcountry
enthusiasts. Mountain snow pack, forecasting, terrain analysis,
stability evaluation, slab recognition, and backcountry rescue will
be covered. Participants will be on skis and must be at least an
intermediate skier.
Surviving a Wilderness Emergency, February 17
Peter Kummerfeldt, OutdoorSafe
This 8-hour program covers all the important aspects of surviving
alone in an adverse environment. Four hours of "hands-on"
follows four hours of didactic training
STUDENT ROUND TABLE
These are open sessions for students and residents to meet with
the faculty and WMS Board of Directors. It's a great way to
learn about wilderness medicine, the WMS, potential research,
and how to get involved. Schedule will be posted at the
registration desk.
LEARNING OBJECTIVES
At the conclusion of this conference, the participant will be able to:
· Demonstrate the application of medical skills in a remote,
extreme, or wilderness environment.
· Prevent, diagnose, and treat medical disorders that occur
· Recommend appropriate preventative measures and treatments
for common winter wilderness accidents and medical problems
· Improvise methods for splinting, bandaging, and evacuation
from available equipment and supplies
2004 WMS CONFERENCE CALENDAR
EARLY BIRD REGISTRANTS WILL RECEIVE A 10%
DISCOUNT IF REGISTERED BY THE EARLY BIRD DATE!
NATIONAL WILDERNESS MEDICINE WINTER CONFERENCE
JACKSON HOLE, WYOMING
February 13 ­ 17, 2004
Early Bird Registration: OCTOBER 15, 2003
INTERNATIONAL CONFERENCE ON COLD-WEATHER MEDICINE
ALYESKA (ANCHORAGE), ALASKA
March 6 ­ 11, 2004
Early Bird Registration: OCTOBER 30, 2003
NATIONAL CONFERENCE ON TRAVEL MEDICINE
SANTA FE, NEW MEXICO
April 14 ­ 17, 2004
Early Bird Registration: NOVEMBER 15, 2003
WILDERNESS MEDICINE SUMMER CONFERENCE
SNOWMASS, COLORADO
July 31 ­ August 6, 2004
Early Bird Registration: JANUARY 15, 2004
WINTER CONFERENCE 2004
PROGRAM
REGISTRATION FORM
Visit www.wms.org and click on
"Conferences" to download an early bird
registration form and fax to 800-967-7494.