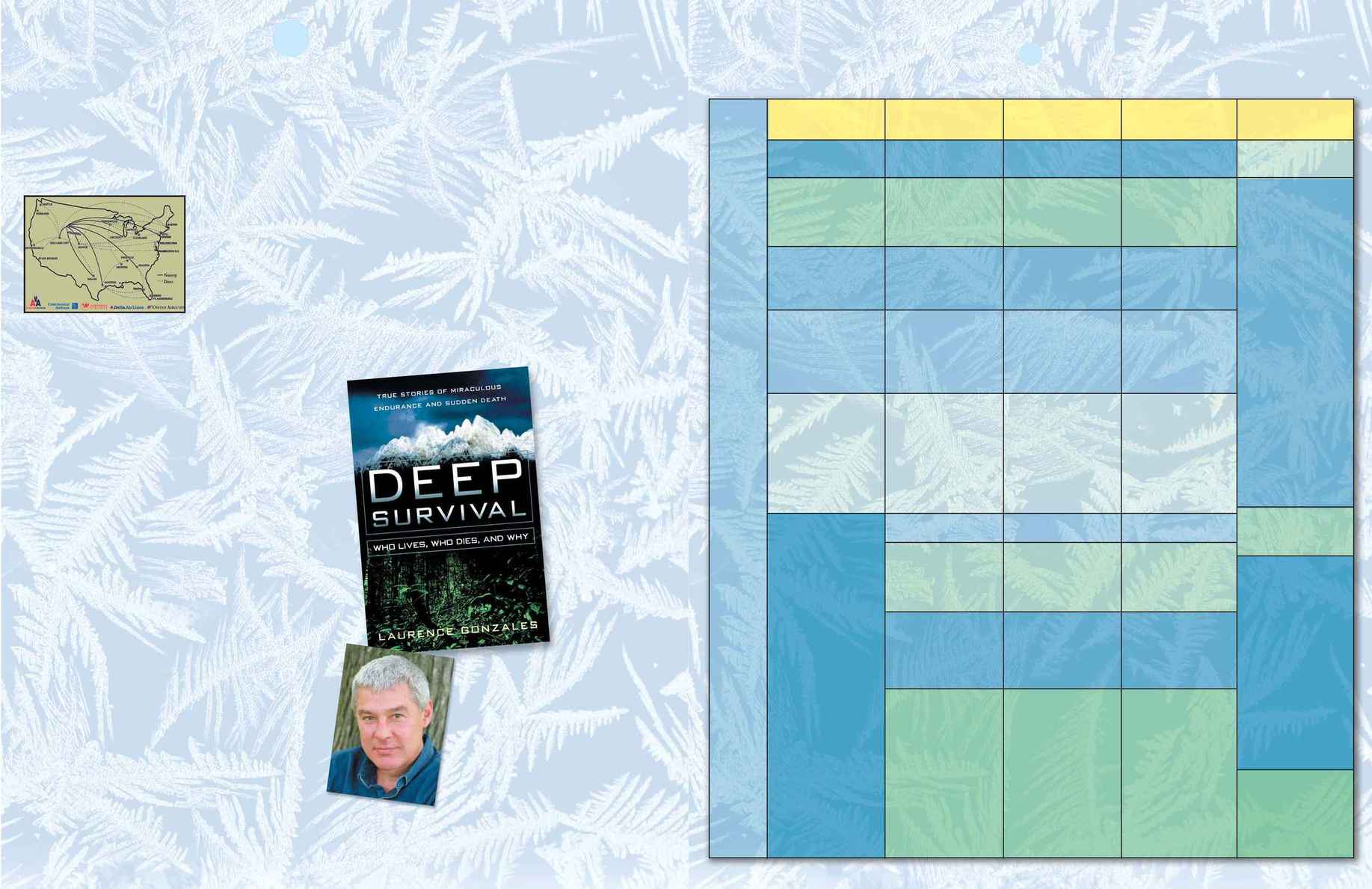 2:00-
4:00 pm
4:00-
4:15 pm
4:15-
4:45 pm
5:15-
6:00 pm
6:00-
7:00 pm
Wilderness Medicine
& Your Society
Dr. Schoene
Baby It's Cold
Outside: Basics of
Cold Physiology 101
Dr. Giesbrecht
Clothing For Human
Cold-Weather
Performance
Dr. Callahan
NOLS Winter
Experience: What
We've Learned Over
38 years!
National Outdoor
Leadership School
Reception
Enjoy Music
and Fellowship
6:00-
7:00 am
7:00-
7:45 am
7:45-
8:45 am
8:45-
9:00 am
9:00 am-
4:00 pm
4:30-
5:30 pm
5:30-
6:15 pm
6:15-
7:00 pm
Morning
Refreshments
Fundamentals
of Frostbite
Dr. Johnson
Hypothermia: Why
We Get Cold and
How to Fix Tt
Dr. Giesbrecht
Q & A for
"Professor
Popsicle"
Dr. Giesbrecht
Activities or
Workshops
Wilderness
Cook-off
Snowboard & Ski
Injuries: Teton Clinic
Experiences
Mr. Johnson
Keep Your Head Up:
A Primer on
Cold Water
Near-Drowning
Dr. Giesbrecht
"Wild Kids"
Wilderness Medicine
for Parents
Dr. Van Tilburg
6:00-
7:00 am
7:00-
8:00 am
8:00-
8:45 am
8:45-
9:00 am
9:00 am-
4:00 pm
4:30-
5:30 pm
5:30-
6:20 pm
6:15-
7:00 pm
Morning
Refreshments
North American
Wild "Ouch"
Animal Encounters
Dr. Freer
Moderate (ski)
Altitude Maladies
Dr. Schoene
Q & A for
Current & Incoming
Presidents
Activities or
Workshops
· GPS Navigation
· Developing
Recognition &
Route Finding
Orthopedics Far
from the
Operating Room
Dr. Hilvers
Avalanche Safety
& Survival
Mr. Johnson
Telemedicine in
Extreme
Environments:
Patient Monitoring
in Remote Settings
Dr. Callahan
Thursday,
Feb 12
and
Friday,
Feb. 13
Winter
Survival
(including
overnight
option)
Ski time
for those
not registered
for
Pre-Conference
6:00-
7:00 am
7:00-
7:45 am
8:00-
8:40 am
8:40-
9:00 am
9:00 am-
4:00 pm
4:00-
4:45 pm
4:45-
5:30 pm
Morning
Refreshments
I Really Hurt This
Morning: The Truth
of Sprains & Strains
Dr. Hilvers
Who Shouldn't Get
Cold and High?
Dr. Schoene
Yellowstone Clinic
Experience
Dr. Freer
Activities
· GPS Navigation
· Max-CLO
(complimentary)
Wilderness
Medical Kit
Dr. Johnson
Case Studies in
Polar &
Mountain Accidents
Dr. Callahan
Banquet
Guest Speaker-
Laurence Gonzales
6:00 - 7:00 am
Morning Refreshments
Session I
7:00 - 8:00 and repeats
Session II
8:00 - 9:00
Session I and Session II
(choose one for each session)
Association Experience
Dr. Freer
Session I only
· Expedition Grand Rounds
· The "Sunny Side" of Winter:
ABC's of Dive Medicine
Dr. Johnson
Session II only
· Expeditions and Epidemics
Winter: Fitness to Dive
Dr. Johnson
9:00 - 9:15 am
Break
Session III
9:15 - 10:15 am and repeats
Session IV
10:15 - 11:15 am
Session III and Session IV
(choose one for each session)
Sense (and Gear) Fail in
the Woods (2-hour session)
Dr. Callahan
· Acclimatization Explained
in the Wilderness
Rob Hilvers, MD
Surviving a Wilderness
Emergency
Mr. Kummerfeldt
Unprecedented jet service enables folks to visit Jackson Hole
from all parts of the country, making 2004 a great year to enjoy a
winter getaway in this scenic mountain town. With tremendous
skiing at 3 nearby resorts and all kinds of outdoor activities to fill
up your days, the old western town of Jackson lights up the night
with great options for dining and entertainment.
HOW TO GET THERE
Getting to Jackson has never
been easier! Daily flights serve
Jackson Hole from Salt Lake
City, Denver, Chicago, and
Dallas/Ft. Worth by American,
Continental, Northwest, Delta,
and United. A complimentary
airport shuttle is provided for
guest of Snow King Resort.
Special WMS airfare discounts are available from
Jackson Hole Reservations for combination airline and lodging
reservations. Call (800) 443-6931, ext. 3032.
LODGING
Snow King Resort sits at the base of Snow King Mountain, a few
short blocks from the Town Square. It offers comfortable,
western-style hotel or condominium lodging. The Resort offers an
array of winter activities for adventurers of all ages and abilities.
Snow King Resort is surrounded by over 400 acres of the Bridger
Teton National Forest.
Snow King guests will receive lift ticket discounts available
through the concierge desk and complimentary transportation to
and from the airport. Rates begin at $140 per night. Reserve your
accommodations by January 12, 2004 to ensure the lodging of
your choice.
For Snow King Resort lodging only reservations,
call (800) 522-KING (5464).
Jackson Hole Central Reservations email:
Kathy@jhcr.com.
WHAT MAKES WMS CONFERENCES SPECIAL?
The Wilderness Medical Society (WMS) offers the finest CME
programming available today. WMS is the only non-profit
organization dedicated to wilderness medicine. WMS is
traditional in its commitment to medical knowledge, education,
and research. A WMS-sponsored conference is developed
entirely by WMS expert members to fulfill the vision of the
Society while offering continuing medical education in
wilderness medicine. Members include physicians and allied
health professionals from a variety of disciplines who share
medical, conservation, and recreational interests in wilderness
activities. Visit the WMS website at www.wms.org for more
information about the Society and its programs.
WMS NATIONAL WINTER CONFERENCE
FACULTY
National Outdoor Leadership School (NOLS)
Christopher Van Tilburg, MD
WINTER BANQUET
Monday, February 16, 7:30
Deep Survival: Who
Lives, Who Dies, and
Why
"It's what's in your heart,
that separates the living
released book, Deep
Survival, will take us
and describe the essence of a survivor.
Mr. Gonzales has been Managing Editor
of the journal Tri-Quarterly, Contributing
Editor for Paris Review, Articles Editor
for Playboy, Artist in Residence at the
University of Missouri, Contributing Editor for
Men's Journal, and is now Contributing Editor
for National Geographic Adventure Magazine.
JACKSON HOLE
WINTER WONDERLAND
WINTER WILDERNESS MEDICINE CONFERENCE
PROGRAM
SCHEDULE
LAURENCE GONZALES