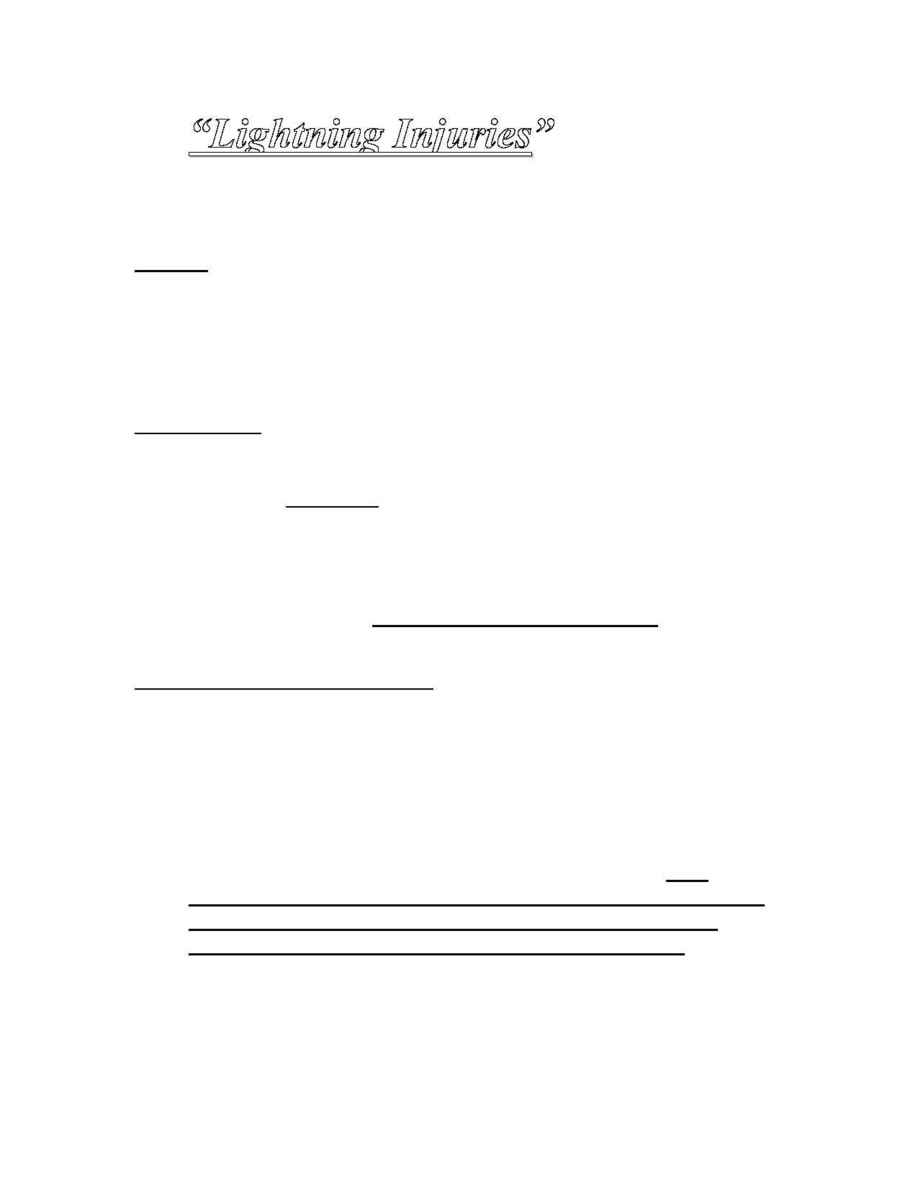 "Lightning Injuries"
Presented by:
Eric L. Johnson, MD
Emergency
Medicine
of
Idaho
Boise, Idaho.
ejohnson@emidaho.com
Objectives:
1.
Understand the physics involved in lightning and risk factors for human harm.
2.
Discuss pathophysiology of lightning injuries and learn pathognomonic signs.
3.
Learn the immediate care protocols as well as strategies for definitive treatment of lightning
injury.
4.
Discuss prevention strategies.
Why discuss the topic of lightning injuries? This question is
one I hope to be able to answer clearly by the end of my review, but for me,
the answer lies in Prevention. Once struck, one is propelled upon a course of
multiple outcomes, some of which medicine can impact, and others in which
little can seemingly be done. It is important to understand risk factors for
lightning development, consequences and medical treatment if struck, and
most importantly, how not to be a victim.
Recommended reading: "A match to the heart" by Gretel Ehrlich
Published originally by Pantheon Books, 1994.

"Development" and Physics of Lightning:

From the beginnings of time, to Aristotle who proposed that lightning was
burning wind, to Benjamin Franklin who proved via a kite that lightning was electrical,
and through today's technology, lightning remains a fascinating object of awe and study.
In his book Understanding Lightning, Dr. Martin Uman of the University of Florida
pondered the possibility, suggested by others, that "it may well have been lightning in the
primordial soup covering the earth several billion years ago that produced the complex
molecules from which life eventually evolved...Thus, we may be indebted to lightning
for the presence of life on earth."
Lightning remains a universal concern. With over 2000
thunderstorms in progress above the earth's surface at any one time,
this means approximately 8 million strikes each day or about a
hundred cloud to ground lightning discharges each second. As the
thundercloud grows, rising ice crystals collide with falling hailstones,
stripping electrons from the ice. The top of the cloud becomes
predominantly positive and the bottom mostly negative, with scattered
areas of positivity at the base. Negative charges in the lower cloud
induce a positive "shadow" on the earth below, static electricity builds