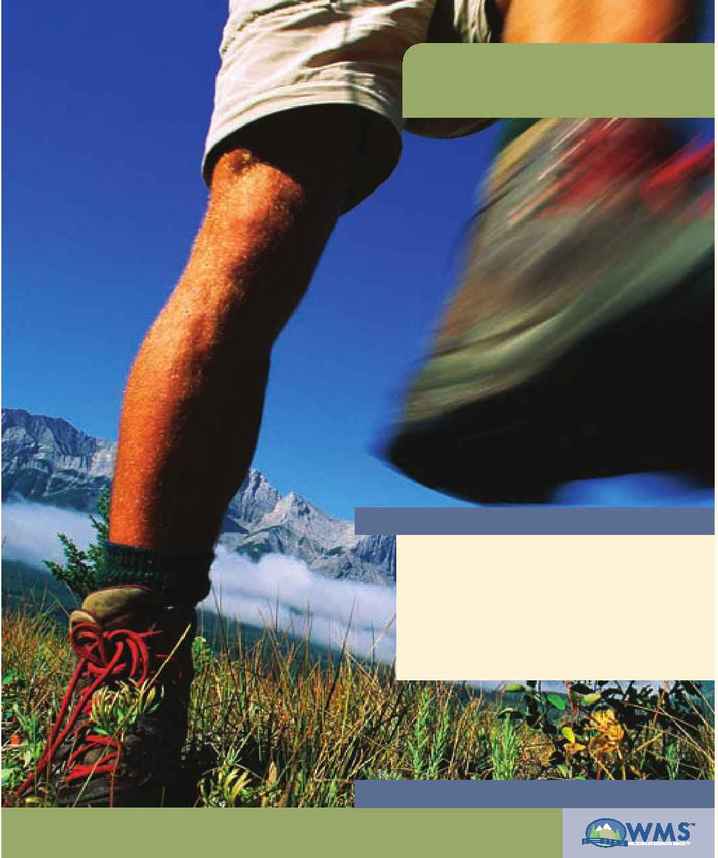 i n f o r m a t i o n / a p p l i c a t i o n
The lack of medical facilities or ad-
equately trained personnel becomes a stark
reality when injury or illness occurs in the
wilderness. Ironically, similar circumstances
can occur in areas not perceived as wilder-
ness. An auto accident on a remote country
road, or an urban earthquake in which
resources are overwhelmed could require
improvised wilderness training skills. The
medical treatment required in these cir-
cumstances might not be expected from a
layperson, but medical personnel, regard-
less of their discipline, may be expected to
deliver competent care despite austere sur-
roundings or lack of equipment. It is simply
not enough to arrive on scene with medical
credentials. Much of what is needed to de-
liver care in these situations is not taught
in traditional medical education programs.
However, special training is available.
The Wilderness Medical Society (WMS) recognizes that
the public, whether casual participant, expert outdoor en-
thusiast, or international traveler, has high expectations of
their health care providers in delivering advice, treatment,
and safety precautions for wilderness and adventure travel.
Additionally, greater responsibility has been placed on out-
door guides, search and rescue personnel, and other adven-
ture industry workers to have some formal medical training
for the safety and health of their clients.
For this reason the Wilderness Medical Society has
established the Academy of Wilderness MedicineTM. An orga-
nized curriculum of core wilderness medicine topics has been
created to help train and prepare individuals who desire to
enhance their knowledge and skills. The Academy offers a
means to identify those who have achieved a demanding set
of requirements validating their training in wilderness medi-
cine for the assurances of patients, clients, and the public at
large. Any current member of the Wilderness Medical Society
who successfully completes the requirements will have the
distinction of being a registered member of the Academy of
Wilderness Medicine and entitled to use the designation Fel-
low of the Academy of Wilderness Medicine (FAWM) and may
reference it on resumes, business cards, and advertisements.
How the Program Works
Individuals who desire membership will make application
to the Academy of Wilderness Medicine for admission as a
candidate. The WMS will document progress of attendance
at pre-approved CME educational programs sanctioned by the
WMS. Individuals may take up to five years from the original
date of acceptance as a candidate to complete the require-
ments that include:
· Verification of their medical training credential appropriate to
their medical vocation or discipline
· At least one year of work experience in the stated medi-
· At least 100 pre-designated CME credits from the core
· A professional conduct statement
· Current and continuous membership in the WMS
A numbered curriculum identifying core topics in
wilderness medicine will be offered from year to year at
WMS-endorsed wilderness medicine conferences. Individu-
als may select course offerings according to their unful-
filled registry requirements. If individuals complete all the
topics within a core curriculum category, they are eligible
to receive a certificate of completion recognizing their
achievement. Candidates will be acknowledged for reaching
milestones as they work to complete Academy requirements
toward Fellowship recognition. Candidates may request
that some training acquired through other WMS-affiliated
organizations be applied towards the Academy's criteria.
for accomplished individuals who desire:
· Distinction for professional education in
wilderness medicine
· Validation for the public, patients, and clients
of training in wilderness medicine
· Recognition for completing high-quality
standards in wilderness medicine
The wilderness, to many, means beauty, recre-
ation, and an opportunity to experience lifelong
dreams, all with the allure of the unknown.
With respect to the personal fulfillment we
each seek in the wilderness, few expect to
be faced with an attacking wild animal, envi-
ronmental effects of altitude, poisonings, ex-
posure, illnesses, or traumatic injury. With the
increasing popularity of travel into the wilder-
ness by groups of all ages, the unexpected is
sure to happen at an increasing rate.
of the Academy of Wilderness Medicine?
C O M B I N I N G Y O U R P R O F E S S I O N W I T H Y O U R P A S S I O N C O M B I N I N G Y O U R P R O F E S S I O N W I T H Y O U R P A S S I O N