Suzuki bro sv 650 Page 1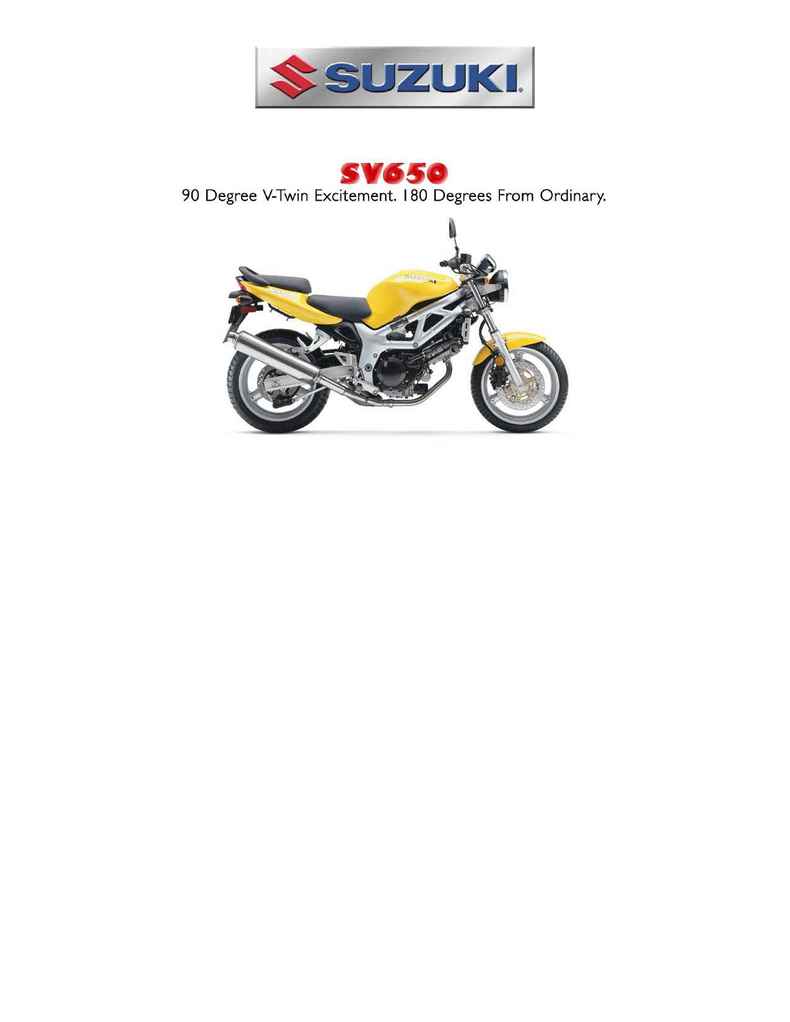 You ever hear that saying about the spice of life?
It's got something to do with variety. And when it
comes to sport bikes, a lightweight V-Twin provides all
the variety you could ask for to spice up a weekend
of enjoying the twisty roads. For proof, we offer the
SV650, a middleweight V-twin sport bike that has it
all: Aggressive styling. Strong engine performance.
The SV650 bears more than a passing resem-
blance to Suzuki's renowned supersport bikes. And
that resemblance is apparent in every aspect of its
design. The engine, for example, is positioned in an
upright V, which allows a more compact wheelbase.
That helps make the 650 remarkably maneuverable
and responsive. The lightweight aluminum truss frame
has excellent torsional rigidity. That helps the SV650
respond to your input instantly and precisely, even
when you brake hard into a corner or roll on the
throttle exiting a turn. The SV650 also makes a seam-
less transition from sport riding to the open road.
Advanced suspension systems front and rear are as
plush and smooth as they are responsive.
Anyone who has ridden an SV650 comes back
raving about the sheer joy of riding one. And that
excitement stems from its free-wheeling engine per-
formance. A liquid-cooled 90-degree V-twin engine
with double overhead cams operating four valves
per cylinder. Digital electronic ignition, and a pair
of downdraft carburetors. That means you tap into
crisp, clean throttle response throughout the power-
band. And whether you're running around town or
carving up a canyon road, you'll appreciate the six-
speed transmission that lets you make full use of the
On the open road, the SV650 provides you with a
natural riding position and well-padded seat. And that
allows you to ride in comfort even if your afternoon of
sport-touring turns into a weekend on the road.
Of course your toughest decision may be which
SV650 to buy. Along with sleek bodywork all its own,
the SV650S has a stylish half-fairing with dual inte-
grated headlamps, higher footpegs, and lower han-
dlebars than the SV650, providing you with an even
sportier riding position. Either way, the SV650 and the
SV650S offer V-Twin performance beyond compare.