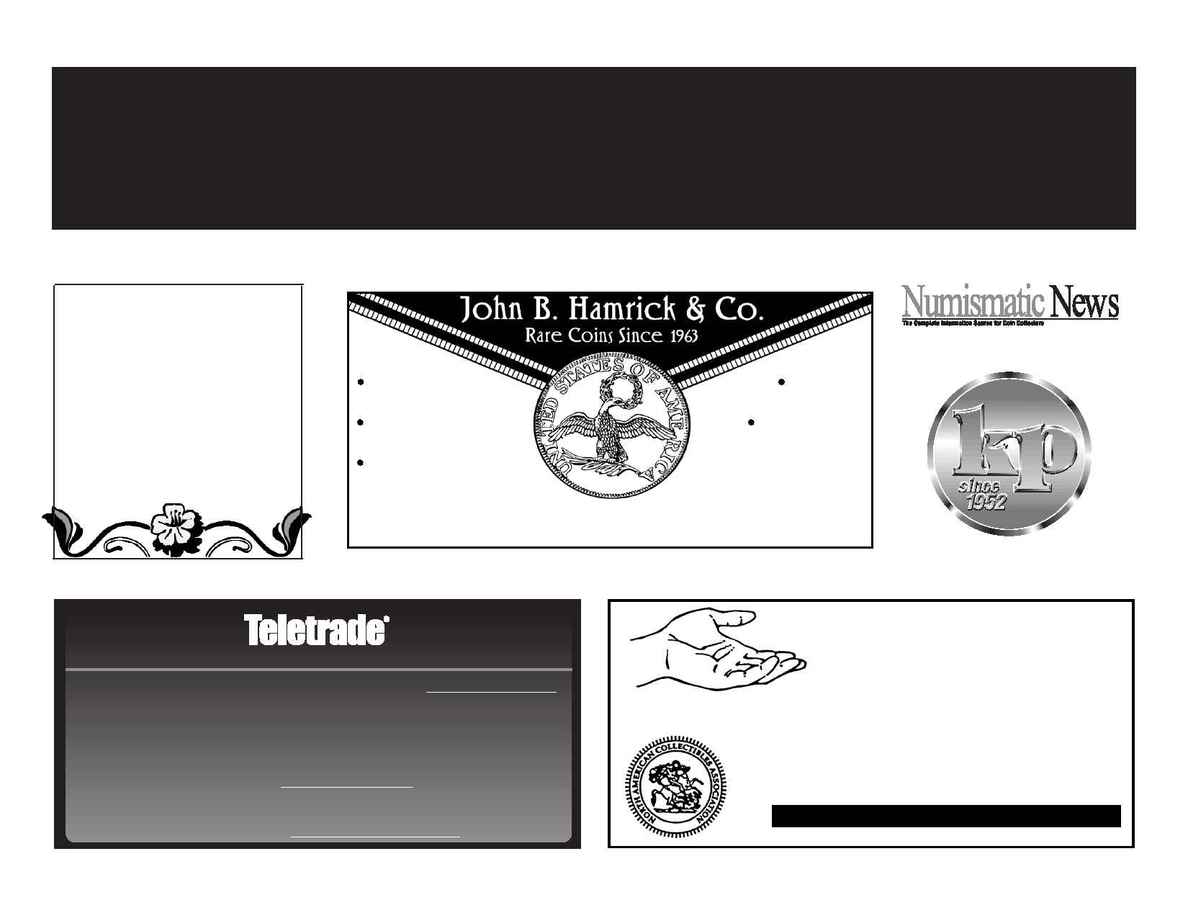 Internet Auctions with Interactive Phone Bidding
www.teletrade.com
The leader in online certified coins since 1987. Over 12,000 PCGS,
NGC, ANACS, NCS, and ICG certified coins offered monthly!
For general information or to register free of charge,
800-232-1132 Ext. 233
info@teletrade.com
For information on consigning collections, bidding,
or getting your coins appraised, please contact
800-949-2646
concierge@teletrade.com
You can't touch it or feel it, but there is a sense of security when you
know you are doing everything you can to protect your inventory.
Trust
Insurance developed by coin dealers for coin dealers.
Proven Track Record
21 years experience in providing insurance for coin dealers.
Contact: Barb Wingo
(800) 685-6746; (410) 857-5011; Fax (410) 857-5259
SaveSave $$$$ on FedEx Shipments!
nacabdw@aol.com
Save $$$$ on FedEx Shipment
Rare coins
bought, sold & traded
PCGS & NGC
Authorized Dealer
1195 Grimes Bridge Road #5
Member ANA, PNG & other Numismatic Associations
770.552.6679 www.johnbhamrickcoins.com
john@johnbhamrickcoins.com lori@johnbhamrickcoins.com
Thank you to the Bill Wells,
a.k.a, Chester West, family
for their trust in Krause
Publications and Numismatic
tradition of the Coin Show
Calendar. We are dedicating
it to his memory and for all
of the years of support that
C o i n S h o w C a l e n d a r
JULY 2003 - JULY 2004
© Copyright 2003 Krause Publications