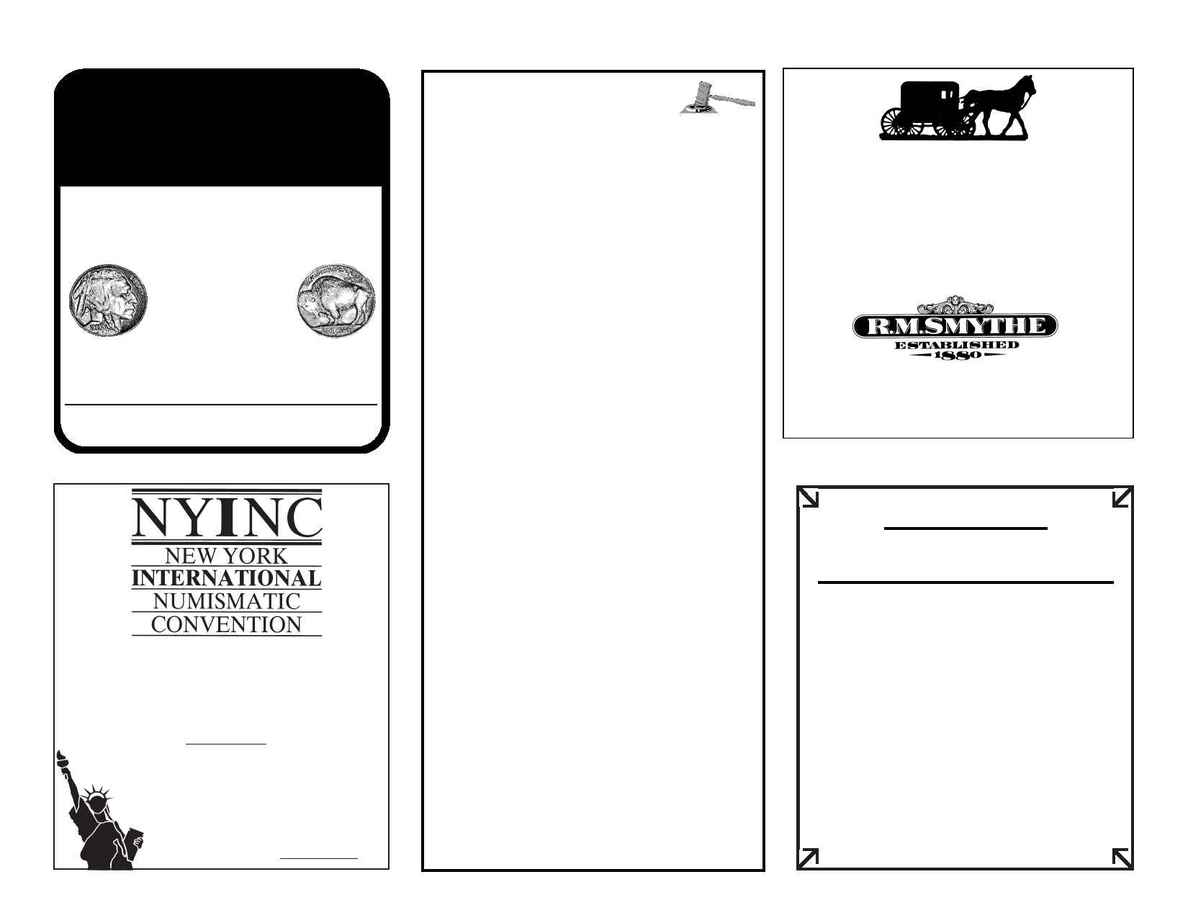 U.S., Foreign & Ancient Coins, Currency
Gold & Silver Bullion, Jewelry, Books, Supplies
CLEVELAND
110 Tables
Aug. 21 - 23
Nov. 20 - 22
Woodside Hall
5025 Esat Mill Rod., Broadview Hts., OH
I-77 @ Wallings Rd., Tpk Exit 173 N
THURS. 1-5:30 pm, Fri. 10-5:30 pm, Sat. 10 am-5:00 pm Adm. $5/$4 w Ad
Ron Nelson & Joe Bowen, Chairmen
www.ohiocoin.com Hotline (216) 642-9424 E-Mail: ronald-nelson@att.net
Phone (216) 292-7744 or (440) 442-1776, Fax (216) 292-7746
OHIO
COIN EXPOSITION
THE GREATEST SHOWS ON EARTH
January 15-16-17-18, 2004
(Early Birds - Thursday, January 15,
2PM-7PM - $100 Registration)
Friday, January 16 10AM-7PM
Saturday, January 17 10AM-7PM
Sunday, January 18 10AM-3PM
(Admission - $10 for a three-day pass. Present this ad for a $5 admission discount)
Park Avenue between 49th & 50th Sts., New York, NY
Hotel Reservations: (212) 355-3000. Ask for our Special NYINC rates: $190, $219
Auctions by: Heritage · Stack's · Dmitry Markov ·
M & M Numismatics · Baldwin's · Classical Numismatic Group ·
Ponterio & Associates
Bourse Chairman: Kevin Foley
P.O. Box 370650, Milwaukee, WI 53237
(414) 421-3484 · Fax: (414) 423-0343
E-mail: kfoley2@wi.rr.com
Visit our Web Site: www.nyinc.info
David Akers Numismatics, Inc
American Numismatic Rarities
Baldwin-Ma-Gillio Monetarium
Bowers and Merena Galleries
Tom Cederlind Numismatics and Antiquities
Classical Numismatic Group, Inc
Connecticut Numismatic Auctions
Currency Auctions of America
Early American History Auctions
Eastern Shore Auctioneers
Ira and Larry Goldberg Coins and Collectibles
Heritage Numismatic Auctions
Stephen M. Huston Classical Numismatist
Lyn Knight Currency Auctions
Damitry Markov Coins & Medals
Moore Numismatic Auctions
Paul Padget's Vintage Sales
Ponterio and Associates, Inc
Presidential Coin and Antique Co.
Soderholm Commission Company
Craig A. Whitford Numismatic Auctions
World-Wide Coins of California
AUCTIONEERS
SEPTEMBER 4 - 7, 2003
STRASBURG CURRENCY SHOW
HISTORIC STRASBURG INN
ROUTE 896 - HISTORIC DRIVE
STRASBURG, PENNSYLVANIA
(Hotel Reservations: 800-872-0201 - $94)
Featuring Auctions
Friday & Saturday Evenings
INTERNET: www.smytheonline.com
E-MAIL: info@smytheonline.com
Pennsylvania Auctioneer License AY-000186-L
For details, call Mary Herzog at 800-622-1880
Baltimore, MD
July 30-August 3 (pg. 3-5)
Las Vegas, NV (Bk Cover)
August 8-10, 2003
Blue Ridge, GA (pg. 5)
August 15-17, 2003
Cleveland, Ohio (pg. 4)
August 21-23, 2003
Pasadena, CA (Bk Cover)
August 29-31, 2003