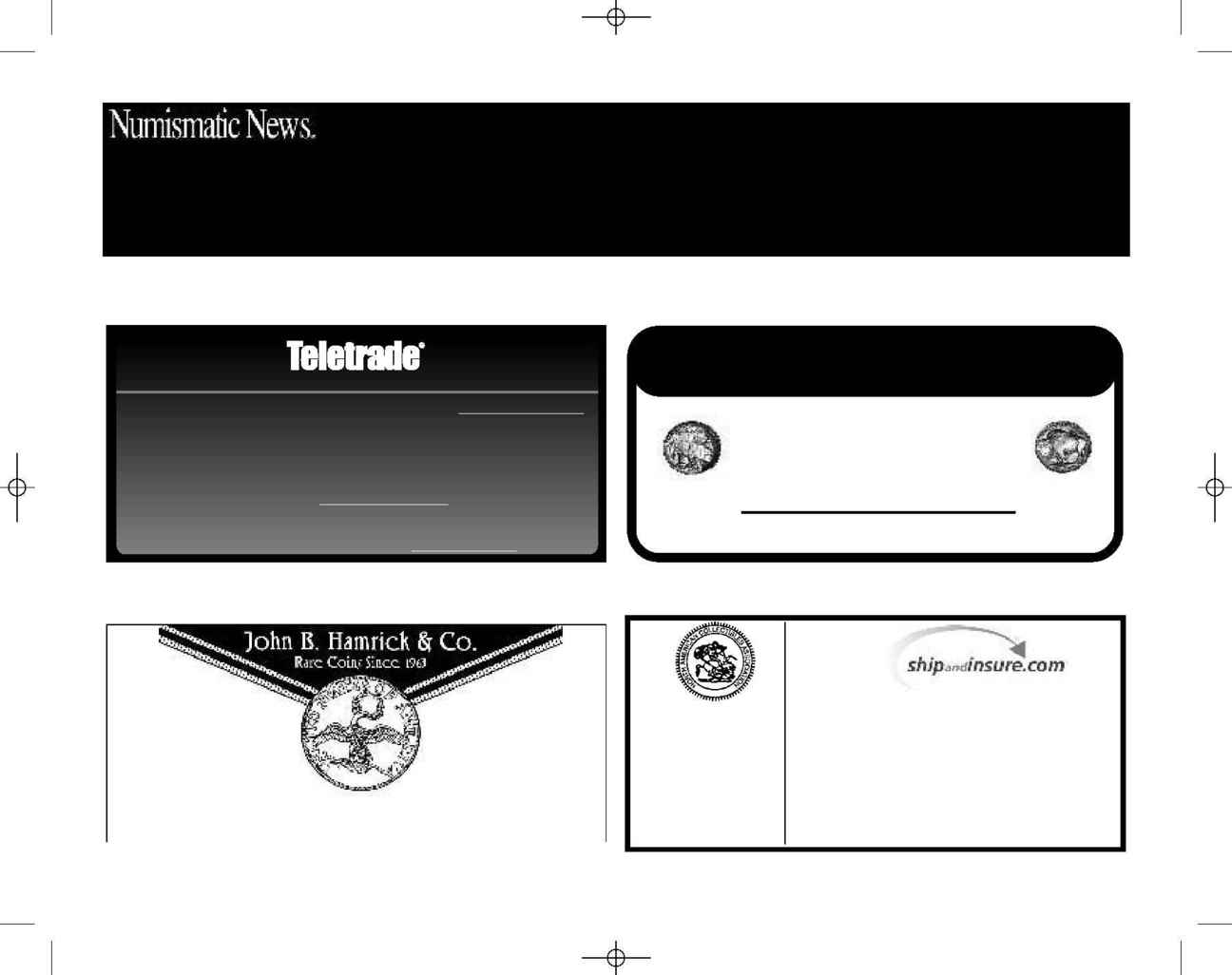 $12.00
© Copyright 2005 Krause Publications, A Division Of F+W Publications
C o i n S h o w C a l e n d a r
The Complete Information Source for Coin Collectors
www.ohiocoin.com eMail: ronald-nelson@att.net (216) 292-7744 or (440) 442-1776, Fax (216) 292-7746
Fri. 1 - 5:30, Sat. 10 - 5:30, Sun. 10 - 3 / Adm. $6/5 w ad
OHIO COIN EXPO
CLEVELAND / 125 Tables
U.S., Foreign & Ancient Coins, Currency, Gold & Silver Bullion, Jewelry, Books, Supplies, etc.
Holiday Inn / Independence
Aug. 19 - 21, Nov. 18 - 20 & Feb. 17 - 19, '06
6001 Rockside Rd.,
Ron Nelson & Joe Bowen, Chairmen
THE GREATEST SHOWS ON EARTH!
Internet Auctions with Interactive Phone Bidding
www.teletrade.com
The leader in online certified coins since 1987. Over 15,000 PCGS,
NGC, ANACS, NCS, and ICG certified coins offered monthly!
For general information or to register free of charge,
800.949.COIN(2646)
info@teletrade.com
For information on consigning collections, bidding, or getting your coins
appraised, please contact Irma Kane, Lorna Carter, or Ian Russell
800.949.COIN(2646)
or email info@teletrade.com
· Professional appraisals
P.O. Box 546
Alpharetta, GA 30009
Member ANA, PNG & other Numismatic Associations
678-319-3005 www.jhnbhamrickcoins.com
john@johnbhamrickcoins.com lori@joohnbhamrickcoins.com
North American
Collectibles
Association
2316 Carrollton Road,
Westminster, MD 21157
Barbara D. Wingo, Program Manager
(410) 857-5011 - (800) 685-6746
FAX (410) 857-5259
nacabdw@aol.com
Proven Track Record
23 years experience in providing insurance for coin dealers.
Coverage to Fit Your Needs
Each coverage option available through NACA has been developed to respond to the specific
needs of coin dealers.
Service, Service, Service
It is the name of the game, and Barb Wingo has been on the front line of this one for many
years.
Prompt Handling of claims
Claims receive prompt investigation and response.
Insurance Protection
Go To
for online shipping
great discounts included for FedEx Shipping
nical20050621.qxd 6/14/05 2:20 PM Page 1