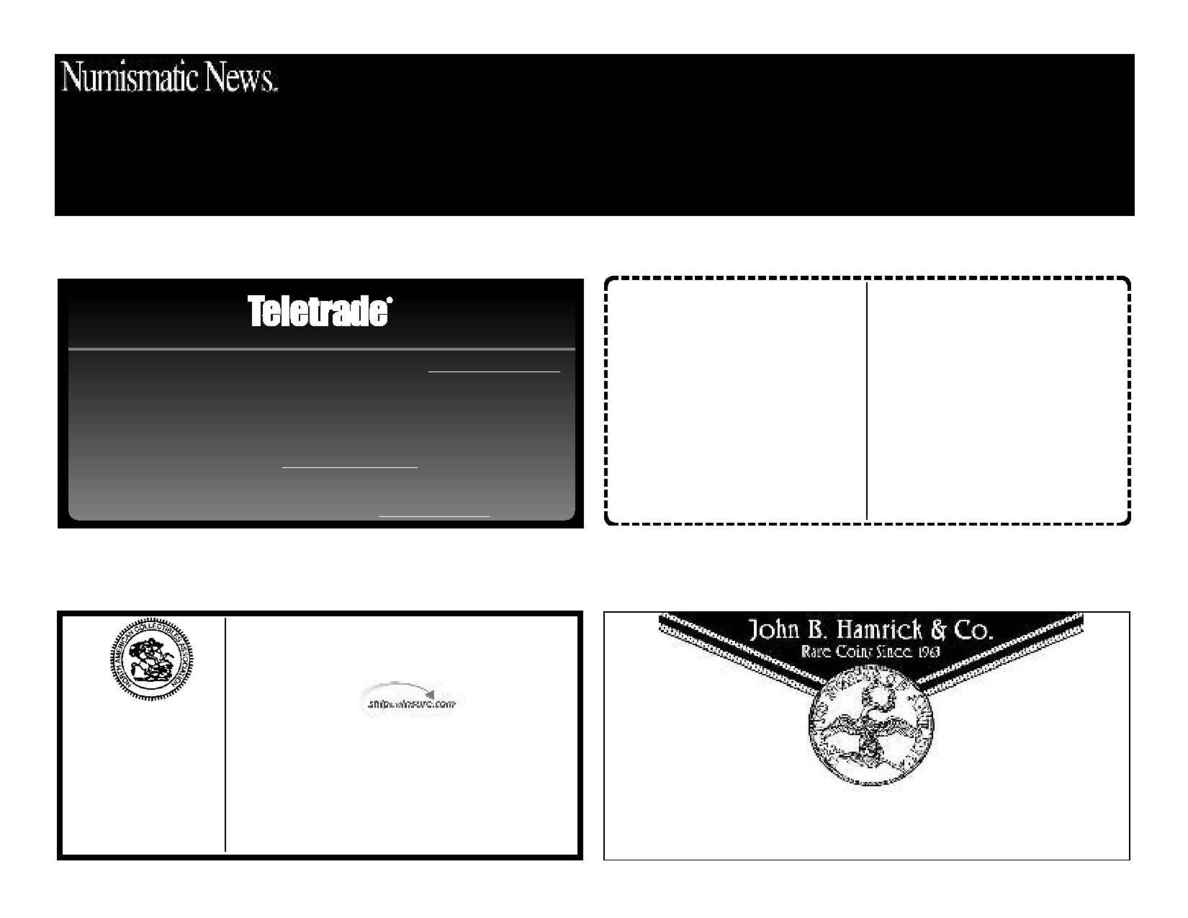 $12.00
© Copyright 2005 Krause Publications, A Division Of F+W Publications
C o i n S h o w C a l e n d a r
JANUARY 2006 - JANUARY 2 0 0 7
The Complete Information Source for Coin Collectors
Tukwila Community Center
12424 - 42nd Avenue South
Tukwila, WA 98168 (Off I-5 Exit 156)
Show Hours: Dealer Setup Friday 8AM-12PM
Public Hours: Friday 12PM-7PM;
Saturday 10AM-6PM, Sunday 10AM-4PM.
Admission: $2.00 (Children under 13 are free).
Contact Information: Show Information:
Richard Billings, General Chairman (425) 643-5738
Scott Loos, Bourse Chairman (425) 831-8789
P.O. Box 2210 · North Bend, WA 98045
2nd Annual Pacific Northwest
Doubletree Portland Lloyd Center Hotel
1000 NE Multnomah, Portland, OR
Show Hours: Dealer Setup Friday 12PM-7PM
$25.00 early bird on Friday
Public Hours: Saturday10AM - 6PM Sunday 10AM - 4PM
General Show Information:
Larry Gaye, General Chairman (503) 579-6416
Scott Loos, Bourse Chairman (425) 831-8789
P.O. Box 2210 · North Bend, WA 98045
E-Mail: scottloos@msn.com
North American
Collectibles
Association
2316 Carrollton Road,
Westminster, MD 21157
Barbara D. Wingo, Program Manager
(410) 857-5011 - (800) 685-6746
FAX (410) 857-5259
nacabdw@aol.com
If you ship packages every month with values
between
$500
and
$50,000
`shipandinsure.com' can save you $100s or $1000s!
Don't wait! See how the NACA can benefit you and your business.
Put these valuable savings back in your pocket!
NACA, a Leading Insurance
Provider For Coin Dealers
now offers
For ShipandInsure.com call
Elaine Lockard at 877-393-5310
For Coin Dealer Insurance call
Barb Wingo at 800-685-6746
· Professional appraisals
P.O. Box 546
Alpharetta, GA 30009
Member ANA, PNG & other Numismatic Associations
678-319-3005 www.johnbhamrickcoins.com
john@johnbhamrickcoins.com lori@johnbhamrickcoins.com
Internet Auctions with Interactive Phone Bidding
www.teletrade.com
The leader in online certified coins since 1987. Over 15,000 PCGS,
NGC, ANACS, NCS, and ICG certified coins offered monthly!
For general information or to register free of charge,
800.949.COIN(2646)
info@teletrade.com
For information on consigning collections, bidding, or getting your coins
appraised, please contact Irma Kane, Lorna Carter, or Ian Russell
800.949.COIN(2646)
or email info@teletrade.com