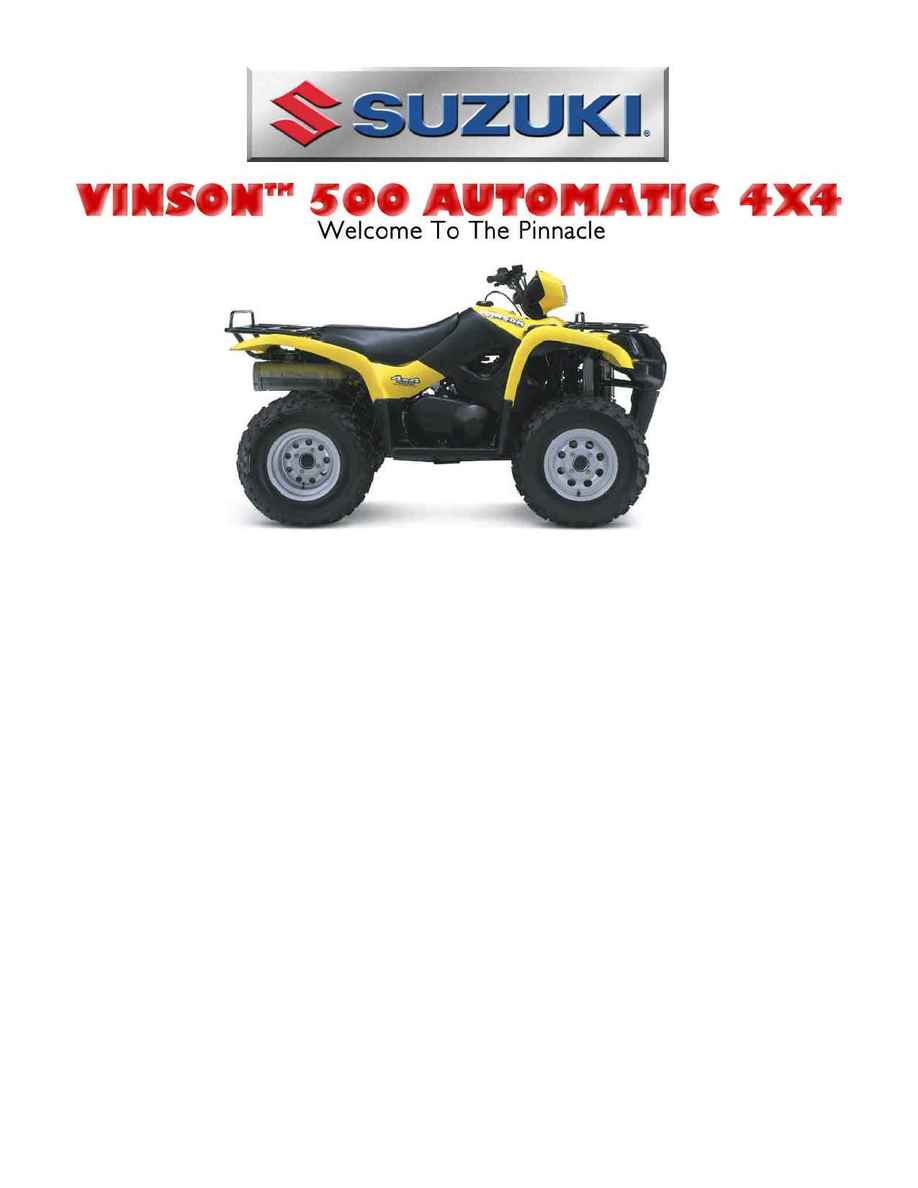 Mt. Vinson is the highest mountain in Antarctica, so it's the
perfect inspiration for the toughest, most versatile ATV Suzuki
has ever engineered. Introducing the all-new Suzuki
QuadRunner Vinson 500. It combines all the utility you need
for the longest, hardest day of work, plus sport styling and
performance never before found in a recreational four-wheeler.
The result is a true "sport utility" four-wheeler equally at home
pulling its weight around a construction site, or carrying you and
your snowshoes to base camp for an attack on the highest
peak in your neck of the woods.
The Vinson features an all-new engine that's an ideal
example of technology dedicated to high performance and
maximum durability.
It's a liquid-cooled, high-compression, 493cc single-cylinder
with a high-flow, four-valve cylinder head. It cranks out huge
amounts of torque for awesome pulling power and impressive
responsiveness.
Throw the Vinson into gear and you're tapping into one of
the most innovative drivetrains ever found on an ATV. It
features a QuadMaticTM fully automatic, continuously variable
transmission with a centrifugal clutch. A single, easy-to-use
automotive-style gear lever mounted on the front fender allows
you to select the two-speed subtransmission's low- or high-
range, neutral, reverse or park (which activates the parking
brake). The Vinson also has an all-new start-in-gear system,
which enables you to restart in any gear position by simply
squeezing the brake lever mounted on the left handlebar and
pushing the start button.
To complement the QuadMatic transmission, an advanced
engine braking mechanism reduces free-wheeling when moving
forward ­ especially going downhill with the throttle off. That
helps you maintain a consistent speed even while carrying a
heavy load.
For maximum versatility, the Vinson features selectable two-
or four-wheel drive operation. A simple handlebar-mounted
selector button allows you to quickly shift into or out
of four-wheel drive while stopped. Choose two-wheel drive for
light steering and maneuverability, or four-wheel drive for
traversing tougher or more slippery terrain.
The Vinson's advanced suspension system features an
independent front double wishbone suspension design with
five-way adjustable preload. At the rear, a new swingarm
suspension system with twin shock absorbers and five-way
adjustable preload is engineered for smooth performance even
when the going gets rugged.
If you're wondering about the Vinson's responsiveness, one
look at its sport styling tells the whole story. It has a 50-inch
wheelbase for maximum comfort. It has the lowest seat height
in its class while maintaining a huge 9.9 inches of ground
clearance. And it's light ­ just 604 pounds ­ and narrow, so it's
convenient to ride through woods or between rocks. There's a
smooth transition between the T-shaped seat and the rear
fenders and sidecovers, so you can easily move back and forth
or side-to-side when riding.
Full floorboards help deflect splashes in wet or muddy
conditions, and they include integrated footpegs to give your
boots a better grip.
The all-new QuadRunner Vinson. Remarkable enough to
create a whole new category of four-wheelers.