Collect.com 10378 Page 1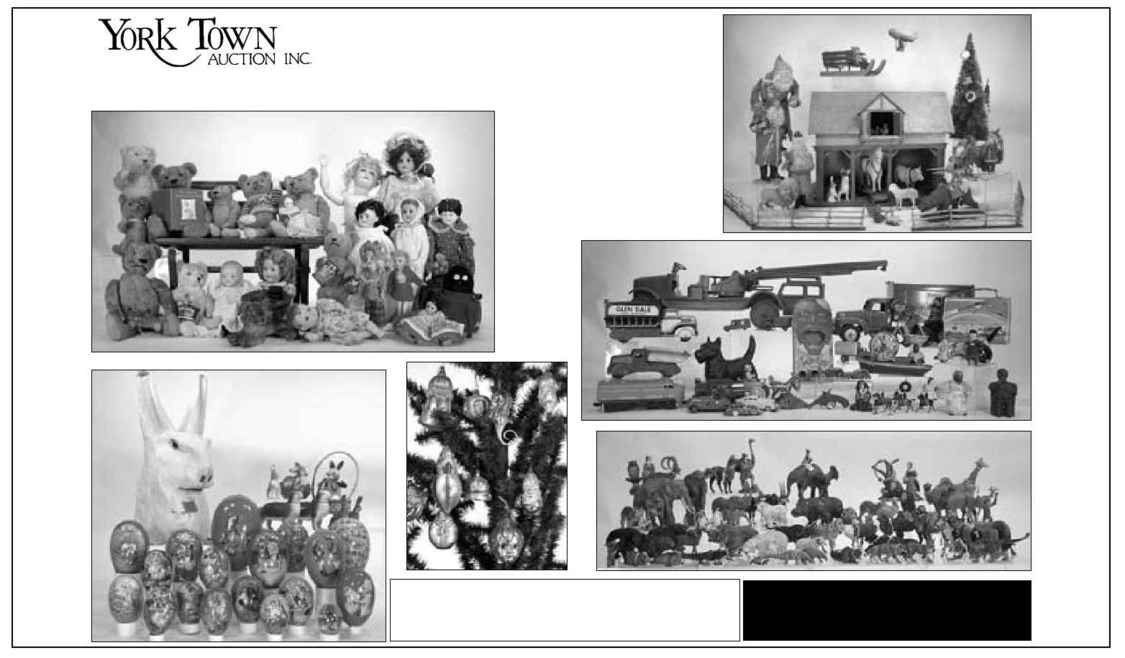 32 ANTIQUE TRADER · June 26, 2002
A Reputation for Excellence
TERMS: Cash, traveler's checks, or local Penna. check w/proper
ID. Out-of-state & other Pa. checks must have current bank letter
of credit, unless known to York Town Auction Inc.
12.5% Buyer's Premium
York Town Auction, Inc., AY-34-L
1625 Haviland Rd.York, Pa. 17404 , 717-751-0211,
fax 717-767-7729, e-mail: info@yorktownauction.com
Web: www.yorktownauction.com
680 lots incl. the Holiday Collection
from the Estate of Howard Myers, York,
PA; the doll collection of Rhoda Laird,
East Berlin, PA; the toy collection of
Robert Lorenzo, Pasadena, MD.
Fully illustrated Web site catalog at
HOLIDAY, TOY & DOLL AUCTION
SATURDAY, JUNE 29 - 9:00 AM
Preview: Fri., JUNE 28, 6-9 PM - Doors open Sat. at 7:30 AM
TO BE HELD IN the Old Main Building of the York Fairgrounds, York, Pa.
It's all about getting the right bidders.
Antique Trader has been bringing bidders to auctions for over 40 years.
Antique Trader has taken on a new look, increased national distribution and
delivers more timely news on a weekly basis. If you haven't tried us lately you
will want to be sure to include Antique Trader in your next advertising budget.
Call TODAY for