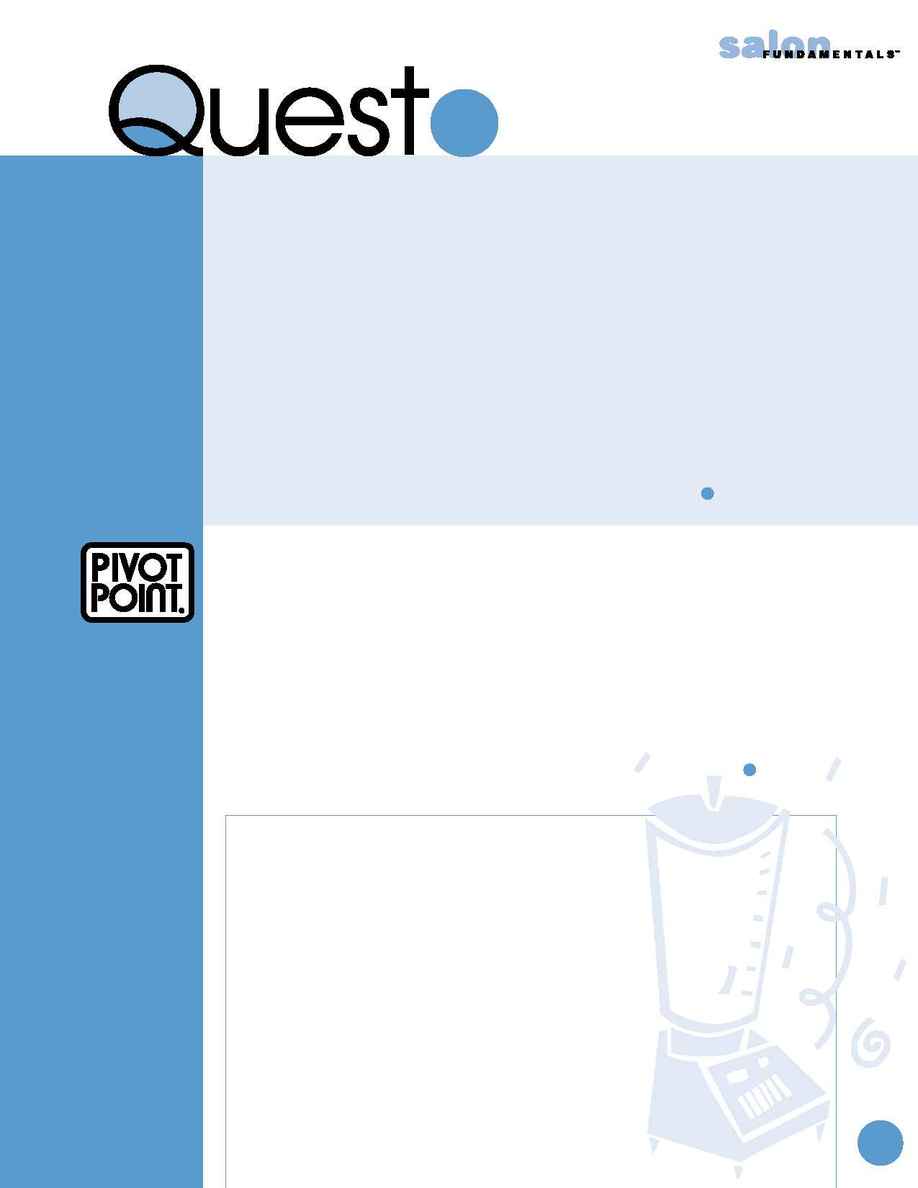 1
is dedicated to supporting the efforts
of teaching using the Salon FundamentalsTM and
Salon Fundamentals Esthetics programs. Articles
will include updates on the program, insights
on delivery methods to inspire learning and
additional Learning Connections to assist the
learning process, and information pertinent
to topics covered in this revolutionary theory
system by Pivot Point International, Inc.
Teachers not using the Salon Fundamentals
familiar with key areas found in the programs
and hopefully gain an interest to become a part
of this Pivot Point program.
will be future issues featuring key ideas and
tips from other educators as well as samples,
completed SmartNotesTM or Thinking Maps
from students using their Study Guide tem-
plates. Sharing and communicating creative
ideas and exercises will only help all of us
work smarter, not harder.
For assistance in purchasing the Salon
Fundamentals programs call 1-800-886-4247.
Questions, comments, or specific areas of
interest or submittal of potential news articles
can be e-mailed to sf
Get the Scoop! What's the Buzz?
Support for Curriculum Development
Volume 1, Issue 1
Issue 2
Issue 3
Quest is dedicated to
supporting the efforts of
teachers using the Salon
Fundamentals and Salon
Fundamentals Esthetic
programs. Articles will
include updates on the
program, insights on
delivery methods to inspire
learning, additional
Learning Connections to
assist the learning process
and information pertinent
to topics covered in
this revolutionary theory
system by Pivot Point
International, Inc.
Mix 4 Parts for Success
Success is much closer when using the four components of the Salon Fundamentals program.
Help students meet and exceed licensing and entry level needs by combining the four
components of this dynamic learning system.
The four components include:
1.
Salon Fundamentals Textbook and Study Guide.
A reference text, theory and practical
workbook and review for exams all in two user-friendly books.
2.
Salon Fundamentals Video Program on VHS and DVD.
Fifteen tapes for each of the chap-
ters or 5 DVDs make the program flexible, convenient to use and bring the textbook to life.
3.
Learners' CD-ROM.
Video bytes, talking glossary, click-and-drag labeling and
learning games make this the most important interactive component of the program.
4.
Teachers' Support Materials.
Flexible 3-ring binder provides lesson plans, curriculum
support and sample tests. The companion support CD-ROM contains lesson plans and a
test bank of questions and a grade book that can be modified for personal use.
Move your students closer to success by using all four dynamic components.
Support for Chapter 1, Professional Development
can be found in the following two thoughts:
· Humans were given two ears and only one
mouth. Some say that's because we are sup-
posed to spend twice as much time listening
as talking. Others claim it's because listening is
twice as hard.
· A frog asked two geese to take him south
with them. At first they resisted.They didn't
see how it could be done. Finally, the frog
suggested that the two geese hold a stick in
their beaks that he would hold on to it with
his mouth. So off the unlikely threesome
went, flying southward over the countryside.
It was really quite a sight. People looked up
and expressed great admiration at the demon-
stration of creative teamwork. Someone said,
"It's wonderful! Who was so clever to discover
such a fine way to travel?"Whereupon the
frog opened his mouth and said, "It was I,"
as he plummeted to the earth.