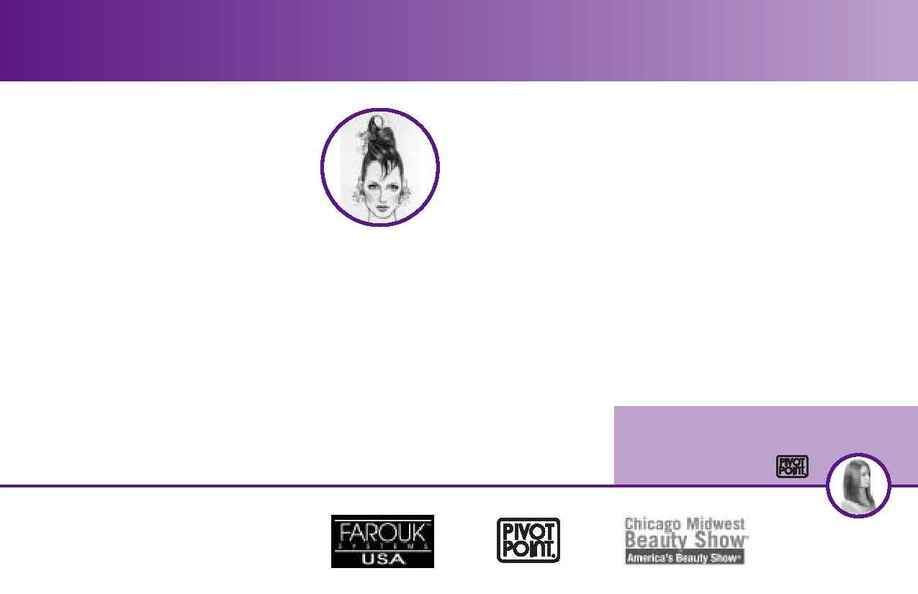 FREE Competition Mannequin to the
first
15
Hair by Night (Test 2)
Competition Running Time: 40 minutes
Competition Begins: 11:20am
Location: Competition Arena
AWARDS
OMC: Grand Prix Marcel Lamy
1st ­ 5th Place Medallions
CMBS: 1st, 2nd and 3rd Place Trophies
Sponsors
Farouk Systems
COMPETITION RULES
DESIRED RESULT: A
technical evening hairstyle.
MANNEQUIN HEADS.
Are taken back to the
competition floor with
their hairstyle unchanged
from the Creative Hairstyle Test. The competitors
will, upon instruction by the General
Commissioner, brush the hair back before the
competition starts.
The competitor can wet, shape, blow-dry and/or
style the hair.
HAIRPIECE(S). A minimum of 1 and not more
then 3 hairpiece(s) must be combed and styled
during the competition. Hairpiece(s) may not
cover more than 40% of the surface of the
finished head, and must be harmoniously
integrated into the hairstyle. The competitors may
use scissors to clean up the hairpiece(s).
HAIR COLOR. The choice of the color is open,
with a minimum of 2 colors.
ORNAMENTS / HAIR ADDITIONS. Ornaments
are allowed but may not be made from hair or
similar fibers or substances. Full wigs and hair
extensions are forbidden.
Make-up and accessories must be elegant, as if
attending an evening party.
*Combination Tests - in order to qualify for OMC
Grand Prix awards, competitors must compete in
both tests. A competitor may, however, choose to
compete in only one test and qualify for the awards
associated with that individual competition.
JUNIOR LADIES COMBINATION TEST* · TECHNICAL