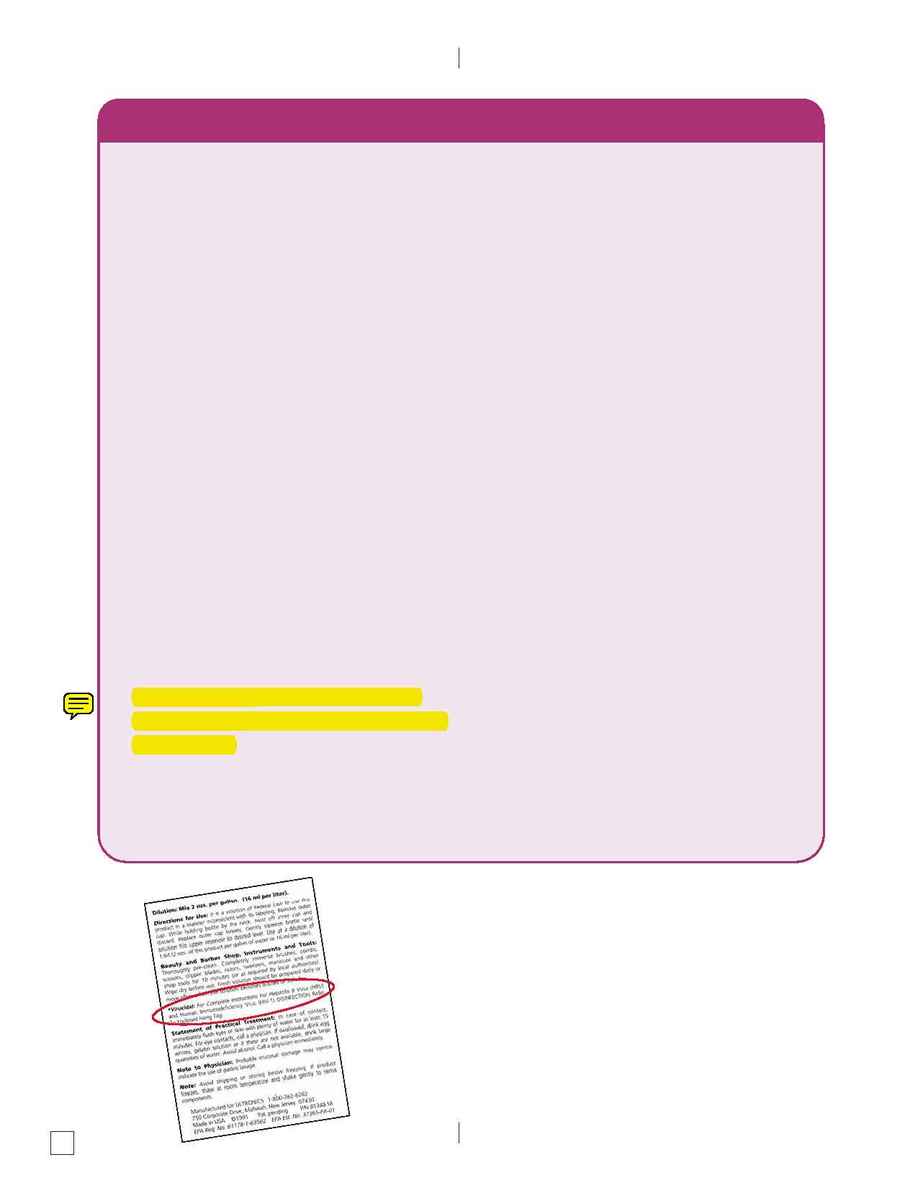 s k i n c a r e c e n t e r e c o l o g y
108
·
Infection Control the is prevention of the spread
of infectious agents to you and your clients.
·
Sanitation, Disinfection and Sterilization
comprise the three levels of infection control.
· Sanitation is the low-level destruction of
surface bacteria.
· Disinfection eliminates bacteria, viruses
and most organisms on inanimate non-porous
surfaces. This procedure is recommended for
all esthetic implements and surfaces.
· Sterilization eliminates
all living organisms
on non-porous surfaces, including bacterial
spores that adhere to surgical instruments
in medical treatment rooms.
·
Antiseptics arrest or prevent the growth of
microorganisms on the skin.
·
Infection-control procedures include
handwashing, using personal protective
equipment, such as gloves and safety glasses
when necessary, and properly disinfecting all
skin care implements and surfaces to
prevent cross-contamination.
·
Universal Precautions, a set of guidelines
established by the Center for Disease Control
(CDC), means using the same infection
control practices on all clients. Since we
cannot identify clients with infectious diseases,
it is safer to handle the blood spills and body
fluids of all clients as potentially infectious.
·
Exposure to blood and other body fluids
presents a risk for skin care professionals.
For the esthetician, exposure can occur
during the extraction process of a facial, as
well as during other services, such as waxing.
·
Handwashing removes microorganisms by
lifting them from the surface of the skin.
Hands should be washed between each
service, before and after a lunch break,
after using the bathroom, or any time
they become contaminated.
·
OSHA's Bloodborne Pathogen Standard
should be followed for all tools and
implements that come in contact with blood
or body fluids. This type of high-level disinfection
requires the use of an EPA-registered hospital-
level (commonly referred to as hospital-grade)
disinfectant that is labeled as effective against
HIV-1 and Hepatitis B or tuberculocidal
(effective against bacteria that produce
tuberculosis). In relation to disinfectant
products in the U.S.,
EPA Standards require
efficacy labels on all disinfectants to inform
the user about what organisms the product
is effective against. Reading the label and
following the directions ensures that the
product will produce the desired effect.
VOCABULARY OF INFECTION CONTROL
Also important in infection control is the concept of efficacy, which
means the ability to produce results, or effectiveness. Standards
have been established that require efficacy labels on all disinfectants
to inform the user about what organisms the product is effective
against. An example is a disinfectant label that states "effective
against human Hepatitis B Virus and HIV-1." As you gain more
information in this chapter, you will notice that you are required
to use products based on the efficacy label.
Salon Fundamentals
Esthetics