Pivot Point International, Inc. SFE Textbook changes Page 14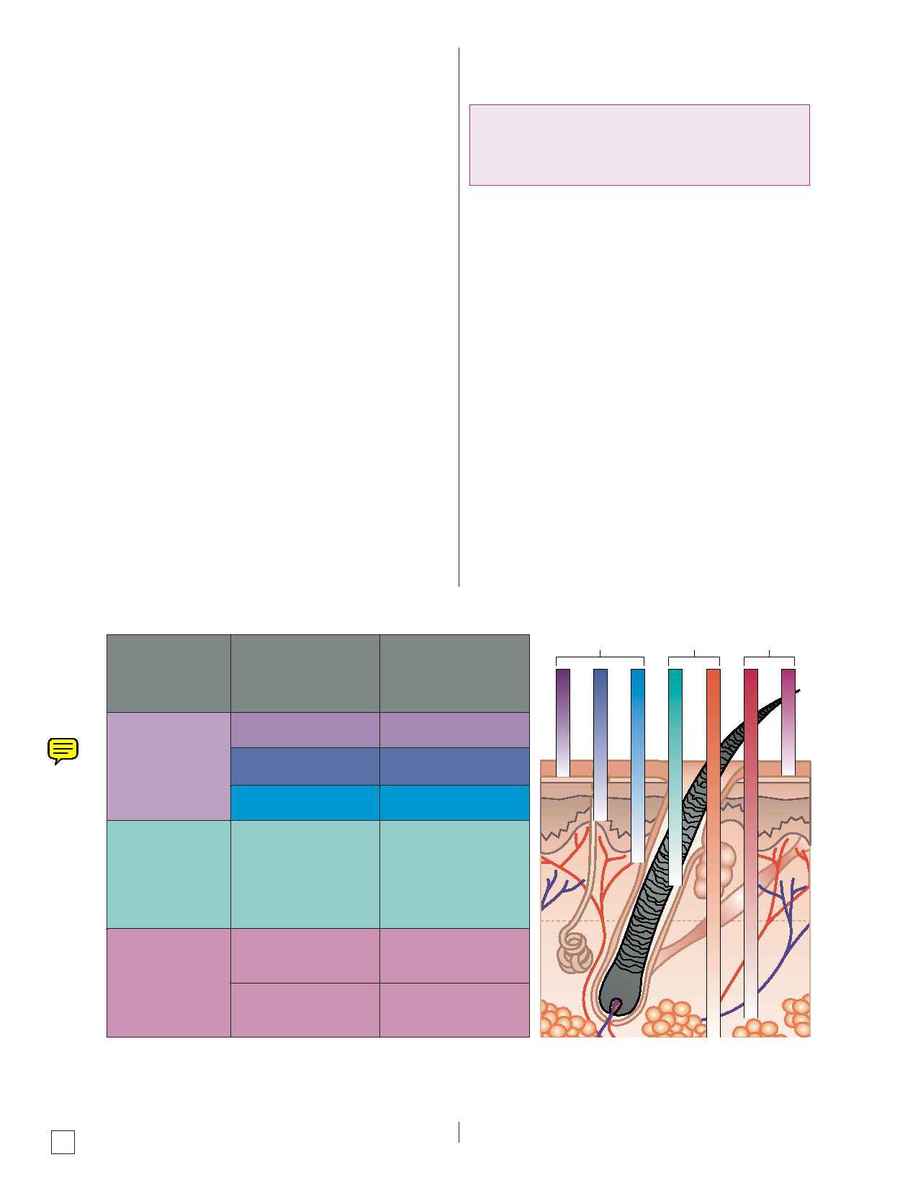 e l e c t r i c i t y a n d e l e c t r i c a l e q u i p m e n t
196
Salon Fundamentals
Esthetics
Ultraviolet rays, also known as actinic or cold
rays, have a shorter wavelength than either
visible light rays or infrared rays. Ultraviolet light,
or UV, produces positive or negative effects on
the skin, depending on the exposure time. Small
doses of UV light help the body produce Vitamin
D, which promotes healing. UV light is also a
germicide and can kill bacteria that cause skin
infections. However, studies prove that
overexposure to UV light can result in tissue
destruction and even skin cancer. UV rays
are composed of three different types of rays,
each with different wavelengths and effects.
Both UVA and UVB are equally damaging to
the skin. UV rays are measured in nanometers
(one billionth of a meter).
Small doses of infrared or ultraviolet light
can produce beneficial effects. Infrared light or
IR produces heat. Heat lamps or infrared bulbs
can be purchased for use in facial and body
treatments. Take care to position the lamps
according to the manufacturer's instructions
and take the client's comfort into consideration.
Benefits of using infrared light are:
·
·
Increases skin gland secretions
·
·
Stimulates cell and tissue activity
Exposure times range from five to 15 minutes.
The light must be placed at least 30" (75 cm)
from the client's face. Eye pads or protective
eye forms must be used to cover the
client's eyes.
UV light treatments are used by dermatologists
on individuals with severe acne due to the
light's antibacterial effects.
Ultraviolet)
Infrared)
Courtesy of Soriano, Perez and Baques. Electroestetica Profesional Aplicada. Sant Quirze Del Valles, S.A., SORISA, 2000.