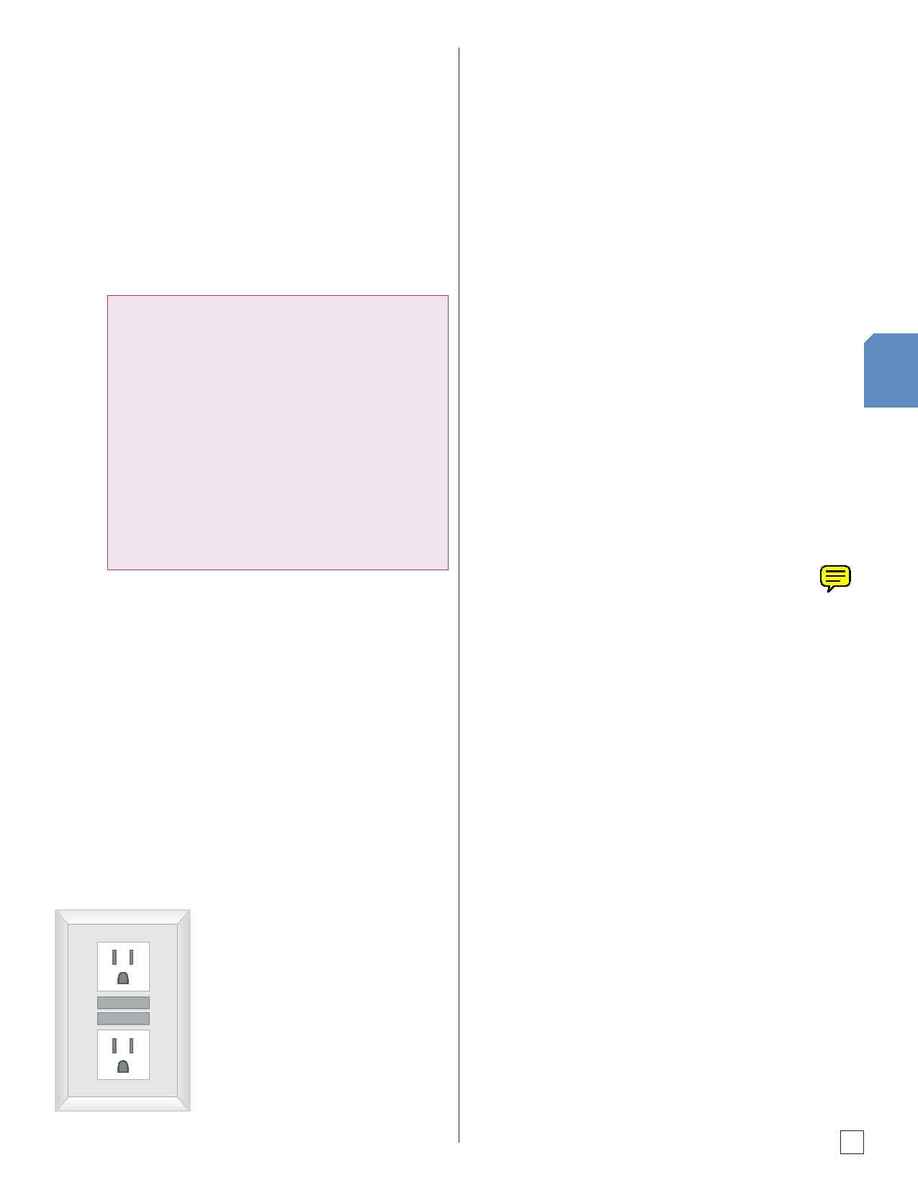 to cease and the muscles to convulse.
Dial 9-1-1 to summon emergency assistance
and have a certified, trained person start
CPR (cardiopulmonary resuscitation).
CPR is the only procedure that can save
the victim's life. Continue CPR until an
emergency team arrives.
To free someone who is being shocked, you
must first protect yourself from being shocked
by breaking the circuit before touching the
person. There are three ways to do this:
·
Knock the person out of the circuit
by using an insulator like a broom, a
plastic brush or a plastic garbage pail.
·
Unplug the appliance. Be careful to use an
insulator to keep yourself out of the circuit.
·
Turn off all the circuit breakers at the
power box.
A ground fault circuit interruptor
(GFCI) outlet (see illustration)
should be installed in any area
where water and electricity could
come into contact. A GFCI can
sense current leakage in an
electrical circuit and will
interrupt power if there is
contact with water, preventing
electrical shock. Make sure appliances used near
water are unplugged when not in use. (GFCI
information adapted with permission from the
Electrical Safety Foundation International).
Fire
When working with electricity, knowing how
to prevent and manage fires can prevent injury
or even save lives. Following specific safety
guidelines includes practicing the protocols
listed below.
·
Use and store flammable materials properly.
·
Post and comply with local fire codes.
·
Inspect fire safety devices, such as
fire extinguishers, smoke alarms
and sprinkler systems, frequently.
·
Dispose of or repair frayed or exposed wires.
·
Immediately pull the cord from the socket
while wearing protective covering, such as
rubber gloves.
·
Immediately locate and use a fire extinguisher.
In the event that you are trapped in a smoke-
filled room or building:
·
Open the windows for air.
·
Stay low to the ground and exit
immediately if possible.
·
Check all doors for heat and signs
of fire before opening.
To exit safely through a door, first feel the door, and
if it is not hot, open it slowly. If there is no smoke
on the other side of the door, stay low and proceed
to the nearest exit. If the door is hot or smoke is
seeping from beneath it, do not open the door.
e l e c t r i c i t y a n d e l e c t r i c a l e q u i p m e n t
183
6
Salon Fundamentals
Esthetics
CPR is a procedure used to restart the heart
once it has stopped. Performing CPR requires
training and certification, and it is a valuable
skill in the skin care center as well as in your
daily life. For more information about CPR
and First Aid training and certification,
contact your local American Red Cross or
community college. Never perform CPR
unless you are properly trained and certified;
practicing CPR without certification can be
dangerous to the victim.