Pivot Point International, Inc. SFC Coursebook 11thptg Page 7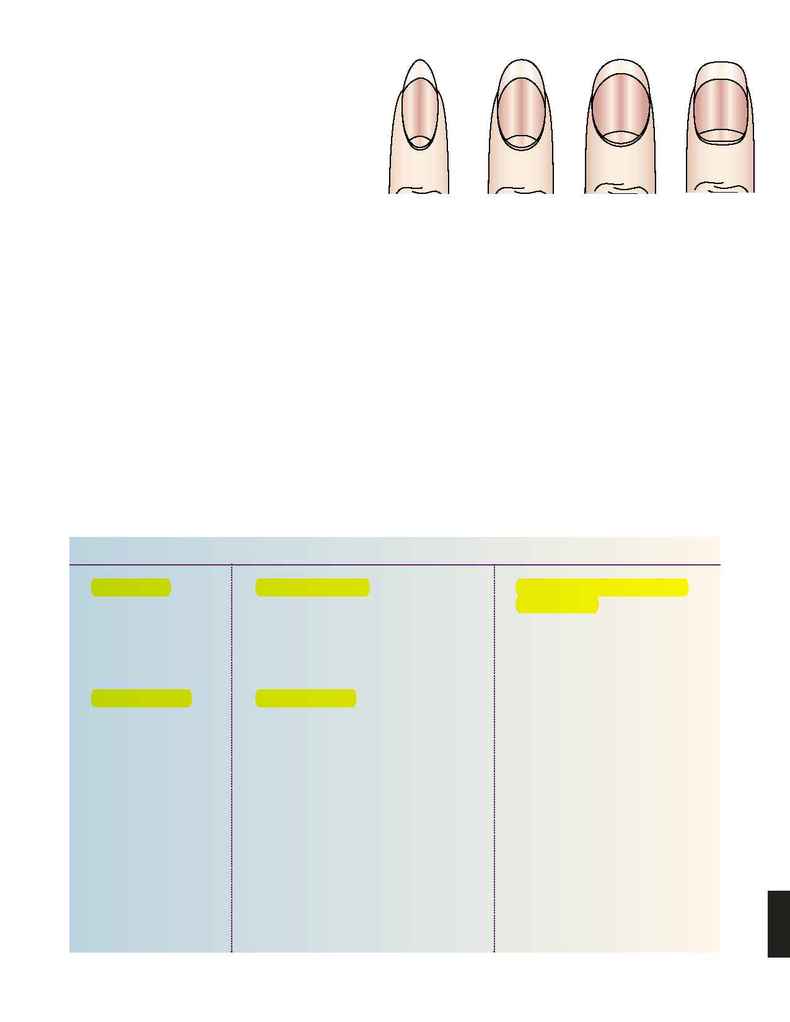 THE STUDY OF NAILS
Although nails grow in assorted shapes
and sizes from convex to concave, wide to
narrow, round to angular,
there are four
basic nail shapes: pointed, oval, round
and square.
Generally, the more square
the nail shape, the stronger it is. It will be
your job to enhance the natural shape of
your client's nails, the shape of their fingers and the overall appearance of their hands. In choosing
the nail length and polish color you'll recommend, consider the appearance of your client's hands,
what they do with their hands each day and, of course, your client's wishes.
To perform a professional nail service, you need a selection of products, implements and equipment.
Nail service products are produced by many different manufacturers, are disposable and must be fre-
quently replaced. Material Safety Data Sheets (MSDS) for all products used in the salon must be
available. Nail service implements are the hand-held tools you use. They must be disinfected or dis-
carded after every use. Nail service equipment includes the furnishings and provisions necessary to
provide a professional nail service.
PRODUCT
DESCRIPTION
FUNCTION
Destroy or kill bacteria and
some viruses
Liquid or foam-based products
Reduces bacteria, viruses and
fungus on skin
Stops bleeding when applied
Absorbent; pledglets are cotton pads
removers, powder feet,
remove lotions from nail
plate
Low percent hydrogen peroxide,
sodium or potassium hydroxide
571