Pivot Point International, Inc. SFC CB REV 9 06 Notes Page 15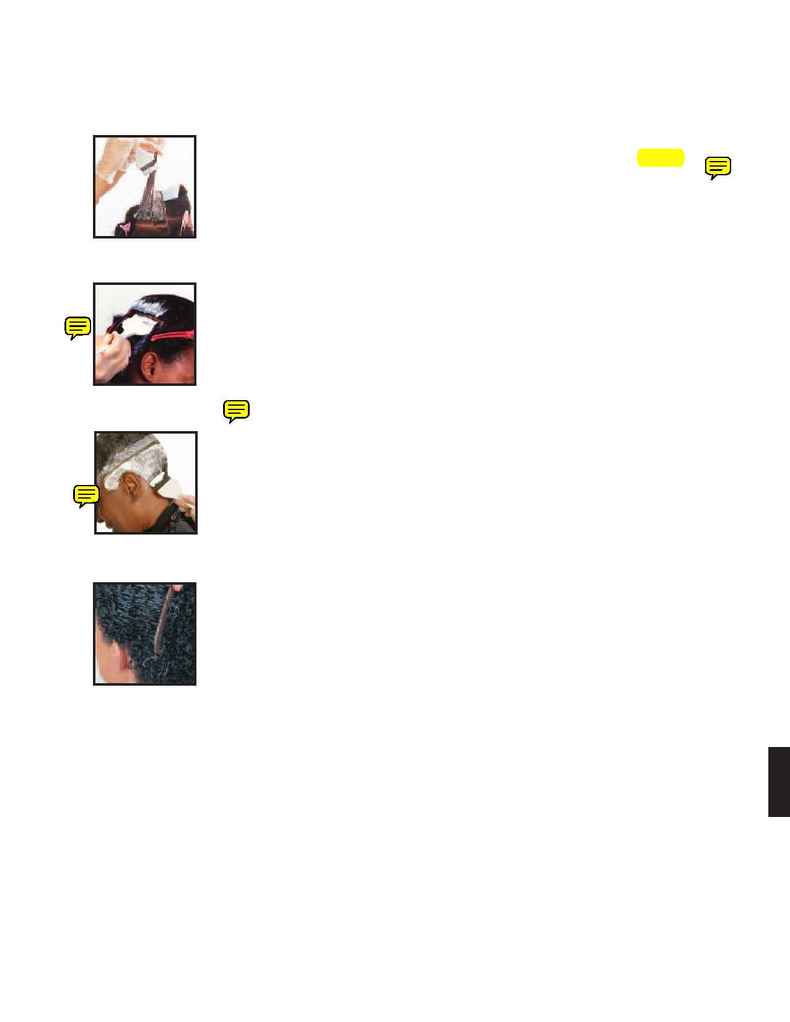 Relaxer Application Methods
There are four basic methods of application, virgin relaxer, relaxer retouch, partial relaxer and curl
A virgin relaxer is applied to untreated or `virgin' hair. The chemical relaxer is
applied to the most resistant area (usually the crown or lower) and 1/4" (.75 cm) to
1/2" (1.25 cm) away from the scalp area and up to the porous ends. Next, the prod-
uct is applied to the scalp area, if necessary. Chemical relaxers have a tendency to
spread toward the scalp due to body heat, so further application may not be needed.
The hair is then smoothed with light, even strokes from the scalp to the ends.
A relaxer retouch uses the same procedures as a virgin application, except that
the product is applied only to the new growth area at the scalp. Each major sec-
tion may be outlined to assist in parting and product control. Avoid allowing the
relaxer to come in contact with the previously treated hair. Contact with treated
hair, known as overlapping, may result in breakage.
A partial relaxer is a virgin relaxer applied only to selected areas of the head. The
partial relaxer technique is used mainly when the nape area and sides are closely
tapered or when the perimeter hairline is frizzy. When used on tapered areas, it is
Curl diffusion,
also known as chemical blow-out, is a technique used to loosen or
relax overly curly hair patterns by approximately 50% of their natural shape. With
this technique the chemical relaxer is applied and gently combed through the
lengths for even distribution and coverage. As the hair is combed in its growth
direction, you will need to carefully watch for the desired texture pattern. When
the hair attains the desired texture pattern, the product will need to be rinsed out before you apply a neu-
tralizing shampoo. You will then need to comb the hair in the final style direction and allow it to air dry.
Because of the high alkalinity of relaxers, the hair must be rinsed for a long period of time to stop
the chemical action and completely rid the hair of any chemical residues. It is important to check
closely in the nape area and behind the ears, which are areas more difficult to rinse. Any chemicals
left in the hair will remain active and could cause serious skin and/or hair damage.
The blotting process is also very important. Unlike perming when you blot the hair wrapped around
the rods, the hair is now free and easier to blot. The blotting process allows you the opportunity to
check carefully throughout the entire scalp area to detect any chemicals that have not been rinsed.
467
CHEMICAL TEXTURIZING