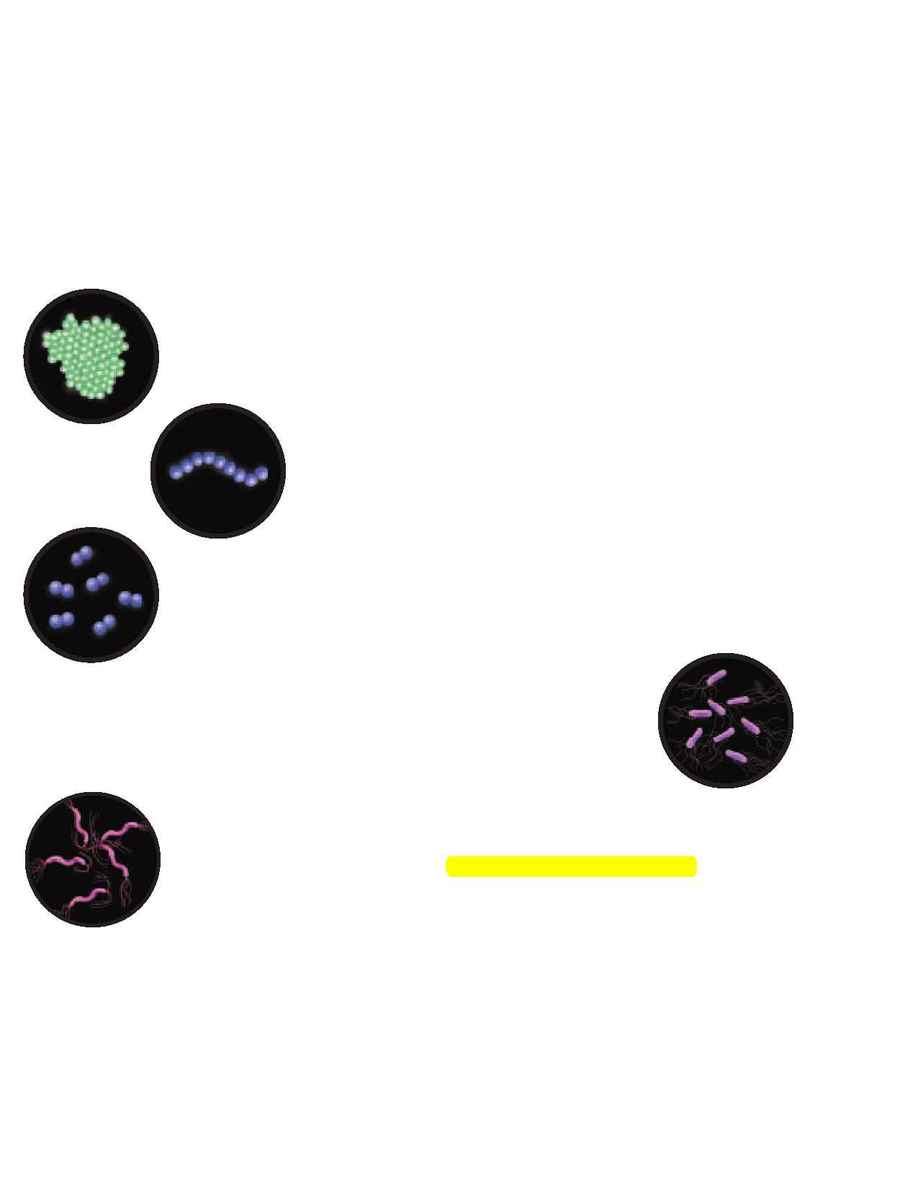 Bacteria are single cells with one of three basic shapes as shown below. Remember that you won't
be identifying them with a microscope in the salon. You need mainly to prevent their growth and
spread. Listed below by shape and kind are the more common pathogenic bacteria that you might
Cocci
(KOK-si) are spherical (round)-shaped bacterial cells, which appear singularly or in
groups. To remember, think C = circle and Cocci. There are three groups of Cocci:
Staphylococci
(staf-i-lo-KOK-si) are pus-forming bacterial cells that form grape-
like bunches or clusters and are present in abscesses, pustules and boils.
Streptococci
(strep-to-KOK-si) are also pus-forming bacterial
cells that form in long chains and can cause septisemia (sometimes
called blood poisoning), strep throat, rheumatic fever and other
Diplococci
(dip-lo-KOK-si) are bacterial cells that grow in pairs
certain infections, including pneumonia. Diplo means double.
Bacilli
(ba-SIL-i) are the most common form of bacterial cells. Bacilli
are bar or rod-shaped cells that can produce a variety of diseases
including tetanus, bacterial influenza, typhoid fever, tuberculosis and
diphtheria. To remember, think B = bar and Bacilli.
Spirilla
(speye-RIL-a)are spiraled, coiled, corkscrew-shaped bacterial cells that cause
highly contagious diseases such as syphilis, cholera and lyme disease. To remember,
think S = spiral and Spirilla.
Keep in mind that this list is never complete. Through research, previously unknown pathogenic
bacteria are discovered on an ongoing basis.
Bacteria can cause infections by invading the body through a break in the skin or through any of
the body's natural openings (nose, mouth, etc.). An infection occurs when an insufficient number
of antibodies are produced by the body's defense (immune) system to "fight" harmful bacteria.
48
SALON FUNDAMENTALS