Pivot Point International, Inc. SFC 9th Ptg 5 05 Page 5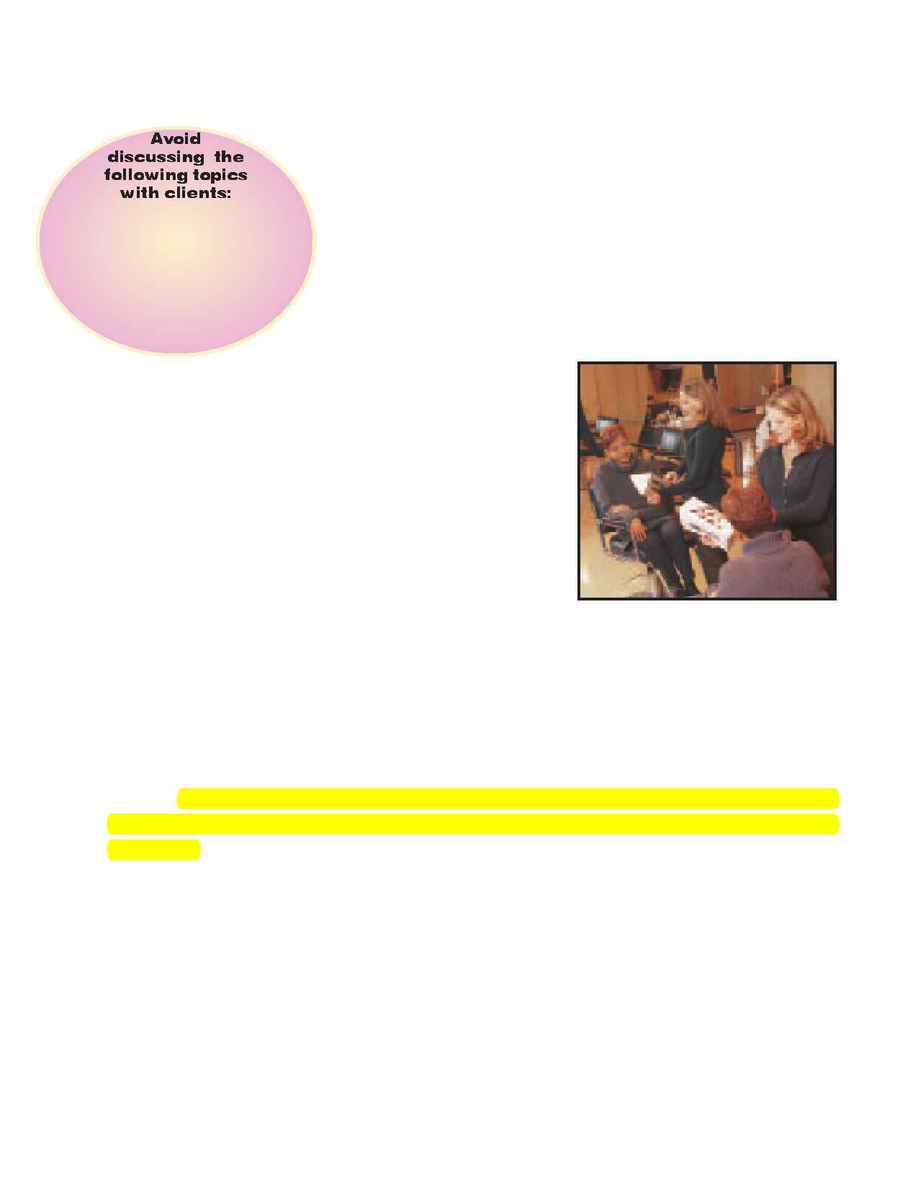 SALON FUNDAMENTALS
To be sure you succeeded in communicating, take the time to ask questions. Encourage others to express
their opinions. Your success in communicating your thoughts is strongly related to
how well you communicate your professionalism. Everything you speak and
do should convey that you're a professional.
topics
you select to discuss with your clients
should
be chosen with care. Avoid controversial topics.
stylists rely on the weather, current movies and famous personalities to
provide topics to discuss with clients. As a true salon professional,
you'll want to focus your conversation on your client's lifestyle and
beauty needs and then com-
pletely provide the beauty care direc-
tion that will help him or her meet those
needs. A client's very active life, for example, would probably
be well served with a short, easy-to-care-for style. You might,
additionally, recommend a perm to further reduce time spent
caring for his/her hair at home. You'll use particular products
on each client for particular reasons. Explain what you're
using and why. Your client will expect to receive your full
attention while in your chair and to receive the full benefit of
your professional expertise. Be sure that each client receives
what he/she needs and your success will be guaranteed.
getting along with others
human relations.
ence good human relations in the workplace, including personality, teamwork and your professional code
of ethics. Long hours of standing, high customer expectations and the need to increase the pace of work,
may tend to cause added stress. Be cautious that this stress does not negatively reflect in how you deal
Personality is defined as the outward reflection of your inner feelings, thoughts, attitudes and
values.
Your personality is the sum total of the emotional and behavioral characteristics that make you
unique. Your individual personality consists of combinations of thousands of different human
characteristics, such as emotions, attitudes, skills, beliefs, values and goals. All your many experiences
influence the development of your personality, as well. These personality characteristics are not quickly
changed - but can be modified over time.
38
· Religion
· Politics
· Personal problems
· Other client's behavior
· Staff or competitor's workmanship
· Information given to you
in confidence
Be sure each client receives
your full attention.