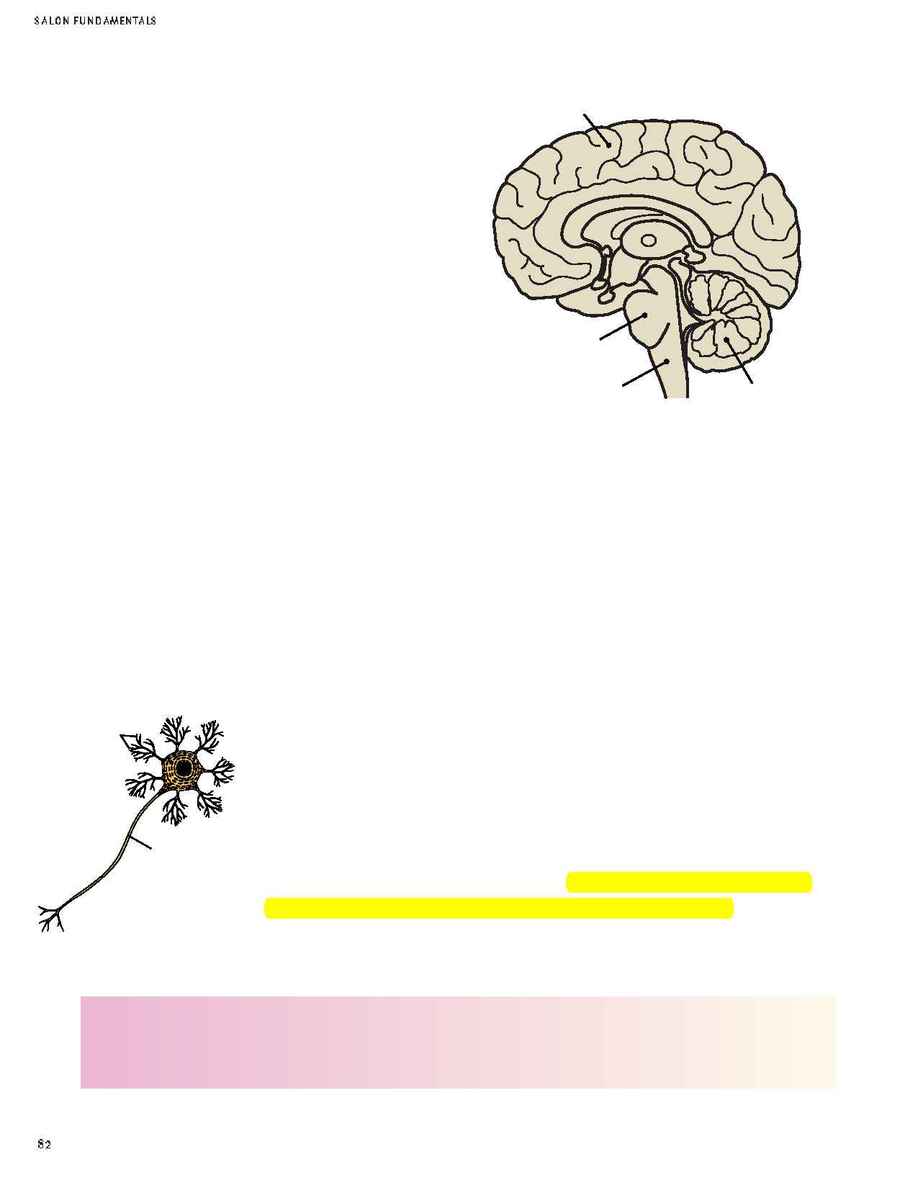 1. The Cerebrum (se-RE-brum), respon-
sible for mental activity, is located in
the upper, front portion of the cranium.
2. The Cerebellum (ser-e-BEL-um),
responsible for the control and coordi-
nation of muscle movement, is located
in the occipital area directly below the
cerebrum.
3. The Pons connects other parts of the
brain to the spinal column and is locat-
ed below the cerebrum and directly in
front of the cerebellum.
4. The Medulla Oblongata (me-DOOL-
ah ob-long-GA-ta) also connects parts
of the brain to the spinal column and is
located just below the pons.
The spinal cord, composed of long nerve fibers, originates in the base of the brain and
extends to the base of the spine.
The spinal cord holds 31 pairs of spinal nerves that branch out
to muscles, internal organs and skin.
The Peripheral Nervous System
The peripheral
(pe-RIF-ur-al)
nervous system is composed of sensory and motor nerves that
extend from the brain and spinal cord to other parts of the body.
This network of nerve cells
carries messages to and from the central nervous system.
Like other cells, the nerve cell or neuron (NU-ron) has a nucleus,
cytoplasm (SI-to-plazm) and membrane. Nerve cells, however, differ in
appearance from other cells due to the long and short threadlike fibers, called
axons (AK-sonz) (1), that extend from them. At the end of each axon is
a nerve terminal (synapse). These terminals may connect the neuron
to muscles, organs or other nerve cells. They are responsible for sending
messages away from the nerve cell in the form of nerve impulses. The short
fibers are called dendrites (DEN-dritz) (2). These structures receive the
messages sent to the nerve cell.
The dendrite system is similar to over a million interstate highways trav-
eling back and forth from nerve cell to nerve cell. Certain activities, such
as harmful narcotic drugs or a prolonged lack of oxygen, can close the