Pivot Point International, Inc. SFC 9th Ptg 5 05 Page 12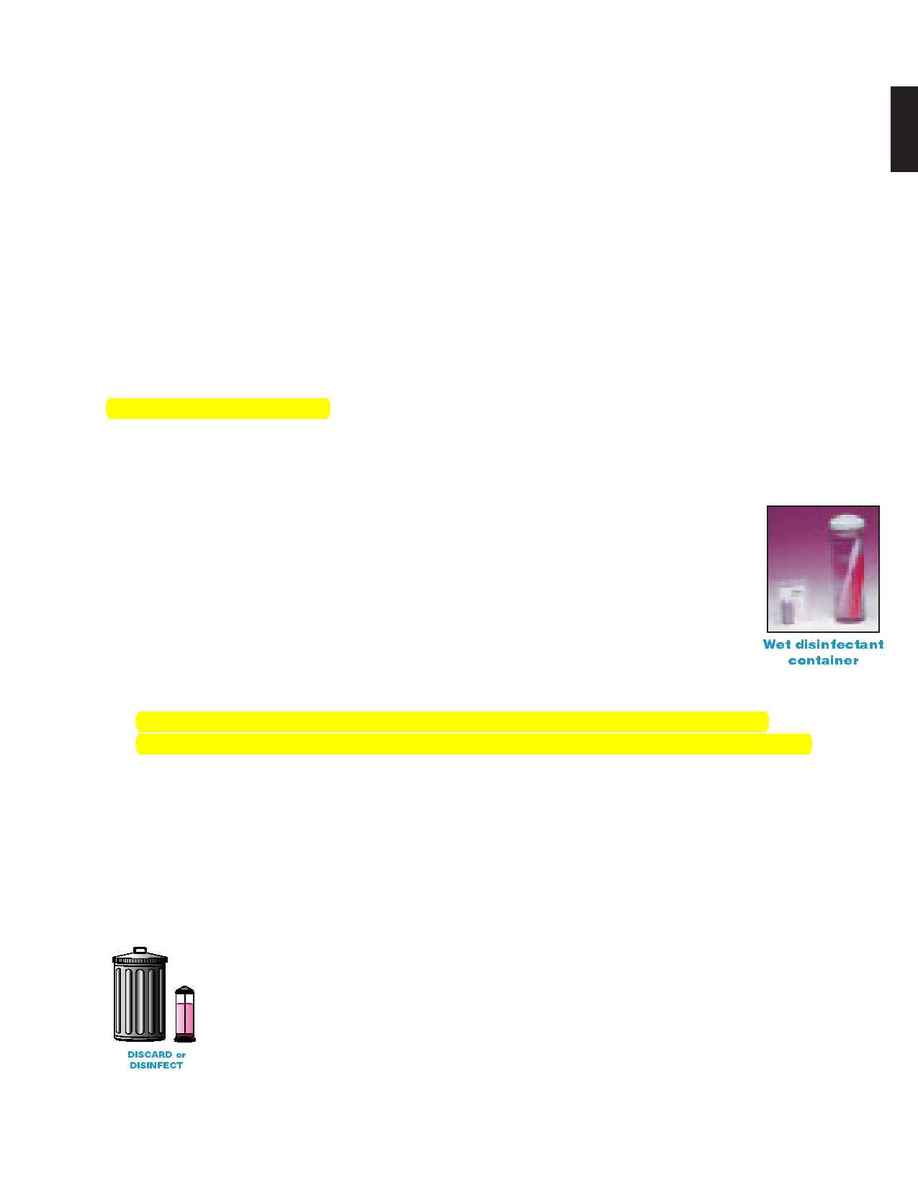 Brush or Comb Disinfection Procedure
1. Remove all hair from the brush or comb.
2. Wash the brush or comb thoroughly with soap and water to remove any dirt, grease or oil.
3. Rinse the brush or comb thoroughly and pat dry to avoid dilution when immersed in
4. Immerse the brush or comb completely in disinfecting solution. Follow timing instructions
5. Remove the brush or comb with forceps, tongs or gloved hands. Follow manufacturer's
directions for rinsing and drying.
6. Store in a disinfected, dry, covered container or cabinet (referred to as a dry sanitizer) until
Prior to using a disinfectant, ultrasonic cleaners can be used. Ultrasonic cleaners use high-
frequency sound waves to create a cleansing action that cleans areas on implements or tools that are
difficult to reach with a brush. Hand cleaning is eliminated through the use of ultrasonic cleaners.
Disinfection Guidelines and Procedures
An easy way to remember if you need to use sanitation or disinfection procedures is to tell
yourself, "Implements that come in contact with the client must be discarded or disinfec-
ted." The following is an overview of the primary infection control procedures used for
disinfection in the cosmetology environment:
· Disinfect combs and brushes after each use.
· Change chemical solutions in disinfectant containers regularly as recommended by
· Disinfect unplugged electrical appliances by spraying or wiping with a with a regulatory
agency-approved solution. This includes parts of tools such as the guards on hair clippers.
· Wash, rinse and disinfect by complete immersion, all cosmetology, nail care, esthetic and elec-
trolysis tools and metal implements after each use in an approved, disinfectant solution mixed
and used in accordance with the manufacturer's directions. In most cases, an EPA-registered,
broad spectrum bactericidal, virucidal, fungicidal and pseudomonacidal disinfectant (which are
effective against HIV, HBV or tuberculocidal) is used to ensure safety even in the case of expo-
sure to blood or body fluids.
· Discard emery boards, cosmetic sponges and orangewood sticks after
each use or give to the client, unless the manufacturer has specified that the
product used can be disinfected (based on your area's requirements).
Implements must be non-porous to be disinfected. Guiding principle
here is discard or disinfect.
· Store all disinfected tools in a disinfected, dry, covered container or cabinet.
· Dispose of sharp objects (razor blades, insulin needles, etc.) in a sealable, rigid
57
SALON ECOLOGY